If you're a Bhutanese traveler who wants to visit Kuwait anytime soon, you should know that it's no longer required to go to a Kuwaiti embassy to get a tourism or business visa. Thanks to iVisa.com, more than 50 nationalities, including Bhutanese, can apply online for a Kuwait eVisa, and it can be in your email inbox pretty fast.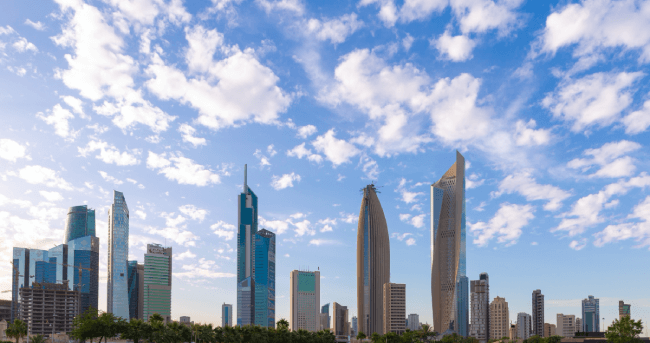 Before making plans, we recommend you always make sure that you're eligible for this eVisa. We know by now that by being a Bhutanese citizen you can apply for this document, but it's always good to stay updated just in case. Plus, that's an easy task when you use iVisa.com. You can access the website, click on the Visa Checker, and follow the instructions. You'll verify the information in just a second.
But even by knowing that, you probably still have some questions about the Kuwait Visa for Bhutanese, so don't worry, we'll answer the most common in this article.
Frequently Asked Questions
Do I need a Kuwait Visa for Bhutanese if I have a Bhutanese passport?
Yes, you do. Fortunately, you can apply for an online visa, which is much simpler than an embassy visa. In fact, you can save a trip to the embassy by using iVisa.com.
What is a Kuwait eVisa?
It's a special automated document that's provided to foreign citizens. This document is obligatory for them and they must have it before entering Kuwait. However, not all nationalities can apply for it, but we can confirm that Bhutanese citizens are on the list.
It means that if you have a Bhutanese passport, you can easily apply for your Kuwait eVisa and save the trip to the local embassy. It's as easy as it sounds.
When you obtain the Kuwait eVisa, you will be allowed to get a Single Entry visa, so you can enter the country just once.
What do I need to apply for the Kuwait Visa for Bhutanese?
Before starting the application process, you need to sort out a few things. On iVisa.com, we'll ask you to provide some information so we can do the work for you. Here is a list of what you need to provide if you have a Bhutanese passport:
Your current and valid passport.
Digital copy of your passport.
An email address.
Means of payment like Paypal or credit/debit card.
GCC residence card – this goes exclusively to applicants from the other countries that are a part of The Gulf Cooperation Council (Bahrain, Kuwait, Oman, Qatar, Saudi Arabia, and the United Arab Emirates.) At the same time, applicants from the GCC must pay attention to specific fields. You can find all of them on our website.
Take into account that the previous list is only what we ask for, meaning that you'll need these items to apply for the Kuwait eVisa. If you decide to apply for a Paper Visa, you'll probably need other things and it'll take you more time to finish the process.
What is the price of the Kuwait Visa for Bhutanese?
Don't forget that we offer you the Kuwait eVisa, not the paper visa. You don't have to visit the embassy as you're eligible for the eVisa if you're Bhutanese. Just remember that even by being an online document, it still has a price.
The service fee for your eVisa will depend on how fast you want to have it. The three options available on iVisa.com are:
Standard procedure time: you wait

8 days

-

USD $68.99

.
Rush procedure time: this time you have to wait

6 days

-

USD $110.99

.
Super rush procedure time: you'll only have to wait

4 days

-

USD $157.99

.
Also, weekend days in Kuwait differ from most countries. Their weekends are on Fridays and Saturdays. Take that into consideration when planning to avoid delays.
Will I need a lot of time to apply online?
20 minutes is enough to complete your online application and submit it.
How can I apply for the eVisa?
We provide an online form so you don't have to print out and fill in the form by hand. If you find it complicated, you can contact us at any time.
The first step is about inserting your personal information, just like any other form you're used to, but with simpler questions. Also, you have to choose the processing time. Basically, you get to decide how much time it will take for you to receive your eVisa. Keep in mind that the faster you want it, the more you have to pay for it.

The second step is made for you to check all the information and proceed with the payment. It is very important to fill in the form accurately and correctly. Corrections are impossible to make after your application is processed.

The third phase consists of uploading documents like the scanned copy of the passport. Depending on a particular situation, you may be asked to provide additional documents.
As you can tell by now, getting a Kuwait eVisa is simple. If you're ready to begin, click here.
Do I have to apply for my kids if they travel with me?
They must get a visa too but you can apply for them. Besides, you can add their information by clicking 'add new applicant' on the lower side of the application form.
How can I apply for other people if they travel with me?
If they travel with you, you can add their information by clicking on 'add new applicant'.
You can also apply for them by doing the same process as mentioned before if they don't travel with you. Nonetheless, you need to have their documents on hand so you can complete the application form.
Can I apply for the Kuwait eVisa if my passport has already expired?
Unfortunately, you can't. If you don't have a valid passport with at least 6 months of validity after your trip, then you cannot apply online for the Kuwait eVisa.
What does the eVisa look like?
Can I trust iVisa.com's service?
We work hard to provide a reliable and highly confidential service, so we won't risk your personal information at any time. You can trust our platform, and you can always read our reviews if you're unsure about it.
I want more information about the Kuwait Visa for Bhutanese, where can I find it?
If you still need to solve some doubts about the Kuwait Visa for Bhutanese, then you can check our website or just get in touch with one of our customer service agents on this link.
As you can see, getting a Kuwait online visa is super easy. Click here and start planning your journey today!