Kuwait has plenty of exciting and unique things to do for first-time visitors. Here are some of our iVisa Kuwait expert's top places to visit in Kuwait.
Tucked away in the northwestern corner of the Persian Gulf near Iraq, Kuwait one of the least appreciated hidden gems in the Middle East. Although most people gravitate to places like Jordan and Oman when planning to explore a middle eastern country, Kuwait appeals to those looking for a unique adventure and culture-rich getaway.
Sitting between Iraq and Saudi Arabia, the little oil-rich oasis has so many fun sights and activities, including top attractions such as the Grand Mosque and Souk Al-Mubarakiya. Find our recommended things to do in Kuwait below or for info such as mandatory visas, read our ultimate Kuwait travel guide.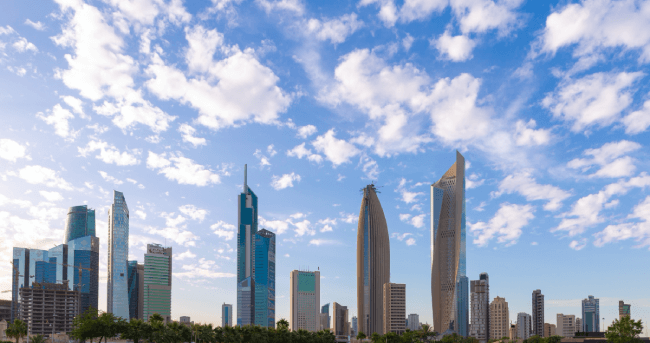 Things to do in Kuwait City
Buzzing with life, *Kuwait City is the country's namesake capital. Located on Kuwait Bay on the edge of the Persian Gulf, the city is a melting pot of culture, history, and modernity. Here are our favorites:
Kuwait Towers to see the Persian Gulf
Probably one of the most iconic landmarks in modern Kuwait, the three Kuwait towers offer an unrivaled view of the Persian Gulf. The main tower is a whopping 614 feet high and boasts a revolving viewing deck as well as a restaurant and lounge. With the low entry fee of just $10 or 3 Kuwaiti Dinar, Kuwait towers is an excellent stop for everyone, even if you're on a tight budget.
Al Shaheed Park
Another brilliant place to visit for those on a budget is Al Shaheed Park, just south of the Kuwait Towers. A long stretch of green space, the local favorite is the largest urban park in the area and boasts a museum, botanical gardens, and restaurants on the property.
Scientific Center Kuwait
The Scientific Center Kuwait (TSCK) is another excellent representation of modernity and one of the best places to visit in Kuwait City. It is the culmination of His Highness, the former Amir Sheikh Jaber Al-Ahmed Al-Jaber Al-Sabah's vision. It aims to create excitement around the wonders of science in children and adults. And according to locals, it is also the best place to shop and buy souvenirs in Kuwait.
Sheikh Jaber Al Ahmad Cultural Center
The Sheikh Jaber Al-Ahmad Cultural Center is the ideal place to find educational entertainment and inspiration. Offering everything from music, theater, and film to workshops and poetry, there is a little something for everyone.
Boasting complex Islamic architecture, it exudes luxury, character, and drama. It is also one of the best places to indulge in traditional Kuwaiti food.
The Grand Mosque
Located near the three towers, the Grand Mosque is the largest mosque in Kuwait and a very iconic landmark. It has gained a reputation for its intricate Islamic architecture and is revered throughout the Gulf.
The Grand Mosque covers an impressive 220,000 square feet of Arabian Gulf Street. The most popular way to explore the Mosque is on one of the many free guided tours. Please remember that the dress code to enter is quite strict, and women must wear a headscarf and an abaya.
Shopping in Kuwait
Kuwait is loved by travelers when it comes to shopping. While there are malls and shopping complexes built around, Kuwait is known for its Souk's and the ancient markets. Here are the best places to shop in Kuwait.
Souk Al Mubarakiya
While in the area or enjoying a city tour, take some time to explore Souk al Mubarakiya, which is just a block away from Arabian Gulf st. Brimming with traditional Middle Eastern shops, the souk is often packed with locals and tourists.
As one of the oldest markets in Kuwait, most travelers come to hunt for carpets, gold jewelry, Omani silver, Arab antiques, and traditional clothing. You can easily spend a day indulging in delicious food, spices, and sweets while buying souvenirs.
The Avenues Mall
No one comes to the Gulf countries without planning to shop, and Kuwait is no different. It is highly recommended to visit the largest shopping mall in Kuwait, the Avenues Mall, if only for the people watching.
With more than 1000 shops, you can find both local and international brands. Easily spend many hours indulging in retail therapy before moving on to one of the other exquisite shopping malls like Marina Mall or Al Hamra Tower.
Al Hamra Tower & Mall
The tallest building in Kuwait, Al Hamra Tower is a skyscraper overlooking Kuwait City located in one of the most significant parts of the capital. Towering over Sharq, which was once one of three neighborhoods within the walls of Kuwait, the tower is also home to a mall.
Traditional Café Shemaimry
But before you do more walking or shopping, consider taking a quick break at Al Shemaimry, a traditional coffee shop in Kuwait City. It is one of the best places in the city to indulge in light local food, sweets, and tea. Once you're rested and full, move on to your next adventure.
Museums to visit in Kuwait
After retail therapy and indulging in local cuisine, continue diving into the heritage and history of the country and visit some of the most famous museums in Kuwait.
Kuwait National Museum
The Kuwait National Museum aims to connect people to the past with impressive galleries and exhibitions. Yet another wonderful destination on Arabian Gulf Street near Seif Palace, it has multiple parts, including The Kuwait Heritage Museum, Planetarium, Archaeological Museum, and Boom Al Mouhallab.
Tareq Rajab Museum
Other must-visit places in Kuwait focused on its history include the Tareq Rajab Museum. The home of approximately 12,000 pieces of jewelry and over 30,000 Islamic art pieces, including ceramics and musical instruments.
The Mirror House
The House of Mirrors or Mirror House is the home of artists Khalifa Qattan and Lidia al Qattan and is among the many places to visit in Kuwait City. It is the fruit of Italian-born Lidia's hard work. In 1966, she decided to use mirror mosaics in the home. By 2006, their residential house covered in mirrors mosaics was complete.
Sharjah Calligraphy Museum
Another fun thing to do is to visit Sharjah Calligraphy Museum. It is the only museum solely focused on calligraphy in the area. The bright yet covered courtyard showcases the history of calligraphy, from early Kufic scripts to more modern flowing styles that celebrate the gorgeous Islamic art form.
Boasting Arabic manuscripts and local works to renowned international calligraphers, this is the ultimate destination for art lovers. They even offer a calligraphy workshop for those craving some artistic release.
Things to do in Kuwait at night
Since Kuwait is a Muslim-majority country, alcohol is illegal, and its nightlife does not involve bars or clubs. However, there are still many things to do in Kuwait at night.
Evenings tend to focus on food and entertainment at one of the many restaurants in the city. We recommend Caspar and Gambini's café in Kuwait City. If you want to enjoy live music from local musicians, visit Edo and the English tea lounge. Other great options include Kuwait Little Theater and the Kuwait Public Theater, where you can discover contemporary and folklore dramas.
Outside Kuwait City
If the hustle and bustle of the city are getting to you, or you feel like you've run out of fun things to do in Kuwait, then consider making day trips out of the city and explore the best places in the country. Alternatively, rent a large villa in nearby places like Mutla Ridge, Failaka Island, Mina Alzour, and Al Kihran, which also boast many attractions.
Failaka Island
Take a day trip to the tiny island of Failaka Island. It is known as one of the best day trips in the area as it is just an hour on the ferry from Kuwait City. Brimming with history, the island was first occupied in 2000 BC by the Mesopotamians.
It became Kuwait's longest continuously inhabited city before the Gulf War started. During the Iraqi invasion, residents moved to the mainland. The island became an open-air monument of the war.
Explore the Desert
If you want an adventure of a lifetime, leave the city to experience the wonders of one of the driest places on earth. Enjoy a vast desert safari on camelback or while quad biking. Even more memorable is the chance to spend the night under the stars in the desert. However, remember that this is only offered from November to March.
Kubbar Island
After a beach holiday? Kubbar Island has everything you need and is less than 30 kilometers from the Southern coast of Kuwait. The little island boasts long stretches of sandy beaches and crystal clear water.
Mutla Ridge
One of the amazing attractions outside the city is Multa Ridge. It is the highest point in Kuwait, towering at 461 feet tall, and is the perfect spot to see Kuwait Bay in all its glory.
Essential travel information for Kuwait
At the very edge of Kuwait City is Kuwait International Airport, and most international flights land at this airport. Remember that most nationalities, including US citizens, need a Kuwait eVisa to visit Kuwait.
If we've convinced you to explore the top attractions like the Grand Mosque and Souk Al-Mubarakiya in Kuwait, and you're ready for an adventure, read our ultimate Kuwait travel guide for more practical information, such as visas, safety, and weather.