Libya Travel Guide: Tips and Requirements for visiting Libya
Welcome to Libya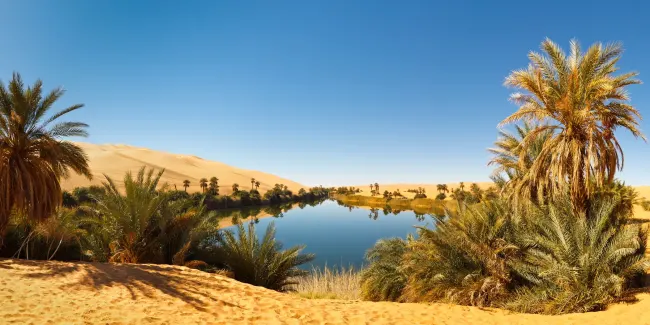 Currently, it is not recommended to travel to Libya for tourism. In recent years, Libya in North Africa has been struggling to end an armed conflict, preventing travelers from venturing into the country. Find out how to travel to this country safely if you need to.
Safety is the main concern for people wanting to visit Libya. This ultimate Libya travel guide offers tips, visa information, and interesting facts about the country.
Document checklist for Libya
Visa (if applicable)

Valid passport

Return or onward ticket
Essential Libya travel information
Currency - Libya's official currency is the dinar (LYD). $1 is equivalent to approximately LYD 0.21.

Daily budget for 1 person - Allow a daily budget of LYD 720 ($150).

Languages - The official language of Libya is Modern Standard Arabic. Various Berber languages are also spoken.

Number of travelers per year - Tourism is not prominent in Libya due to the armed conflict. Most visitors are journalists and volunteers.

Socket type - Types C and L, 230V supply voltage and 50Hz.

Time zone - Eastern European Standard Time (GMT+2).

Top 3 cities - Tripoli, Benghazi, and Misrata.

Top 3 landmarks/monuments - Leptis Magna, the Arch of Marcus Aurelius, and Cyrene.
Visa information for Libya
The Libya Business Visa allows travelers to enter the country for professional purposes under strict conditions. Tourist Visas for Libya are currently not issued.
Use our Visa Checker Tool to find out which documents you need before you go or check consular services on the government website.
Visa difficulty index for Libya
Accessibility: 1/5
Although it is easy to apply for a business visa application via the Libyan embassy, approval is not often granted and requires special invitations and documents.
Time to get your visa: 3/5
If you meet all the Libyan government requirements, the application process can take up to 10 days.
Costs: 3/5
The costs depend on your nationality.
Typical costs and budget for Libya
A guide to what you'll spend daily in Libya on a mid-range budget.
Daily spending - Expect to spend about LYD 720 ($150) per person, per day, mainly to stay safe. This includes:

Meals - Expect to pay around LYD 96 ($20) per meal in a restaurant.

Transport - Taxis are the most common form of transportation but can be expensive. Expect to pay around LYD 10 ($2) per kilometer.

Hotel - Hotels and guesthouses in Libya can be expensive, especially in the major cities. Expect to pay around LYD 480 ($100) per night.
On average, a one-week trip to Libya can cost up to LYD 17,640 ($3700).
Transport and best ways to travel around Libya
Due to the ongoing conflict in Libya, it's important to check the latest travel advisories before booking your flight and to be prepared for potential flight cancellations or changes in the security situation.
Getting to Libya
Getting to Libya is challenging due to limited flight options and ongoing political instability in the region. Tripoli International Airport has been closed since 2014. In addition, the European Union has agreed with the Libyan authorities to implement a voluntary restriction on Libyan airlines flying into the EU. Libyan airspace is frequently under attack from military groups.
Libya shares land borders with Tunisia, Algeria, Niger, Chad, Sudan, and Egypt, but all are subject to closure on short notice.
Arrival and immigration tips for Libya
Here are a few tips to make the immigration process smoother:
If you are a media representative/journalist, get press accreditation from the relevant Libyan authorities before you go.

A Libyan visa issued overseas may not be recognized in some areas.

Passports showing visa stamps for Israel are not accepted for travel to Libya.

All visitors must register with the police within a week of arrival. This is usually done by the company you're visiting. If you don't register, you may get a fine upon departure.

Libya is a cash-based society. There are severe cash shortages and restrictions on bank withdrawals throughout the country. Credit cards are not widely used. Take dollars with you to make sure you can fund your stay.
Getting around Libya
If you travel to Libya against your county's government advice, frequently reassess your security arrangements and carefully plan your trip. Do not plan to drive around yourself, but get guidance from security experts before attempting to travel around.
Road travel is highly dangerous. Do not take the risk of being caught up in violent incidents. Carjackings and robberies are common. Specifically, the coastal area between Zawiyah and Tripoli is dangerous.
If tensions rise, routes to and from major cities and towns will likely be blocked, and airports may be closed or inaccessible.
Safety in Libya
Libya has been in political turmoil since the overthrow of former dictator Muammar Gaddafi in 2011. The country has been divided into two rival governments, leading to armed conflicts and violence.
The country has also been a target for terrorist groups, including ISIS and Al-Qaeda. These groups have carried out attacks in the country.
The security situation makes it risky to travel due to civil unrest related to the Libyan civil war. Here are some specific safety tips to remember when traveling to the country:
Lack of infrastructure: The country's infrastructure, including healthcare and emergency services, is severely limited due to ongoing conflict and political instability.

Unexploded ordnance: Libya still has many unexploded ordnances, particularly in areas that saw heavy fighting during the conflict. These pose a risk to travelers, particularly those who venture off the main roads.

Check travel advisories: Before traveling to Libya, check the latest travel recommendations from your government and other reliable sources. These advisories will provide you with up-to-date information on security risks and other issues in the country.

Dress conservatively: Libya is a conservative Muslim country, and you should dress accordingly. Women should cover their heads and wear loose-fitting clothing that covers their arms and legs.

Avoid public demonstrations: Avoid public protests and other large gatherings, as they can quickly turn violent.

Avoid high-risk areas: Avoid areas where terrorist and armed groups are known to operate, such as the border regions with Algeria, Chad, Niger, and Sudan.

Consider hiring a reputable guide or driver: Consider hiring a reputable guide familiar with local customs and laws, knows their way around, and can help keep you safe.
Please check with your travel insurance provider to determine if you're covered for travel to Libya, due to negative travel advice.
Weather in Libya
Libya has a hot and dry desert climate, with very little rainfall throughout the year. The Sahara Desert and the Mediterranean Sea influence the country's weather.
In coastal areas, such as Tripoli, the capital city, temperatures are relatively mild, with average highs ranging from 17 °C (63 °F) in winter to 31 °C (88 °F) in summer.
Inland areas, including the Sahara Desert, experience extremely high temperatures during the day, often exceeding 40 °C (104 °F), and cool off significantly at night.
Libya's culture and customs
Libya is a country rich in culture and history. For example, it boasts five UNESCO-listed archeological sites dating back to Roman and Carthaginian times. Plus, with the longest Mediterranean coastline in the area and influences from the Sahara desert, this country offers a unique way of life.
The Libyan culture is a mix of influences with roots in Berber, African, Turkish, and Arab cultures. The country was also an Italian colony for about 30 years, significantly impacting the culture.
When you visit Tripoli, you'll definitely get a sense of Italy. The capital is one of the most captivating cities in North Africa. It's situated on the outskirts of the desert, on a rock ledge that stretches into the Mediterranean, creating a harbor. The maze of streets offers lots of charm with the warm weather, colorful homes, and gorgeous ocean backdrop.
Typical Libyan food
Libyan cuisine blends Mediterranean and North African influences, focusing on simple and hearty dishes that use local ingredients. Here are three typical dishes from Libya:
Shakshuka: A popular breakfast dish in Libya and other parts of North Africa and the Middle East. It's made by simmering eggs in a tomato-based sauce, along with onions, garlic, and spices such as cumin and paprika. It's usually served with bread for dipping.

Bazeen: A traditional Libyan dish that consists of a dough made from wheat flour and water, which is then baked in an underground oven. It's typically served with a spicy tomato sauce and a meat or vegetable stew, such as lamb or chickpeas.

Couscous: This staple dish in North Africa, including Libya, is made from semolina and water. It's typically served with a meat or vegetable stew, such as lamb, chicken, or chickpeas, along with various vegetables, such as carrots, zucchini, and onions.
Vaccine information for Libya
We recommend checking the CDC website for up-to-date info about all vaccination requirements, COVID-19 measures, and recommended medicines and certificates for Libya.
About the current situation in Libya
It's hard to keep track of the situation in Libya (formerly the Libyan Arab Republic). Many factors, groups, and countries have a role in the conflict.
There are regional tensions, tribal and ethnic tensions, and conflicts between revolutionary forces and old regime actors. And let's not forget the competition over resources, which has intensified these conflicting allegiances and identities.
The proliferation of armed groups can be traced back to the 2011 uprising, which led to the ouster of the Muammar Gaddafi regime. The violent crackdown on protestors led to the emergence of local councils and armed militia groups. Each group has since created its own governing institutions and named military chiefs, each facing internal divisions.
As a result of the continued instability, the UN Refugee Agency estimates that more than 217,000 people have been internally displaced, and almost 1.3 million people need humanitarian help in the country.
Trustpilot recommended. We lead the industry in innovation and reputation