The Luxembourg ETIAS is a document ready to be introduced in 2022. Keep in mind that Luxembourg is one of the original six members of the E.U., which is why it accepted the launch of the ETIAS to allow the entry of foreign citizens into its territory. The document that the ETIAS will offer will be mandatory to all the non-EU citizens by 2022 onwards, so you should be aware of that if you're planning a trip to Europe in the future.
Europe has been suffering from terror attacks in recent years, which is why there has been an ongoing debate about how to increase border security. That's when the ETIAS appears because it's one selective entry process for foreign citizens. However, that doesn't mean that it'll be difficult to apply, in fact, it should be something quite easy if you're a foreign traveler with your valid documents to enter Europe (valid passport, for example).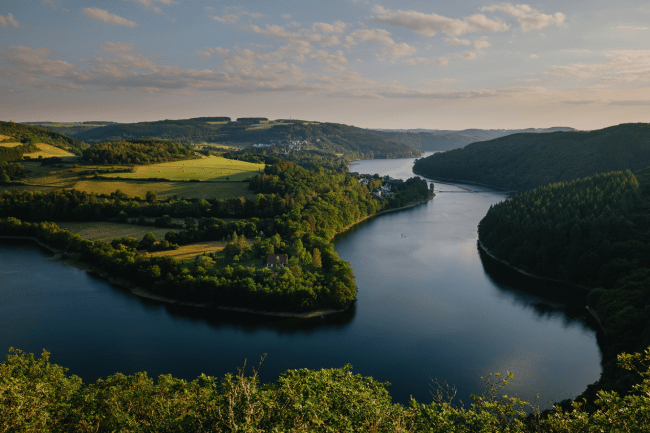 This system will be entirely electronic, so you'll be able to get the document by using an easy-to-understand application form. A good option is the one iVisa.com offers because it only has a simple questionnaire, and you need a few things to apply.
You can learn more about this process by reading the article below. We also recommend you to read that to know about the Luxembourg ETIAS validity.
Frequently Asked Questions
What is the Luxembourg ETIAS?
There's been an important announcement made by the E.U. Commission, and it's that from 2022 onwards, the ETIAS will become a mandatory system for all foreign citizens. This system was originally offered in 2015, but it wasn't until 2020 when the E.U.Commission finally decided to make it official in the upcoming years. However, the official year of launch is 2022, so you can feel relaxed before that.
You have to apply for the Luxembourg ETIAS from 2022 if you wish to visit Luxembourg, even if you're from a visa-exempt country. The good news is that the process will be available online, so you won't have to visit the embassy to apply, you'll only need an electronic device with an internet connection.
How can I verify if I'm eligible for this document?
You can visit iVisa.com's website to see if you're eligible to apply for the Luxembourg ETIAS. By entering our website, you'll see our *Visa Checker Tool at first, which is an excellent tool to verify the documentation required to enter a foreign country. Simply choose your country of origin and the destination country (it should be Luxembourg in this case). After that, wait a few seconds until you see the list of documents required.
More than 60 countries are eligible for the ETIAS, we highly suggest to use our tool to verify if you're one of these countries.
Does this form cover the entire Schengen Zone in the European Union?
The E.U. Commission is the entity authorized to launch ETIAS, but that doesn't mean that the ETIAS is useful to all the E.U. countries.
Therefore, you should know that the ETIAS will be useful only in the Schengen Zone, not in all the countries that belong to the E.U. That's why you need to apply for the Luxembourg ETIAS to enter Luxembourg because this country is part of the Schengen Area. It might also be part of the E.U., but as we mentioned before, the main purpose of the ETIAS is to have better safety control for the Schengen member states.
You can use the same ETIAS for other countries on your trip as long as you verify that the first country you visit is the first country mentioned in the application form. However, this document won't be useful in countries like Ireland or the U.K. because they're not part of the 'European Free Trade Association on Schengen Agreement (EFTA)'.
What is the validity of the ETIAS?
As for the Luxembourg ETIAS validity, keep in mind that this document has a validity of 90 days upon arrival, but you can use it as many times as you wish for a total of 3 years or until your passport expires. However, that's possible only if you don't exceed the 90 days within a 180 day period.
If your passport expires before the ETIAS, then you'll have to apply for a new one.
What documents do I need to apply online?
Before applying with iVisa.com, you have to collect the following list of requirements:
A passport with at least 3-month validity upon arrival.
Your current and valid email address to get the ETIAS.
A Payment option to pay for the service. It can be a debit/credit card or a Paypal account.
This list can vary depending on the application method you select.
What are the processing times and prices?
The total price for the Luxembourg ETIAS, isn't available yet because this document is too new. However, we can inform you about iVisa.com's processing options, which are:
Standard Processing Option – With fast processing and an affordable price. This option is less expensive than the other because it's not as fast as them.
Rush Processing Option – This processing is faster so it's also more expensive.
Super Rush Processing Option – This processing option is the most expensive option of the three because it's also the fastest.
There will be an average cost of €7 (without iVisa.com's fee), but it'll change a little depending on your nationality and the processing time you select. However, we can guarantee that iVisa.com's fee will be affordable.
How does the application work?
You can get the Luxembourg ETIAS with iVisa.com's application form by following these three easy steps:
First, complete the application form with your basic details, and after that select your favorite processing time.
Second, verify the information you previously offered so it doesn't have any mistakes and proceed with the payment.
Third and lastly, complete the process by attaching your documents to the form and clicking on 'submit'.
How safe is to use iVisa.com's application form?
We recommend you apply for the Luxembourg ETIAS with iVisa.com if you want to feel safe because our service is protected thanks to our modern system. Our platform is constantly reviewed by our work team, so you can feel relieved when using our application form.
We also want to invite you to check our clients' reviews with more than 20.000 positive impressions if you're unsure about what we offer.
Where can I get more information about Luxembourg ETIAS?
The Luxembourg ETIAS was recently announced and it'll be available in 2022, which is why it's ok if you still have questions about it. If that's your case, then reach out to iVisa.com's super agents or read other helpful tips on iVisa.com's blog.