In 2017, the Malaysian government introduced a special online visa available for Indian Citizens, to facilitate visa applications and tourism for those wanting to visit Malaysia: Indian nationals are eligible to apply for both the Electronic Travel Registration & Information Visa (eNTRI Visa) and the Electronic Visa (Malaysia eVisa).
If you are an Indian passport holder wishing to travel to Malaysia, we encourage you to complete your Malaysia Visa application with us, but first, continue reading this article for everything you need to know about the Malaysia Visa for Indian citizens.
The Malaysia eVisa is fast and simple to obtain. Travelers from 10 eligible countries, India included, can get a Malaysian tourist visa in a few easy steps.
Valid passport holders from India must complete the Malaysia visa application form by answering some straightforward questions and paying a fee using a credit or debit card.
Note - iVisa.com currently only offers the single entry visa and the multiple entry Malaysia e visa for Indian citizens. If you are looking to obtain an eNTRI visa you will have to contact your local Embassy.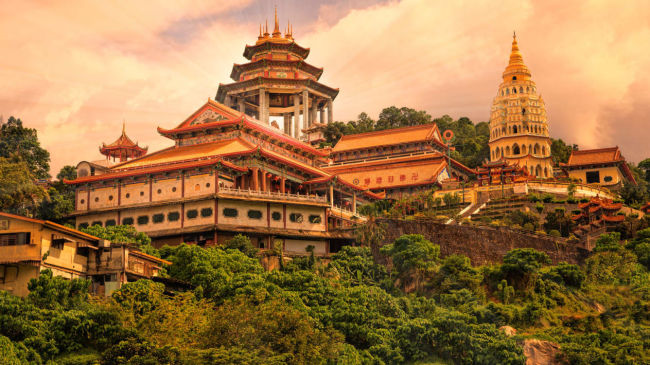 Malaysia eVisa - Your ultimate guide to getting a Malaysia visa for Indian citizens
Diverse culture, wildlife, diving, colonial architecture, hiking and tea plantations are among the top 10 reasons to travel to Malaysia, so if you are lucky enough to be among the Indian passport holders ,what are you waiting for? Located just across the Bay of Bengal and the Andaman sea, a short flight away, it's now very easy to enter the country with the Malaysia electronic visa system.
Visas and Requirements
What is the Malaysia Visa for Indian Citizens?
The Malaysia eVisa was created to make it easier for citizens of eligible countries to travel to the country. The Malaysia Visa is valid for a period of 90 days after issued (3 months) and allows Indian citizens to visit Malaysia for up to 30 days Per Entry. Indian nationals are currently able to apply for a Single Entry Malaysia Visa or a Multiple Entry Visa, whereby they can enter multiple times with the same visa, within the 90 day period.
Indian citizens must obtain a visa to enter Malaysia which is available for tourism purposes and often referred to as the Malaysia Tourist Visa. If you want to do business, work, or study in Malaysia, you'll have to apply for a different visa directly in an embassy or via the Malaysian Government. Business people that wish to open a Malaysian representative office will also need to contact the embassy.
For Indian citizens the process to obtain this nonimmigrant Malaysia evisa is done fully online. Once your visa is approved, it's electronically linked to your passport.
Do I need to obtain an Arrival Registration Form
This is a type of Visa on Arrival and as an Indian entering Malaysia you will only need to obtain the Arrival Registration if you are traveling via connected countries such as Thailand, Singapore or Indonesia. Indian citizens can not directly land into Malaysia and ask for a tourist visa. Indian citizens are eligible for a visa on arrival only when they enter Malaysia via one of the third-countries such as Thailand, Singapore or Indonesia.
What is the difference between an eVisa and an eNTRI?
Both types of Malaysia tourist visa are available online as an electronic travel registration and to Indian Citizens. The biggest difference is that the Malaysia eNTRI visa is only available to Indian and Chinese Citizens.
eNTRI Visa
A Malaysian eNTRI is one of the different tourist visa types for Malaysia. Although many international citizens are able to enter Malaysia without a visa for short stays, a number of other nationalities are required to obtain an online travel document to do so.
The eNTRI is available exclusively online, eliminating the need to go to a Malaysian embassy or any government entity to apply for your travel authorization. The Malaysia eNTRI visa is available to Indian passport holders or holders of a passport of the People's Republic of China only. If approved, the eNTRI only permits the Indian holder to enter Malaysia on a direct flight from India, or via Brunei, Singapore, or Thailand airports.
Remember that iVisa.com does not currently offer this visa approval service to Indian citizens.
Who is eligible to apply for a Malaysia eVisa?
At the moment, Indian nationals and 9 other nationalities can apply for the Malaysia tourist visa. Travelers with valid passports issued by the following countries can apply for the eVisa:
Bhutan, Bangladesh, China, India, Montenegro, Myanmar, Nepal, Pakistan, Serbia, Sri Lanka
Indian applicants just need a valid passport and a credit or debit card to pay the applicable fees. Applications are processed quickly and the vast majority are approved.
Other nationalities can apply for other types of visas for Malaysia at any Malaysian embassy or consulate. You can use our Visa Checker tool to verify which visa type you are eligible to apply for.
However, ALL TRAVELERS wishing to visit Malaysia do need to acquire the Embassy registration, we also offer this product. Read more about that in the COVID requirements section below.
How long is the Malaysia Visa valid for?
The Malaysia visa is valid for a period of 90 days after issued. Tourists are allowed to stay in the country for a maximum of 30 days Per Entry.
Depending on the type of visa you're awarded, the Multiple Entry or Single Entry Malaysia visa, you can enter Malaysia once or several times, as long as you do it during this timeframe and each stay doesn't exceed 30 days.
We do not recommend overstaying in Malaysia as you might be subject to fines or deportation.
Can Indian passport holders extend their stay in Malaysia with a Malaysia Visa?
It is not possible for Indian nationals to obtain an extension for a Malaysia online visa, whether multiple or single. If an eVisa holder remains in Malaysia beyond their period of permitted stay, then they are at risk of receiving a fine or temporary travel ban from Malaysian authorities.
Can I get a Sri Lanka visa on arrival for Indian citizens?
Currently, there is no way of getting a Malaysia visa on arrival for Indians. Indians traveling from India to Malaysia will need to get the Malaysia visa online before traveling to the country.
Do Indian passport holders need a transit visa to transit through Malaysia?
Yes, you can obtain a Transit Pass (without a visa), if necessary.
Foreign nationals in transit via Malaysian airports, without leaving the airport premises and who continue their journey to the next destination with the same flight, do not require a transit visa.
However, since July 2015 Indian nationals who transit to Malaysia can apply for a Transit Pass for no more than 120 hours (5 days) on their journey to a third country. This pass is issued only at the Kuala Lumpur International Airport (KLIA) and Low Cost Carrier Terminal (LCCT).
What are the Malaysian visa requirements for Indians?
To obtain your Malaysia visa online with us, you'll need to have the following documents handy, it's not that many so it shouldn't be too difficult to gather them together:
A valid Passport - Your passport needs to be valid for at least 6 more months beyond the date of arrival in Malaysia. The scan needs to be clear and all your details need to be readable. No chopped pictures, no blurs, and no glares. Presenting a blurred scan is a common reason for the rejection of your Malaysia tourist visa for Indians.
A recent passport-size photo, If you don't have one you can use our Passport photo service to obtain one quickly.
A blank passport front page
The last page of your passport
A confirmed return flight booking - You will not be granted a visa without proof of exit from Malaysia.
Birth certificate (for applicant minors only)
Proof of accommodation
An email address - Make sure that you type it correctly when you fill out the application form, as you'll be receiving your online visa via email.
And here is a list of documentation you will be asked to provide at the border:
Malaysia eNTRI visa or eVisa
Confirmed return flight reservation
Boarding pass
Sufficient funds (debit/credit card, cash, traveler's check, etc.)
Travel itinerary
If traveling with children, do I need to get a visa for them?
If you are traveling with a minor, you can include them in your visa application. You will need to provide a copy of the child's birth certificate to show proof of the relationship between parent and child.
If you apply through iVisa.com, you can add more travelers to your application in just one click.
Should I get a yellow fever vaccination before traveling to Malaysia?
It is only required if you are traveling from a country with high risk of YF virus transmission and above 1 year of age, this includes transit of 12 hours in an airport located in a country with risk of YF virus transmission.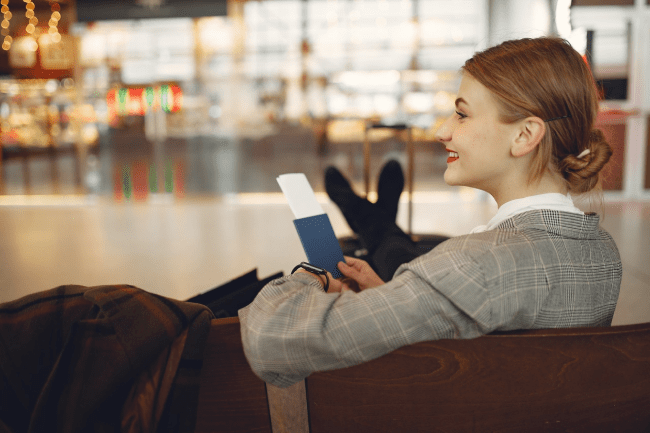 COVID restrictions for Malaysia
What are the COVID-19 restrictions to enter Malaysia?
COVID vaccine or vaccination certificate
As of today, you don't need COVID vaccination passports or certificates, they are not mandatory to enter Malaysia. Now if you are a Covid vaccine certificate holder, you won't need to show a COVID test nor to follow a quarantine.
Since information may change quickly, we advise you to follow up on the latest Malaysia travel updates and/or contact your local embassy.
COVID testing
COVID test prior to arrival: PCR within 48 hours for unvaccinated travelers. Travelers coming from Singapore can travel with a rapid antigen test instead.

COVID test exemptions: Children under 13 and fully vaccinated travelers.

COVID test after arrival: RAT test within 24 hours after the arrival for unvaccinated travelers.
Quarantine Requirements
Quarantine requirements - partially/unvaccinated travelers: 5-day quarantine.
Quarantine exemptions: Travelers under 18 and fully vaccinated travelers.
HEALTH FORM: MYSEJAHTERA TRAVELLER HEALTH DECLARATION
All incoming travelers, whether they're foreign or nationals, need to apply for a pre-departure Malaysia Health Declaration Form. It is a mandatory document that helps the local government handle the risks associated with the current pandemic. It is intended to track, trace and contain infection clusters among travelers to protect locals and tourists.
You can get this document through our website, two days before your trip. Travelers should bear in mind that connecting to a domestic flight from an international flight is not currently allowed due to the health emergency.
Applying with iVisa.com
Getting your Sri Lanka Visa for Indians is even easier with us! Read below about our 3-step application process that will get you your Malaysian tourist visa for Indians in no time.
How to apply
Our online application process is straightforward and will take you no more than 15 minutes to complete. You need to follow these three easy steps:
Step one: Fill out the visa application form with your personal information. Make sure that it matches the information in your original passport and supporting documents. Any inconsistencies will be cause for rejection.
Step two: We will ask you to double-check your visa information before proceeding to the payment platform. This is done to avoid any setbacks on your application. Once you're sure the information entered is correct, you can pay the visa fee.
Step three: Upload all the supporting documents and submit your application. Remember that all document scans need to be legible. If your documents are blurry or smudged, we will reach out to you and ask you for new scans.
Once your Malaysia visa is ready, we will send it to you via email in a PDF document. We recommend that applicants process their visa at least 2 weeks before their departure to Malaysia.
If you run into any issues when filling out your application, you can contact our customer service agents. They are available to help you with your Malaysia Visa 24/7 through our chat.
What does the Malaysian e Visa for Indians look like?
As an electronic document, sent to you via email in PDF format, it will look something like this: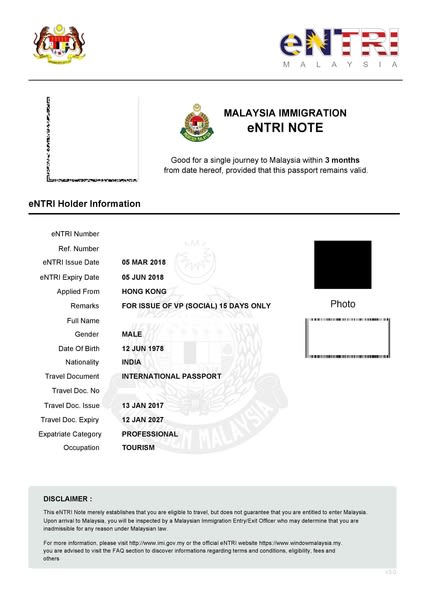 Unlike other paper visas, it's not a stamp or sticker you have in your Indian passport. But as with any other visa, it will include your personal details, the validity of the document, and the purpose of your trip.
We recommend that you print it before traveling and present this hard copy of the Visa for Indians to the immigration officials when arriving in Malaysia.
What are the Malaysia Visa fees for Indian citizens?
We usually offer our customers 3 different processing times, to adjust to their needs. However, in the case of the Malaysia visa, we only offer a processing time of 6 Business Days. It costs USD 68.49 to get your Malaysia visa. The price includes both our service and the government fees.
Can I modify my E visa after it's issued?
No, sadly we cannot change anything in your Malaysia visa for Indians after it's issued. However, we carefully review every application before processing them to avoid any mistakes.
And, if you find any errors in your visa application before your ETA is issued, contact us immediately via chat or email at [email protected]
Is iVisa.com a reliable site?
Yes, we have helped thousands of travelers get their travel documents successfully, including the Sri Lanka Visa for Indians. But if you are still unsure, we recommend you head out to our reviews section where you can find all the comments our past customers have said about us.
I still have doubts about the e Visa. Is there someone I can talk to?
Absolutely! Our customer service team is available 24/7 to answer any question you might have about this or any other travel document. They'll be happy to assist you!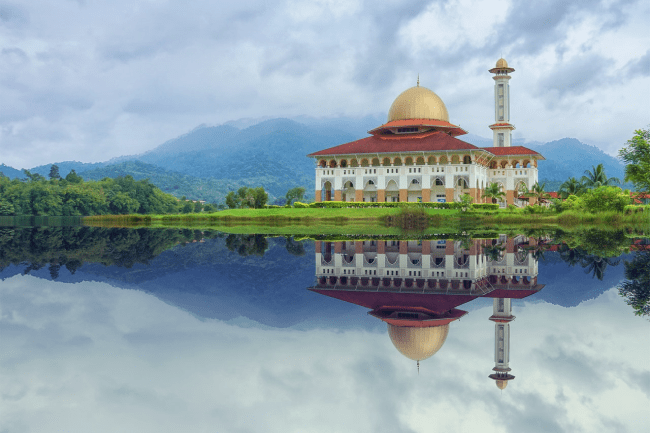 Traveling to Malaysia
If you are planning a trip to south-east Asia, you can't miss a trip to the Peninsula that is Malaysia. A fascinating and diverse country, in the same country, you can explore thriving, modern cities, colonial architecture, relax on some of the most stunning beaches on the planet and hike through dense green jungles.
Between February and September, just after the rainy season, is the best time to visit the country because of less rain and an abundance of tropical foliage making March, April, May and June drier, more pleasant and less busy months to visit.
Among the top attractions are the Petronas Twin Towers in Kuala Lumpur, the Menara, also in Kuala Lumpur, Mount Kinabalu for those who seek adventure and even LEGOland Malaysia for kids and family activities.