Mali Travel Guide: Requirements and tips for visiting Mali in 2023
Welcome to Mali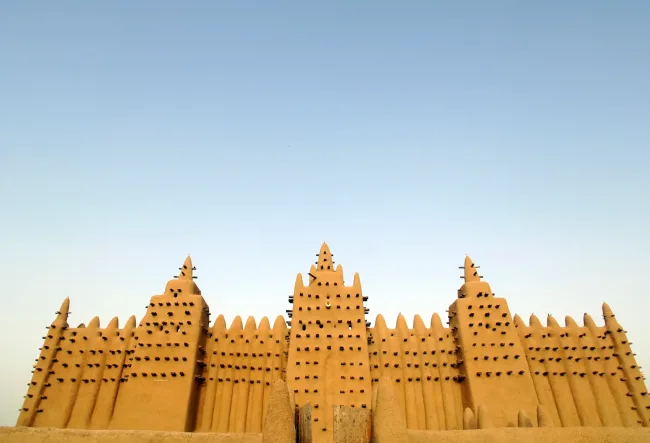 There is a wealth of beauty, wonders, nature, and culture to be found in Mali, including four UNESCO World Heritage Sites. However, the current civil unrest, security situation, and terrorism threats make this country in West Africa highly unsafe for tourists.
In case you have to visit the country for whatever reason, read our ultimate Mali travel guide to learn more and prepare for your trip.
Document checklist for Mali
Visa (if applicable)

Valid passport (must be valid for at least 6 months)

Return or onward ticket

Yellow Fever vaccination certificate
Essential Mali travel information
Currency - The official currency of Mali is the West African CFA franc (XOF). The CFA franc is tied to the Euro. $1 is equivalent to approximately XOF 618.

Daily budget for 1 person - Allow a daily budget of XOF 16,076 ($26).

Languages - Bambara (also called Bamanakan or Bamanan) is spoken by half the population of Mali. French is the official language after independence and is the primary language of instruction in schools.

Number of travelers per year - Mali recorded 217,000 visitors in 2019.

Socket type - Types C and E, 220V supply voltage and 50Hz.

Time zone - Greenwich Mean Time (GMT).

Top 3 biggest cities - Bamako, Ségou, and Sikasso.

Top 3 landmarks/monuments - Tomb of Askia, the National Museum of Bamako, and the Grand Mosque of Djenné.
Visa information for Mali
Mali does not issue visas upon arrival. A travel visa must be obtained in advance to avoid unexpected fees and surprises at the border. To find out more, please contact the nearest Mali embassy for further details about consular services.
Typical costs and budget for Mali
A guide to what you'll spend on a daily basis traveling through Mali on a mid-range budget.
Daily spending - Around XOF 16,076 ($26) per person, per day. This includes:

Meals - Expect to spend about XOF 4,409 ($7.20) on meals for one day.

Transport - Depending on your travel plans and standard of travel, local transportation may cost up to XOF 1,815 ($2.97) per day.

Hotel - The average price for a hotel room in Mali for a couple is 14,645 ($24).
On average, a trip to Mali for two people for one week will cost XOF 224,137 ($366).
Transport and best ways to travel around Mali
There are several ways to get to and around Mali. Here are some tips for navigating the country safely.
Flying to Mali
Mali's capital, Bamako, has an international airport with direct flights to and from several African cities, and occasionally from other continents.
A layover in other countries, such as Senegal, where there are several daily flights to Bamako, is an affordable alternative.
Some of the airlines that fly to Mali include:
Turkish Airlines

Royal Air Maroc

Ethiopian Air

Egypt Air

Mauritania Airlines

Air Senegal
Due to the Sahel conflict, some of Mali's land borders are closed or too dangerous to cross or subject to many police security checks. Especially around the borders of northern Mali, with Algeria and Niger, there is a heightened risk of terrorist attacks, kidnapping, and violence.
Arrival and immigration tips for Mali
Hazrat Shahjalal International Airport in Dhaka is the largest airport in Mali. Depending on the season and time of arrival, immigration procedures can get chaotic and long queues are common. A few tips to make the immigration process smoother:
Apply for your Mali Visa in advance to avoid surprises and delays at the border.

Check the entry requirements, including customs and health declarations, before departing, as they can change quickly.

Pre-book an airport transfer with your accommodation or through a reputable company.
Getting around Mali
Several domestic flights connect Bamako with Timbuktu twice a week, stopping at either Mopti or Kayes as well. It takes at least six days for passenger boats to travel between Koulikoro and Gao, calling at Mopti and Korioume en route.
For short distances, taxis can be hired and buses run between main towns. The safest option is to hire a car with a driver. Renting a car is not recommended, but if you do, make sure to have an international driving permit and approach security checkpoints slowly.
Safety in Mali
The Republic of Mali faces many security concerns. There is a heightened threat of crime, terrorism, and kidnapping in this area. Around the country, you'll see a lot of defense and security forces. Some useful travel advice to stay safe if you need to travel to Mali:
Don't carry all your valuables in one place and don't flash expensive jewelry or equipment in public.

Monitor local media and know the number of local authorities to keep yourself updated about potential dangers.

Don't walk the streets alone at night, especially as a woman and in rural areas.

Be vigilant about scams and pickpocketing. Double-check all exchanges and negotiate everything in advance.

Do not buy illegal drugs, always follow local laws, and follow instructions of police and security forces in case of terrorist attacks or natural disasters.

Don't take photos of government employees, government buildings, and local government facilities.

Only eat in reputable restaurants and drink bottled water, as health risks are prevalent. To avoid medical or other emergencies, it's important to purchase travel insurance in advance. This will help access medical services and medical treatment.
Weather in Mali
The best time to travel to Mali would be after the rainy season, from October to January. It's hot all year round in Mali, with temperatures averaging 35°C (95°F).
Top landmarks in Mali
Mali has a rich history and is the home of many landmarks that give insights into ancient African civilizations. Here are some of the most significant landmarks and monuments:
Emperor Askia Mohamed of Songhai built the dramatic 17-m pyramidal structure of the Tomb of Askia in his capital Gao in 1495. It is designated as a UNESCO World Heritage Site.

The National Museum of Bamako is an archaeological and anthropological museum located in Bamako, the capital of Mali. There are replicas of the most important monuments in Mali in the large leafy green and safe garden.

The Great Mosque of Djenné is a large brick building in the Sudano-Sahelian architectural style. The unique building has become the epicenter of the religious and cultural life of Mali.

Spanning over 200 km from south to northeast Mali, the Cliffs of Bandiagara are a sandstone chain, and an outstanding geological, archaeological, and ethnographic site.

Mopti is a market town attracting many ethnic groups including the Tuareg, Dogon, Fulani, and Songhai to trade all sorts of traditional goods, food, spices, textiles, and blocks of salt brought across the Sahara by Tuareg camel caravans.
Typical Mali food to try
Mali's rich culture is demonstrated through its incredible cuisine. Here are some of the best dishes:
Tiguadege Na - The national dish of Mali is prepared with lamb, chicken, or even goat with vegetables. Tiguadege Na literally means 'meat in peanut sauce', which is the main flavor of this delicious meal.

La Capitaine Sangha - Another signature dish of Mali. The dish is prepared with Nile perch fish and served with fried bananas, rice, and hot chili sauce.

Poulet Yassa - This West African comfort food is made with chicken, marinated in a mixture of onion-lemon-vinegar and caramelized onions, and served with white rice.

Labadja - This mixture of minced meat and boiled rice in a butter sauce is traditionally eaten at festivals such as Eid. This flavorful dish is prepared from the meat of the sacrificed animals during this festival.
Vaccine information for Mali
It's important to know what routine vaccines and COVID-19 measures are required to enter Mali before booking your trip. A Yellow Fever vaccination certificate is necessary to enter the country.
We advise you to check the CDC website for more info about all vaccine requirements and any recommended medicine.
Mali's current situation
The Mali War is an ongoing armed conflict between northern, central, and southern Mali in Africa that began in January 2012. Several insurgent groups launched a campaign against the Malian government, claiming independence or greater autonomy for northern Mali.
Despite gaining independence from France in 1960, Mali endured decades of instability. While most of the population resides in the south, Tuareg and Arab groups in the north rebelled against the government several times, attempting to gain autonomy for the region they call Azawad.
Despite the presence of various internationally supported military operations, violent attacks increased across Mali over the last few years, terrorist groups remain a threat in Mali.
Trustpilot recommended. We lead the industry in innovation and reputation