For many travelers, Mexico is a popular tourist destination. The mix of typical colors and Spanish influence, ruins of Mayan cities that tell the history of the country, beautiful beaches, and different landscapes will dazzle your eyes as you travel through this incredible country.
If you are thinking about visiting the nation, you are probably wondering about the Mexico entry and exit requirements, as well as the COVID-19 regulations in the country.
With our assistance, you'll be up to speed in no time, and able to obtain any travel documents, such as the Mexican Tourist Card Air or Land from the safety and comfort of your own home. No visit to the embassy needed! Read more below.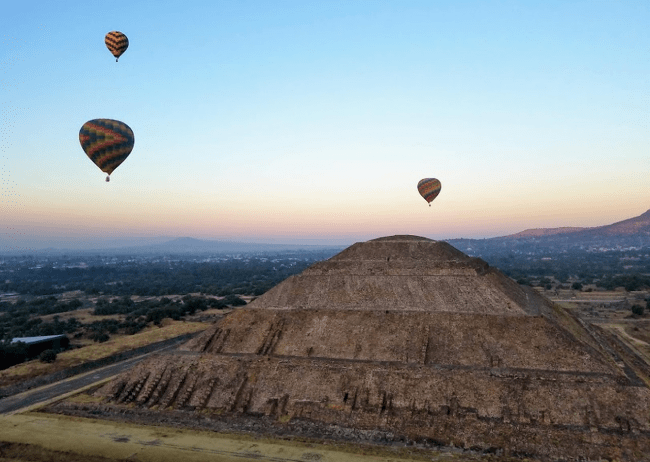 Entry and exit requirements for Mexico
There are several things you need to be aware of before you board a plane to Mexico. We have listed them below.
Mexico Visa for citizens of Brazil
Previously, Mexico's National Migration Institute (INM) required Brazilian citizens to have an Electronic Travel Authorization (SAE), for which they could apply online. Because many Brazilians have traveled to Mexico for purposes other than those allowed in the Electronic Travel Authorization regulations, the policy for this visa has recently changed.
As of August 18, 2022, all Brazilian citizens applying for a visa must make an appointment for an interview at their nearest Mexican Consulate.
Mexico Tourist Card by Air and Land
All travelers coming to Mexico, including children, must present the Mexico Tourist Card. It's important to note that this document does not replace a visa if you need one.
If you require a visa to enter Mexico when you pass through immigration, immigration authorities will still ask you for the visa stamped in your passport and a physical copy of the Mexico Tourist Card. Check our handy Visa Checker tool to find out if you need a visa or travel authorization, and apply directly.
If you are traveling by air, you need to apply for the Mexico Tourist Card by Air, and if you are going through one of the land border crossings, you must apply for the Mexico Tourist Card by Land.
Travelers eligible to enter Mexico without a visa only need to obtain the Mexico Tourist Card.
More about the Mexico Tourist Card
Both the Mexico Tourist Card Air and Land are valid for a 180 days in Total and only allows you a Single Entry. Once you leave Mexico, you cannot re-enter with the same card and you'll have to apply again if needed.
Do I need a Mexican Tourist Card if I am in transit through Mexico?
Passengers in transit do not need a visa or a Mexican Tourist Card if they meet the following requirements:
You will not leave the airport.

You will not stay at the airport for more than 24 hours.
Documents required to obtain a Mexico Tourist Card online
You can apply for your Mexico Tourist Card through iVisa. You only need the following documents:
Passport: It must be valid for 6 months from the date of arrival in Mexico. It must be the same passport you will use to enter the country.

Flight information: The name of the airline, flight number, and dates of entry and departure.

Hotel information: A confirmed booking with the name and address of the hotel.

Email address: We will send the Mexico Tourist Card to your email address. Please print this to present upon arrival in the country.

Credit or debit card: To make the payment.
How to apply for the Mexico Tourist Card
The application process is straightforward, you only have to complete the application form with all the required information, pay for the visa and processing fees, and submit the required documents.
When you receive the mail, you must download the Mexican Tourist Card and print it. The Mexican authorities of immigration will ask for it when you enter the country.
We offer three different options for this service:
Mexico Tourist Card by Air
Standard Processing Time: 24 hours - USD $24.99

Rush Processing Time: 4 hours - USD $45.49

Super Rush Processing Time: 30 minutes - USD $76.99
Mexico Tourist Card by Land
Standard Processing Time: 24 hours - USD $98.53

Rush Processing Time: 4 hours - USD $150.53

Super Rush Processing Time: 30 minutes - USD $213.53
COVID-19 restrictions and regulations in Mexico
During the pandemic, the Mexican government established several COVID-19 requirements for the safety of its citizens and visitors.
As of September 2022, the COVID-19 situation around the world has changed, so there are no specific entry requirements anymore. Quarantining, vaccination certificates, antigen tests, or PCR-tests are not mandatory to enter the country.
In addition, as the situation may change quickly, verifying the COVID-19 health guidelines with the airline you are traveling with before going to Mexico and returning to your country is recommended.
Travel recommendations for Mexico
Here are a few important things to keep in mind when traveling to Mexico:
Travel insurance: Travel insurance is not mandatory to travel to Mexico, but it is highly recommended. It covers overseas medical costs and protects you from any inconveniences that may occur, such as an accident or illness, loss of luggage, or flight cancellation. The expenses that may be incurred are more significant than the cost of travel insurance.
Do not drink tap water: Tap water in Mexico is not drinkable, and drinking bottled water is recommended. Exchanging currencies: Many restaurants and shops accept credit cards, but there are some places such as street stalls, cabs, or local markets that only accept cash. To exchange or take out money, always use the ATM of a trusted bank. Transportation: The Mexico City metro is usually very crowded. It is easier to get around on the Metrobus, which has various routes and stops and is considered a safer alternative. Always use a reputable taxi company, instead of unofficial street taxis.
Where can I contact you?
If you have any further questions about traveling to Mexico or the entry requirements, our excellent customer service team is available via online chat to answer all your questions, 24 hours a day, 365 days a year. You can also email us at [email protected].