Morocco offers unique experiences for tourists from all around the world. One of the highlights is the warm, welcoming people who make foreigners feel at home while exploring different cultures and traditions. No wonder the country is popular with Malaysians wanting to experience the colorful culture and famous food!
If you are a Malaysian passport holder and want to explore Morocco, you may need a visa. Check your nearest consulate or embassy for more information about visa-free travel or the Morocco visa for citizens of Malaysia. Additionally, Malaysians need to fill out the Morocco Health Declaration. You can register for the Morocco Health Declaration online in a few minutes. You can count on iVisa to make the entire process as easy as possible. Read more about the requirements, how to apply online, and travel tips below.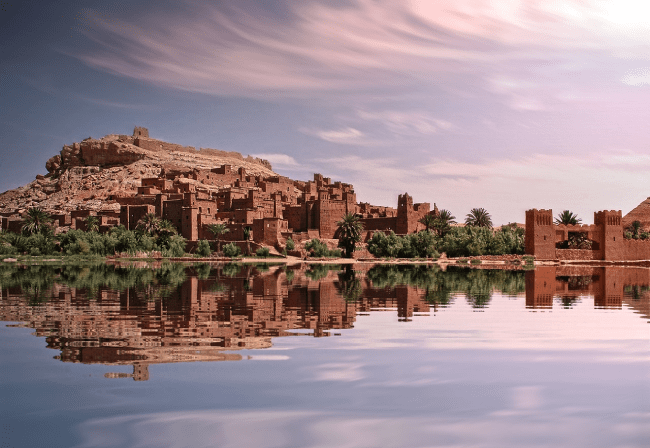 Everything you need to know about the Morocco Health Declaration for Malaysian citizens
Malaysian citizens are eligible to fill out the Morocco Health Passenger form online. The Ministry of Foreign Affairs developed this form to facilitate entry into Morocco and monitor the spread of COVID-19 in the country.
Simply fill out the form on the iVisa application page, and then wait to receive the document in your email. It's as simple as that! This travel document allows you to enter Morocco and is valid for a single entry.
Please note that this is not a Morocco tourist visa. To apply for a tourist visa, you must contact the Morocco embassy or consulate and meet all the Morocco tourist visa requirements.
All family members need to present a valid passport and a Morocco Health Passenger Form. So if you are traveling with minors, ensure they have obtained all the documentation required before departure. Parents or legal guardians can apply for the travel document on behalf of their children.
How to apply for the Morocco Health Passenger form online
Filling out a Morocco Health Declaration from Malaysia is very straightforward. iVisa prepared an easy form to fill out, so you can focus on enjoying the preparations for your trip.
Just follow these three simple steps:
Step 1: To get this travel document to travel to Morocco, you must complete the electronic form with your personal and travel information. Based on your needs, choose the preferred processing time.

Step 2: In the second step, you will have to pay the visa fee. It is essential to check that all the information entered is correct before applying.

Step 3: After payment, upload any required documents and submit the application. Our team of iVisa experts will process the document and contact you if any issues arise.
Once your application is approved, you will receive the document by email.
Morocco Health Declaration requirements and documents
You'll need the following documents to fill out the Health Declaration:
Details of your original passport: The passport must be valid for at least 6 months.

Address in Morocco: The details of your accommodation, like a hotel, should suffice.

Contact details: In case of an emergency, the government can contact you.

Email address: An email address to receive the visa or if any issues arise during processing.

Payment method: You can pay the fee for the Morocco visa application process with a debit or credit card.
Processing costs of the Morocco Passenger Form for Malaysians
Malaysian citizens have three options for processing their documents. They can choose a time and price that works for them. The options are as follows:
Standard Processing Time: This option takes 24 hours for USD $27.99.

Rush Processing Time: This is a slightly faster option, taking just 8 hours for USD $49.49.

Super Rush Processing Time: Perfect for those who need their Moroccan visa urgently, this option takes 4 hours for USD $81.99.
All these processing options include government fees.
COVID-19 travel restrictions in Morocco
Morocco is one of the countries that still have travel restrictions related to COVID-19. The main item is the Health Passenger Form you have to present on arrival. You can apply online, and the process is pretty similar to the visa application.
Presenting proof of vaccination is not mandatory, but unvaccinated travelers must show a negative PCR test result taken less than 72 hours before departure. Fully vaccinated travelers with at least three COVID-19 vaccine doses are exempt from the country's testing requirements. Travelers of 12 years or younger are exempt from testing and vaccination requirements, as well as those who are transiting at a Moroccan airport.
What to see and do in Morocco
Morocco is colorful, historic, and vibrant. Citizens of Malaysia are welcomed into the cities full of life and fantastic markets. A helpful travel tip is learning how to bargain, which is almost a natural talent for Moroccans. It can help you enjoy shopping for colorful spices, eye-catching carpets, and beautiful accessories.
Check out some places you should definitely include in your itinerary below.
Visit the country's colorful capital: Marrakesh
Arriving from Malaysia, Marrakesh will probably be your gateway. The city is vivid and a fascinating place to try spices and food, with plenty of options for restaurants. For an authentic experience, stay within the city walls in a traditional Riad and then go shopping in the maze-like souks. Also don't miss visiting the Bahia Palace. It's regarded as one of the most picturesque sites in Morocco.
The mountains at your doorstep: Jebel Toubkal
This city is a great place to explore the Atlas Mountains. At an altitude of 4167 meters, it is ideal for hikers. The view is worth the effort, and you'll be amazed by what you can see from the mountain's highest point.
North African beaches: Sidi Ifni
This city is an excellent option to enjoy the beach in Morocco. It's a small fishing town in southwest Morocco, with warm weather all year round. The atmosphere is friendly, and the beaches are beautiful.
More questions about traveling to Morocco?
If you have more questions about applying for a Moroccan visa, need assistance filling out the Morocco passenger Form, or have questions about another travel document, don't hesitate to contact our support team via online chat. They are available 24/7. You can also email them at [email protected].