Please note: Unfortunately, the Morocco visa for Philippine citizens is not currently available on iVisa. We hope you will be able to apply again on our platform soon. Meanwhile, in this article, you can learn the visa requirements, the application steps, and get information about COVID-19 restrictions.
The Philippines offers many attractions, but traveling to Morocco can be a life-changing experience. This country in North Africa has a diverse culture, history, and ancient traditions to dive into it. But to enter Morocco, you will need a visa.
The good news is that citizens from the Philippines can apply for a Moroccan visa online. The Moroccan Ministry of Foreign Affairs developed the electronic travel document to facilitate travel for tourists, so visitors don't need to go to a Moroccan consulate or embassy for visa applications.
The application process is quite simple, especially if you count on iVisa services. Our team has prepared a form you can complete in a few minutes; we will help you through the process and notify you if any additional documents are requested.
Just be aware that this is the procedure to get a tourist visa, and it can be used only for tourism purposes. You should contact the Moroccan embassy for a business, study, or transit visa.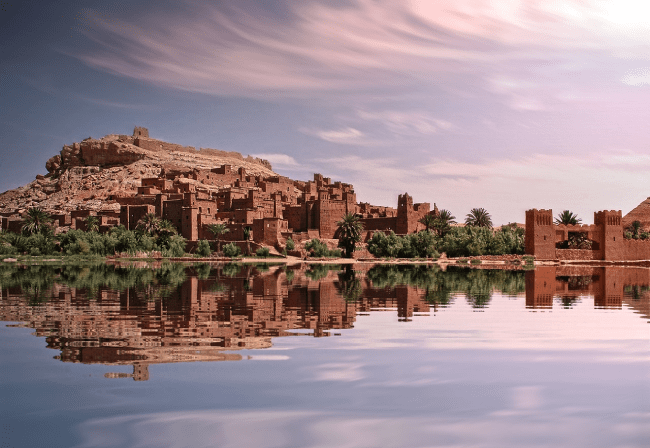 Morocco tourist visa for Filipino citizens
Philippines passport holders need a visa to travel to Morocco. It's part of the mandatory documents required by the Moroccan government to permit entry into the territory. Since travelers can get a Morocco tourist visa online, the procedure has become relatively easy.
Once applicants meet the Morocco visa requirements, they fill out the form on the iVisa application page in a few minutes. Applicants will receive the visa in their email—no more appointments and waiting in the embassy.
The Morocco tourist visa allows visitors to stay in Morocco for 30 days from arrival. They have to enter Morocco within 180 days of the visa issue date.
This is a single-entry visa so, Philippines passport holders can enter the country only once with the document. If you need to stay in Morocco for longer, you can apply for a Moroccan visa extension.
All family members must present a valid passport and a Morocco visa on arrival. So if you are traveling with minors, ensure they have all the necessary documentation before departure. Parents or legal guardians can fill out the visa application for children not old enough to apply on their own.
How to Apply for the Morocco visa for Philippines Citizens
The Morocco visa application is a straightforward procedure. iVisa prepared an quick and easy form to fill out, which only takes a few minutes of your day.
Just follow these 3 simple steps:
First: To get the visa to travel to Morocco, you must fill out the iVisa application page with your personal and travel information. Then, choose the time of processing according to your needs.
Second: You make the visa fee payment. It is essential to check that all the information entered is correct before submitting the application.
Third: After payment, upload any required documents and submit the application. Our team of iVisa Experts will process your visa and update you if any issues arise.
Once your process is approved according to the Ministry of Foreign Affairs visa requirements, you will receive the visa by email.
Morocco visa requirements and documents for citizens of the Philippines
You will have to gather some documents to fill out the visa application. Here is the document checklist:
Original passport: The passport must be valid for at least six months.
Invitation letter: You must obtain an invitation letter from the Moroccan Migration Service and provide the invitation number for the e-Visa application form. A cover letter explaining the reason for the trip must also be submitted.
Proof of sufficient funds: A bank statement as proof of sufficient financial means to support the trip and related expenses.
Travel insurance: You need travel insurance to cover primary medical treatments.
Email address: An email address to receive the visa or if any issues arise during processing.
Payment method: You can pay the visa fee for the Morocco visa application process with a debit or credit card.
Morocco Visa fees for Filipino citizens
Philippines passport holders have 3 alternatives for this service. Depending on their preferences, they can choose the processing time and price.
These are as follows:
Standard Processing Time: This option takes 4 Business days for USD 137.99.
Rush Processing Time: This is a slightly faster option, taking just 3 Business days for USD 178.99.
Super Rush Processing Time: Ideally suited for those who require their Moroccan visa urgently, this option takes 1 Business Day for USD 203.99.
All of these options include government fees.
Morocco Visa Processing Time
Philippines passport holders can choose among three options of processing time for their Moroccan visa: Standard (4 Business days), Rush (3 Business days), and Super Rush (1 Business day). Check the pricing for each of them above.
Morocco Public Health Passenger Form
You also need a Health Passenger Form to visit Morocco. This is one of the health measures developed to prevent the spread of Coronavirus, tracking the health status of travelers. It is a mandatory travel document for all international passengers arriving in the country.
But you can apply online by filling in a quick and simple form. You will submit personal information on iVisa application page, pay the feed, and wait for the document to arrive in your email. You must print the Morocco Health Passenger Form to present to local authorities at the Morroco airport.
Click here for more details about the Morocco Health Passenger Form.
COVID-19 travel restrictions
Morocco still has some COVID-19 restrictions to keep the country safe for tourists and locals. The main requirement regarding the pandemic is the Health Passenger Form, a mandatory document for all passengers. The good news is that you can apply online, similar to a visa application.
Vaccination All eligible travelers should be up to date with their COVID-19 vaccines. Unvaccinated travelers must present a negative PCR test result taken less than 72 hours before departure. Otherwise, fully vaccinated visitors with at least three COVID-19 vaccine doses don't need to present a COVID-19 test result.
Minors age 12 years or younger are exempt from testing and vaccination requirements, as well as those who are transiting at the airport.
Morocco: What to visit
Are you ready to visit Morocco? This country has colorful streets, rich culture, and welcoming people. It's an opportunity to explore different perspectives and learn about old traditions.
Check out some places that you shouldn't miss on this trip!
Marrakesh
Marrakesh is one of the most important cities in the country. There are many restaurants to try spices or food, and many shops to bargain. In addition, the Bahia Palace is a must-see in the city, one of the most scenic sites in Morocco.
The Sahara Desert
The Sahara desert is not far from Marrakesh. The desert is definitely different from any landscape in the Philippines. Try to enjoy a sunset or the sky full of bright stars around there, a wonderful experience!
Atlas Mountains
The Atlas Mountains are a beautiful natural attraction to visit in Morocco. You can go to Jebel Toubkal and then hike the fantastic hills for an amazing view of the area of over 4,000 m.
I still have questions about applying for a Morocco Visa. Where can I find more information?
If you have more questions about how to apply for this visa or any other travel document, don't hesitate to contact our support team. They will help you whenever you need them. You can also send them a message to [email protected] if you prefer.