Myanmar Travel Guide: Requirements and tips for visiting Myanmar in 2023
Welcome to Myanmar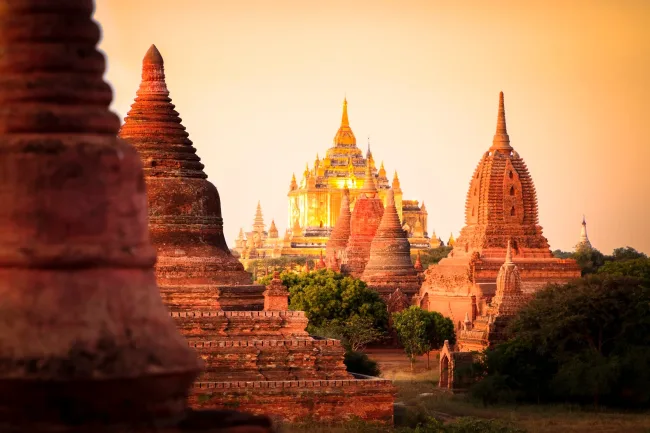 A country rich in history, culture, and natural beauty, known for its stunning pagodas, bustling markets, and delicious cuisine, Myanmar is a must-visit destination for any traveler looking for an unforgettable experience.
With our ultimate Myanmar travel guide, we'll provide you with the best travel advice and tricks to make your Myanmar trips more manageable and enjoyable.
From exploring the ancient temples of Bagan to trekking through the picturesque Shan State, Myanmar has something for every type of adventurer. So pack your bags and prepare for an unforgettable journey through this beautiful country.
Document checklist for Myanmar
A valid passport with at least six months of validity from the entry date.

A Myanmar eVisa or a visa obtained from a Myanmar embassy or consulate before arrival.

Myanmar Travel Insurance

Proof of sufficient funds to cover your stay in Myanmar.

A return airline ticket or onward travel itinerary. Please note that visa requirements and entry regulations may vary based on your country of origin and the purpose of your visit. It's essential to check the latest travel requirements before planning your trip to Myanmar.
Essential Myanmar travel information
Currency - The currency used in Myanmar is Kyat (MMK). $1 is equivalent to approximately 1,600 MMK.

Daily budget for one person - A daily budget of $30-50 USD per person is recommended for backpackers and budget travelers, while mid-range travelers can expect to spend around $50-100 USD per day.

Languages - The official language of Myanmar is Burmese. English is also spoken in tourist areas, but learning basic Burmese phrases is always helpful.

Number of travelers per year - Myanmar receives around 4 million visitors annually.

Socket type - The electrical sockets in Myanmar are type C, D, F, and G. The standard voltage is 230V, and the standard frequency is 50Hz.

Time zone - Myanmar Standard Time is 6.5 hours ahead of Coordinated Universal Time (UTC+6.5).

Top 3 cities to visit - Yangon, Bagan, and Mandalay are the top cities in Myanmar, offering visitors a glimpse into the country's rich history and culture.

Top 3 landmarks/monuments - Shwedagon Pagoda, Bagan Archaeological Zone, and Inle Lake are Myanmar's top landmarks and monuments, each offering a unique and unforgettable experience.
Visa information for Myanmar
To enter Myanmar, most travelers need to obtain a visa before arrival. US and EU citizens need a visa to enter Myanmar, which requires a valid passport, a recent color photo, and a credit card for payment.
It's important to note that visa requirements and entry regulations may change, so it's always a good idea to check the latest travel requirements before planning your trip to Myanmar. You can also look into securing an embassy registration if you need emergency consular assistance during your trip.
Myanmar Business eVisa
The Myanmar Business eVisa is designed for those who plan to visit Myanmar for business purposes. This visa allows visitors to attend business meetings, conferences, and other similar events in Myanmar.
The visa is valid for 90 days after issued, and it allows a single entry for a stay of up to 70 days in Total. The primary document requirements for the Myanmar Business eVisa include a valid passport, a recent passport-sized photograph, and a letter of invitation from a company registered in Myanmar.
If you plan a business trip to Myanmar, you can apply for the Myanmar Business eVisa with iVisa. The processing time for this visa is typically three business days, and you can check your eligibility for the visa using our Visa Checker Tool.
Myanmar Tourist eVisa
The Myanmar Tourist eVisa is for those planning to visit Myanmar for tourism purposes. This tourist visa allows visitors to explore Myanmar's beautiful landscapes, historical sites, and cultural heritage.
The visa is valid for 90 days after issued, and it allows a single entry for a stay of up to 28 days in Total. The basic document requirements for the Myanmar Tourist eVisa include a valid passport, a recent passport-sized photograph, and proof of travel arrangements.
Suppose you're planning a trip to Myanmar for tourism purposes. In that case, you can apply for the Myanmar Tourist eVisa on our website and do not need to visit your nearest Myanmar embassy. The processing time for this visa is typically three business days.
Myanmar Travel Insurance
Myanmar Travel Insurance provides travelers with financial protection in case of unexpected events during their trip, such as medical emergencies, trip cancellations, and lost or stolen luggage.
The coverage options for Myanmar Travel Insurance may vary depending on the provider. Still, they typically include overseas medical costs, emergency medical evacuation, trip cancellation, baggage loss, travel restrictions, or delay. Apply for Myanmar Travel Insurance with iVisa to protect yourself during your trip.
Visa difficulty index for Myanmar
Accessibility: 4/5
Getting a Myanmar visa has become easier with the introduction of the eVisa system, which allows for online application and payment. This saves time and money, especially for travelers who do not have a Myanmar embassy nearby. However, applicants still need to provide some supporting documents, such as a passport with at least six months of validity, a recent passport-size photo, and proof of travel arrangements.
Time to get your visa: 4/5
The processing time for a Myanmar eVisa is usually around three business days. However, getting an express visa in 1-2 business days is possible for an additional fee. The processing time can be delayed if there are any errors or inconsistencies in the application, so it is important to double-check all information before applying.
Costs: 3/5
The cost of a Myanmar eVisa includes the government and processing fees charged by iVisa. The prices are reasonable but can add up quickly for multiple travelers or those needing expedited service.
Typical costs and budget for Myanmar
Myanmar is known as a relatively affordable destination in Southeast Asia, with a daily budget of around $35 to $50 per person being enough for a comfortable stay. Here's a breakdown of the average costs you can expect to encounter:
Meals - Expect to spend around $3 to $10 per meal at a local restaurant or food stall, while a three-course dinner for two people at a mid-range restaurant may cost approximately $20 to $30.

Transport - Taxis and private transfers can be relatively expensive, with a short taxi ride costing around $5 to $10. However, public transportation options such as buses and trains are much more affordable, with prices ranging from $1 to $10 depending on the distance and level of comfort.

Hotel - Accommodation options in Myanmar range from budget-friendly guesthouses to luxury resorts. A basic guesthouse room can cost around $10 to $20 per night, while mid-range hotels may cost approximately $30 to $50 per night. Luxury hotels and resorts can cost upwards of $100 per night.
A trip for two people for one week in Myanmar can cost, on average, around $500 to $700, including accommodation, transportation, food, and some activities. Remember that costs can vary depending on your travel style, preferences, and itinerary.
Transport and ways to travel around Myanmar
Myanmar offers several modes of transportation for travelers to use when they visit Myanmar.
Flying to Myanmar
Myanmar has several international airports, but the main international airport is Yangon International Airport (RGN), which receives direct flights from major destinations in Asia, such as Bangkok, Singapore, Kuala Lumpur, and Beijing, among others.
Some airlines that offer direct flights to Myanmar include Thai Airways, AirAsia, Singapore Airlines, and China Eastern Airlines. Other airports in Myanmar that receive international flights include Mandalay International Airport (MDL) and Naypyidaw International Airport (NYT).
Arrival and immigration tips for Myanmar
*Upon arrival in Myanmar, it is advisable to have all the necessary documents ready, such as a passport with at least six months of validity, a visa (if required), and a printed copy of your accommodation reservations.
*For those who require a visa, it is recommended to apply for it in advance to avoid potential long queues upon arrival. You can apply for a Myanmar eVisa through iVisa, which offers a simple and efficient online application process.
*The main international airport in Myanmar is Yangon International Airport, about 30 minutes away from the city center by taxi.
Taking a bus or train to the city from the airport is also possible. Avoid any hassle and book a reliable and safe airport transfer service in advance. Immigration queues can sometimes be long, so it is advisable to be patient and prepared for a wait.
Best ways to travel around Myanmar
The best way to travel around Myanmar is by bus, the country's most popular and affordable mode of transportation. Buses are available in most cities and towns and come in various classes, from basic to deluxe. The buses can be booked in advance or at the bus station, and payment can be made in cash. Most buses are air-conditioned and have comfortable seats, making them an ideal mode of transport for long journeys.
Another way to explore Myanmar is by train, a scenic way to explore the country. The trains are slower than buses, but they offer a more relaxed way of traveling, and passengers can enjoy the beautiful landscapes. Train tickets can be booked in advance at the railway station, and payment can be made in cash. It is advisable to book tickets in advance during peak season as they tend to sell out quickly. Additionally, taxis, tuk-tuks, and motorbikes are available in most cities and towns for short trips.
Safety in Myanmar
Myanmar is generally a safe country to visit, with low levels of violent crime. However, like in any other destination, local authorities advise travelers to exercise caution and be aware of their surroundings at all times. To stay safe, keep the following tips in mind:
Petty crimes like pickpocketing and theft can occur in crowded areas and tourist sites, so keeping an eye on your belongings and avoiding wearing expensive jewelry or flashing your valuables in public is essential.

Remember that Myanmar is currently under Military Rule as Myanmar's military regime extended its emergency rule until 2023. Thus it is recommended to avoid any political demonstrations, protests, civil unrest, and armed conflict.

Always respect local laws, customs, and traditions. Seek local advice when visiting religious sites or auspicious places, and monitor local media closely for any politically motivated violence or issues in the area during your stay.

Be aware that the Myanmar Government upholds strict drug laws. Possession or trafficking of illegal drugs can result in severe penalties, including lengthy prison sentences or even the death penalty.
Weather in Myanmar
Myanmar has a tropical climate with three main seasons: the cool, dry season from November to February, the hot season from March to May, and the rainy season from June to October.
The best time to visit Myanmar is during the cool, dry season, which is also the peak tourist season. Temperatures during this season range from 20°C to 30°C (68°F to 86°F), and it is generally sunny with low humidity. It is worth noting that December and January are the busiest months for tourism in Myanmar, so it is best to book accommodation and flights in advance if traveling during this period.
During the hot season, temperatures can soar up to 40°C (104°F) in some parts of the country. The rainy season brings high humidity and daily downpours, sometimes leading to flooding and landslides in more remote areas.
If traveling during the cool, dry season, it is advisable to bring light layers as the evenings can sometimes be cooler, particularly in higher elevations. In the hot season, loose, lightweight clothing is recommended to help keep cool. Rain gear is also essential during the rainy season.
Must do and see when you visit Myanmar
Bagan - One of Myanmar's most iconic and awe-inspiring destinations, Bagan is home to thousands of ancient temples and pagodas. The best way to experience the beauty of Bagan is to take a hot air balloon ride at sunrise and watch the temples come to life. The best time to visit Bagan is from November to February, when the weather is cool and dry.

Inle Lake - Located in the northern Shan State, Inle Lake is a picturesque freshwater lake surrounded by rolling hills and floating gardens. Visitors can take a boat ride to explore the lake and its surrounding villages to experience local culture, food, and traditional crafts. The best time to visit Inle Lake is from September to February, when the weather is mild and dry.

Mandalay - Known as the cultural center of Myanmar, Mandalay is home to many historical and cultural sites, including the Royal Palace, Mandalay Hill, and the Mahamuni Buddha Temple. Visitors can also experience the vibrant local markets and sample delicious local food, such as Mandalay mohinga (rice noodle soup) and Mandalay mont pyit tha (sweet fried snacks).

Ngapali Beach - Located on the Bay of Bengal, Ngapali Beach is a stunning and unspoiled destination with crystal-clear waters and white sand beaches. Visitors can enjoy swimming, snorkeling, and other water sports or simply relax on the beach and enjoy the beautiful scenery. The best time to visit Ngapali Beach is from November to March, when the weather is dry and sunny.
Typical Myanmar food to try
Mohinga: Considered the national dish of Myanmar, this breakfast soup consists of rice noodles, fish broth, and an array of herbs and spices.

Shan Noodles: A popular lunchtime staple, Shan Noodles feature thin, round rice noodles in a savory broth made from chicken or pork, with a generous topping of crispy fried garlic and other garnishes.

Tea Leaf Salad: A unique and flavorful salad made from fermented tea leaves, tomatoes, peanuts, and other crunchy and tangy ingredients. It's a must-try for anyone looking to explore Myanmar's culinary scene.
Vaccine information for Myanmar
Currently, the COVID-19 vaccine is available in Myanmar, and visitors are recommended to get a COVID-19 vaccine before traveling to the country.
Additionally, the CDC recommends that travelers visiting Myanmar be up-to-date on routine vaccinations such as measles, mumps, rubella, and varicella, as well as getting vaccinated for Hepatitis A, Hepatitis B, and Typhoid.
Travelers may also be required to provide proof of yellow fever vaccination if they come from an endemic country.
Explore the Diamond Encrusted Shwedagon Pagoda, Myanmar
One of the most important things to do in Myanmar is to visit religious sites. One of the most important sacred sites to see in Myanmar is the Shwedagon Pagoda, located in the city of Yangon. This iconic pagoda is said to hold a bit of the Buddha's hair, making it a sacred site for Buddhists worldwide.
The pagoda stands an impressive 99 meters tall and is encrusted with over 5,000 diamonds, making it a dazzling sight, especially when lit at night. Visitors can explore the surrounding complex, which includes various temples, statues, and shrines.
It is recommended to visit the Shwedagon Pagoda at sunset when the light is perfect, and the atmosphere is peaceful. Visitors should dress appropriately, with their knees and shoulders covered, and remove their shoes before entering the pagoda.
Trustpilot recommended. We lead the industry in innovation and reputation
Our Customers Have Great Stories About Us