Home
>
Namibia Travel Guide: Requirements and tips for visiting Namibia in 2023
Namibia Travel Guide: Requirements and tips for visiting Namibia in 2023
Welcome to Namibia
From desert landscapes to vast parks to spot wildlife, Namibia offers attractions to both families and adventurers. Enjoy a remarkable vacation while you step into this unique culture.
This ultimate Namibia travel guide will get you covered with inspiring tips and practical information for having a great trip.
Document checklist for Namibia
Valid passport (it must remain valid for at least six months from the date of entry and have two blank pages)

Sufficient funds to cover your trip

Return or onward ticket
Essential Namibia travel information
Currency - The official currency is the Namibian dollar (N$), but the South African Rand is also accepted in the country. $1 is equivalent to approx. N$18.60.

Daily budget for 1 person - Allow a daily budget of N$1,114 ($62).

Languages - The official language in Namibia is English, but only 3% of the population speaks it as a home language. German is also a national language and is spoken in some communities. Oshiwambo is the most common local language.

Number of travelers per year - In 2019, over 1.5 million travelers visited Namibia.

Socket type - Types D and M, 220V supply voltage and 50Hz.

Time zone - Central Africa Time (GMT+2).

Top 3 cities to visit - Swakopmund, Damaraland, and Walvis Bay.

Top 3 landmarks/monuments - Etosha National Park, Naukluft Mountains, and Sossusvlei National Park.
Visa information for Namibia
A good thing about visiting Namibia is that most tourists don't need to apply for a visa in advance to enter the country. However, regardless of visa requirements, you'll also need a Health Declaration.
Check the required travel documents in the Visa Checker Tool or keep reading to find out more.
The Namibia Health Declaration explained
The Namibia Health Questionnaire is a mandatory travel document that all visitors must submit before arrival. It is part of the new health measures implemented by the government. This document does not replace a visa. Obtain the Health form quickly and easily with iVisa, so you're prepared.
Visa difficulty index for Namibia
Accessibility: 5/5
Namibia is open to tourists! Most nationalities are visa-exempt or can easily obtain a visa on arrival. Get your Health Declaration quickly with iVisa.
Time to get your visa: 5/5
Most people don't have to apply in advance for the Namibia Visa. However, you have to present the Health Declaration upon arrival. The best way is to fill it out in advance.
Costs: 4/5
The visa fee depends on your nationality, and can be paid for upon arrival using credit or debit cards. The Health Declaration is free, you'll only pay for the iVisa processing.
Typical costs and budget for Namibia
A guide to what you'll spend on a daily basis traveling through Namibia on a mid-range budget.
Daily spending - Around N$1,114 ($62) per person, per day. This includes:

Meals - Expect to spend about N$97 ($6) for a meal.

Transport - Depending on your travel plans and standard of travel, local transportation may cost up to N$200 ($11) per day.

Hotel - The average hotel price in Namibia for a couple is N$641 ($36).
On average, a trip to Namibia for two people for one week will cost around N$15,602 ($865).
Transport and best ways to travel around Namibia
Here are some Namibia travel tips about transport to get around Namibia. Learn below how to explore the country in the best way.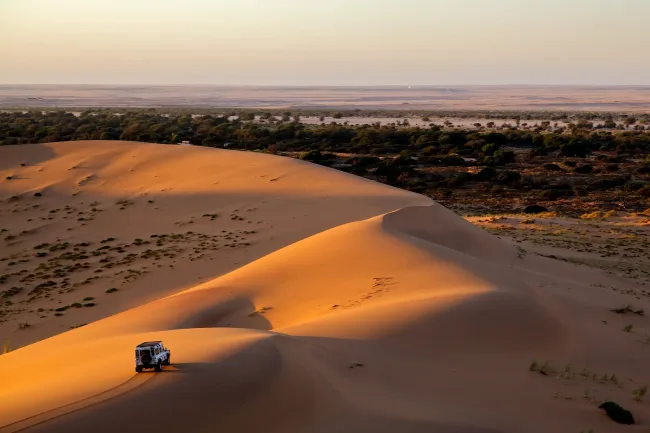 Flying to Namibia
Hosea Kutako International Airport is the primary international airport that serves the Namibian capital city of Windhoek. It serves as the primary hub for Air Namibia, but also many airlines cover this destination, such as:
Qatar Airways

British Airways

Ethiopia Airlines

Air Botswana

Airlink

Condor

South African Airways

TAAG Angola Airlines
It's also possible to take an international bus from Botswana or South Africa, although journeys are long and slow.
Arrival and immigration tips for Namibia
Arrival can always be a bit stressful after international flights. So here are some helpful tips to navigate
Namibia's immigration procedures:
Most travelers have to obtain a visa on arrival at the airport. Ensure the correct visa and entry period are stamped in your passport, even if you're transiting.

Be aware that travelers have to present a valid yellow fever vaccination certificate to enter Namibia if they're arriving from a country where yellow fever occurs.

Make sure to pre-book your airport transfer through your accommodation or a reliable company.
Trains in Namibia
Trains can be an option to cover long distances traveling. TransNamib provides a comfortable overnight service connecting Windhoek to cities like Walvis Bay and Keetmanshoop. However, it's not an extensive rail network, trains are slow, and schedules are occasionally unreliable.
Buses in Namibia
The bus is the best public transport for travelers on a low budget. They are affordable for long-distance trips, don't have many stops, and are usually safe. Another option is taking shared minivans. These are the primary mode of transportation for Namibians and run between all major towns in the country when fully occupied.
Rental car in Namibia
The best way to discover Namibia is by enjoying a road trip with a rental car. The country boasts a reliable network of paved main roads and mostly well-kept gravel roads in remote areas. Renting a vehicle in Namibia is easy, and a mid-size car costs around $65/day.
However, rental agencies are often fully booked during the peak season (July to October), so making reservations is recommended. It's also a great option if you plan to visit other African countries in the region.
Boat travel in Namibia
There are no large ferries in Namibia. Nevertheless, you can enjoy a boat tour from coastal cities like Lüderitz to Walvis Bay.
Safety in Namibia
Namibians are very welcoming, and you will most likely have a great experience there.
However, it's necessary to exercise caution while visiting Namibia. Here are some recommendations:
Petty crimes such as pickpocketing, bag snatching, and car break-ins are common in Namibia. It's advisable not to leave valuables in your car and to keep vehicle doors locked and windows up, even while driving.

Violent crimes like muggings and robberies also occur, with tourists being robbed after stopping to help hitchhikers or strangers. Avoid walking alone in large towns, especially at night.

It's essential to be cautious when using taxis in Namibia. Unmarked taxis on the street are known to be operated by thieves. So, always use taxis with the Namibia Bus and Taxi Association logo or book taxis through your hotel or a taxi company.

Credit card skimming is also a prevalent issue. Keep your credit card in sight, and frequently monitor your statements for fraudulent transactions.

Flooding can occur during the rainy season (November to April), blocking roads. It's essential to monitor local media and follow authorities' advice during these times.

Ensure you purchase travel insurance for this upcoming trip. This will give you access to medical treatment and cover medical emergencies if any misfortune happens.
Weather in Namibia
The best time to visit Namibia is during the winter months: June, July, and August. You can expect sunny days with cooler temperatures (sometimes even cold). A good travel tip is to pack an extra jumper, just in case.
Winter is also the dry season and the best period for game viewing since animals tend to gather around scarce water sources. Additionally, there's less chance of contracting malaria during this season.
On the other hand, if you want a completely different Namibian experience, the summer rains from November to April can transform parts of the country into lush green landscapes and may occasionally cause flooding in the desert.
Visit Namibia: Must do and see
There is so much to see in this country that making a Namibia itinerary might be challenging. Here are some amazing activities to do on your trip to Namibia:
Visit Etosha National Park. This is the largest game reserve in Namibia and is home to elephants, lions, zebras, impala, Thompson's gazelles, and kudu.

Hike to the Fish River Canyon. It's the second-largest canyon in the world and offers a magnificent view.

Take a catamaran cruise in Walvis Bay. This coastal town has diverse marine and birdlife and also beautiful landscapes.

Visit the Sossusvlei National Park's dunes. These are some of the highest dunes in the world, and they have an impressive red color.

Stroll down Swakopmund's streets. The town has German architecture and wonderful seafood restaurants.
Typical Namibian food to try
Don't miss out on these typical dishes from Namibia:
Potjiekos - This popular South African/Namibian dish is a stew, typically made with meat, vegetables, and spices. The ingredients are simmered over a fire in a cast-iron pot, which gives the stew a smoky flavor.

Kapana - This grilled meat is popular street food in Namibia. It is usually made with beef but can also be game meat such as kudu or ostrich. The meat is grilled over an open flame, then cut into small pieces and served with chili sauce, onions, and sometimes tomatoes.

Mopane worms - If you want to try something exotic, this is it. These are a delicacy in Namibia and a good source of protein. To prepare the worms, they are first boiled or steamed and then fried with onions and spices.

Biltong - Biltong consists of dried meat, similar to jerky. It is typically made from beef or game meat and is marinated in vinegar and spices before being hung to dry. This typical Namibian snack is often served with beer.
Vaccine information for Namibia
Knowing the routine vaccines and COVID-19 measures required to enter Namibia before booking your trip is essential.
For example, the yellow fever vaccine is mandatory if you travel from a country where this disease occurs. We recommend you check the CDC website for more info about vaccine requirements and any recommended guidance.
Safari in Namibia
Namibia is a fantastic country to spot wild animals! It's one of Africa's safest and most diverse countries for safaris. You can include a day trip in your itinerary or stay a couple of days camping to explore the local parks.
The country boasts Africa's largest cheetah population and a significant number of black rhinos, leopards, and several endemic species. The country's breathtaking landscapes create a remarkable backdrop for wildlife safaris, and its excellent infrastructure makes it ideal for self-drive trips.
Etosha National Park is widely regarded as one of Africa's premier wildlife safari destinations. Visitors can witness enormous herds of lions, elephants, zebras, and antelopes, along with leopards, cheetahs, and black and white rhinos, around the numerous waterholes amidst some of Southern Africa's most stunning and photogenic safari landscapes.
Others recommend exploring the vast wilderness areas in the northwest of Namibia. In this region, you can track desert-adapted wildlife like rare black rhinos or desert elephants.
As you can see, you'll make extraordinary memories in Namibia. Let's pack and live this adventure!
Trustpilot recommended. We lead the industry in innovation and reputation
Our Customers Have Great Stories About Us