Netherlands is a country in the North-Western part of Europe. This pancake-flat country is a famous European travel destination and mostly loved by tourists. Often called Holland, the Netherlands is also known as the kingdom of windmills and tulips. It is the ultimate cycling nation, you can practically cycle throughout the country as you roam through the beautiful cities.
The Netherlands is sure to overwhelm you with its delicious food and great hospitality, the country's rich topography and flora and fauna are a cherry on the cake. You are sure to lose yourself in this romantic country that is filled with art galleries and museums. If you're a lover of aesthetics, Netherlands is the ideal place for you.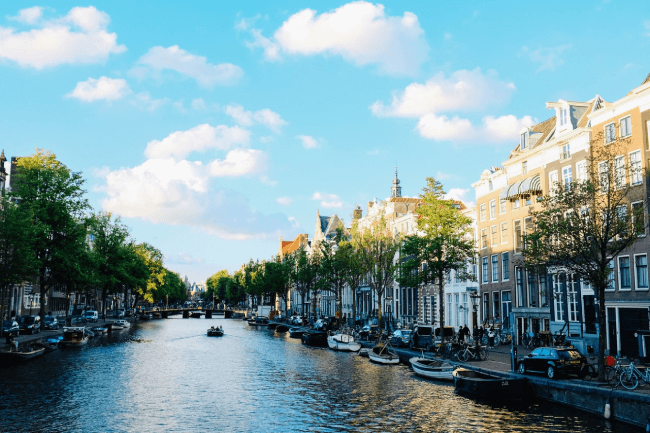 Being one of the founding countries of the European Union, Netherlands eventually joined the Schengen about 40 years later in 1995. The government has come up with modern measures to strengthen the safety of the Schengen region by screening the people who enter the countries in this area. This new system is called ETIAS and will be implemented in 2022.
Citizens of Uruguay who are looking forward to visiting the Netherlands after 2022 will require an ETIAS to enter the country.
This system is a brand new initiative which might make the application process for the visa waiver a little complicated and confusing. To apply for your visa in a more convenient and less time-consuming way, you can consider availing the services of iVisa.com with the help of which, you can apply for your visa smoothly by following our guide on how to obtain a Netherlands ETIAS for Citizens of Uruguay. Apply for your ETIAS by visiting our website.
Mentioned below are a set of Frequently Asked Questions that have been compiled to make it easier to understand the ETIAS. This will help the citizens of Uruguay to solve any basic queries that they might have regarding the Netherlands ETIAS. You can also apply for an ETIAS online via iVisa.com.
Frequently Asked Questions
The objective of this section is to deal with any questions that might arise in the minds of the citizens of Uruguay about the ETIAS. You can apply for your Netherlands ETIAS for Uruguay on iVisa.com.
What do you mean by a Netherlands ETIAS?
The ETIAS or European Travel Information and Authorization System is a new development by the government. It is a mandatory travel authentication document that is required by the citizens of Uruguay who want to enter the Netherlands after 2022 for vacations and trips.
What are the documents required for the application process?
Uruguay residents who want to apply for a Netherlands ETIAS via iVisa.com will require the following documents during the visa waiver application process:
Passport: you must have a valid passport that won't expire for at least 3 months beyond your international trip.
Email address: you should have an email address on which you would receive the ETIAS documents that are sent to you safely.
Credit card/ Debit card/ PayPal: a credit or debit card or PayPal account to pay for your application procedure.
How long can one stay with a Netherlands ETIAS?
The residents of Uruguay who have a Netherlands ETIAS can stay for a period of 90 days in the country beginning from the day of the arrival to the day of the departure.
What is the processing time and price for the ETIAS?
Citizens of Uruguay are offered 3 options by iVisa.com while applying for their visa. They are as follows:
Standard Processing: This method will process and deliver your visa documents to you in due time for a basic standard fee.
Rush Processing: By paying a little more, you can get your document a little earlier than the standard time. This method is well-suited and ideal.
Super Rush Processing: If you're in a rush and need your visa within a very short time and do not mind paying more, you can opt for this.
Find out more about your Netherlands ETIAS for Citizens of Uruguay by visiting iVisa.com.
How do I apply for a Netherland ETIAS being a Uruguay citizen?
The Netherlands ETIAS for Citizens of Uruguay can be availed easily, all you need to do is apply for it via iVisa.com. Follow the steps mentioned below:
Application Form: fill in your application by visiting iVisa.com.
Payment: pay for your visa with a credit/debit card or PayPal.
Documents: scan and upload all your documents and finally, submit your form.
In case of any technical issues or any other help, contact our customer service who will be there to help you out or guide you on the process.
How safe is iVisa.com?
iVisa.com is extremely particular when it comes to the safety of its client's details. With the help of a good system, our website helps eliminate all third-party interferences keeping all personal information confidential and safe. You can absolutely trust us with your details. Visit our website to find out what our clients have to say about trusting us.
I still have questions, what do I do?
If these questions were not enough, you can contact our customer support team who are available at all times to assist you with any matters regarding the ETIAS. You can also visit our website to read more information about your Netherland ETIAS.