Known as the biggest garden festival in Europe, Floriade is an international exhibition held every 10 years in the Netherlands. It is the best opportunity to enjoy horticultural expositions, especially in a world where concrete and glass are everywhere.
Floriade is listed as an A1 category festival by the International Association of Horticultural Producers, and that's why it is officially recognized by the Bureau International des Expositions. Thanks to its fame, this big event always attracts visitors from around the world. You can be one of the lucky visitors! But to do so, you must first know where is Floriade located, and also what travel documentation is required.
Be aware that you will probably need a Netherlands Health Declaration and also a visa depending on your country of origin. At iVisa.com, we can help you get your Netherlands Health Declaration within a few minutes so that you don't have to do the tedious process yourself!
Keep reading below to see where is Floriade located and how to apply for the Health Declaration.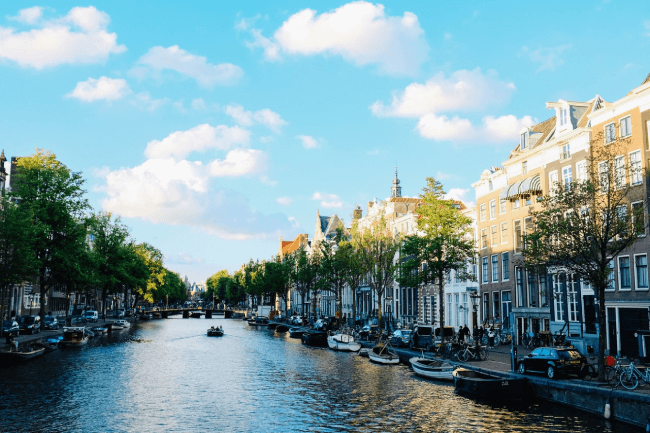 What you need to know about Floriade
What is Floriade?
It is an international and garden festival held in the Netherlands every 10 years. During this event, experts from all over the world gather to show green solutions to make our cities and towns more sustainable and enjoyable. The main theme of this event is 'Growing Green Cities,' and that's why over 400 national and international participants will showcase their green innovations and solutions.
This event is perfect for the entire family or even for solo travel. Here, you can see not only innovations but also a beautiful natural environment, including flowering gardens that will take your breath away instantly.
When is Floriade?
This International Horticultural Exhibition happens once every 10 years in the Netherlands. The next event is in 2022, and it will start on April 14. It will be held at the Floriade Park, where you will be able to enjoy the scent of different plants, and at the same time, you will see numerous gadgets.
To know where is Floriade located, please read the question below.
Where is Floriade located?
This event is always held in the Netherlands. The upcoming event in 2022 will be held in Almere, in the province of Flevoland, with the master plan designed by MVRDV. It is the newest city in the country, and that's why this time the government decided to make this city the main host for the Floriade Expo 2022.
Traveling to Floriade
To travel to the Netherlands and enjoy Floriade, you must first have the required travel documentation. Most travelers need the Netherlands Health Declaration before entering the country, but depending on the nationality, a visa may also be required.
At iVisa.com, we can help obtain the health declaration in a few easy steps, and therefore save you some time and effort in filling it out yourself.
U.S. citizens may need a negative COVID-19 test result to enter the U.S. again. If you're a U.S. citizen, you can simplify testing by getting the eMed self-testing COVID-19 kit online before coming back to the U.S. It's a small, light, and easy-to-take pack. You can self-test within the 24-hour period before your flight returning to the US and get the results within 15 minutes.
Frequently Asked Questions
Here we will answer some of the most commonly asked questions related to the Health Declaration since you already know where is Floriade located.
What is the Netherlands Health Declaration?
The Health Declaration is a travel document that must be completed to enter the Netherlands by both nationals and foreign travelers. This document helps government officials handle the dangers associated with the Coronavirus pandemic.
This document offers a single entry only, valid for 15 days.
What are the current COVID-19 restrictions to visit the Netherlands?
As this information changes often depending on the present effects of the pandemic, we recommend you enter the Netherlands Health Declaration product page for all the newest info on the vaccine, PCR test, and quarantine requirements for travel to the Netherlands.
How can I get the Health Declaration with iVisa.com?
This process is very simple when using our platform. You will only have to fill in an online request form and provide basic information about yourself. You must also have these items on hand to get the process started:
Your current passport
Digital copy of your passport information page
Your current email address
Credit or debit card to pay for the fees
If you want to know specifically where is Floriade located, check the questions below.
Cost/processing times?
The costs will vary depending on the processing speed you choose. We offer these options:
Standard Processing Time: -

24 hours

-

USD $26.99

Rush Processing Time: -

8 hours

-

USD $49.49

Super Rush Processing Time: -

4 hours

-

USD $83.99
How safe is iVisa.com?
Very safe indeed, especially with our modern platform that guarantees the privacy of your information. Nobody (except for the corresponding authorities) will access your data. You can always look at our customer reviews page if you have doubts.
Where can I get more information?
If you still want to know where is Floriade located or you want to learn more about this big event, don't hesitate to explore iVisa.com, or you can simply contact our customer service agents to receive faster attention.
iVisa.com Recommends
The Netherlands is famous for its windmills, canals, and tulips. Today's travelers certainly will find these among its many tourist lures. However, along with the country's many stunning gardens and scenic towns, here you can also find the energetic capital city of Amsterdam served with museums displaying a rich heritage of artists (including Van Gogh and Rembrandt, of course).
Canals are as essential a part of Amsterdam as they are to Venice, and they are probably one of the most joyous things a visitor can appreciate here. One of the best places to appreciate these canals is Jordaan, a neighborhood built in the 1600s to house workers drawn here thanks to the city's cultural and religious tolerance. If you visit this place, be sure to explore some of the many "hofjes," inner courtyards located behind buildings.
Another place you must visit in the Netherlands is Keukenhof, also known as "the Garden of Europe." It is one of the world's largest flower gardens in Lisse. Keukenhof shows more than 700 varieties of tulips.
Be ready to enjoy the Floriade! You will surely love it, especially if you use iVisa.com to simplify travel documentation.