With winter fast approaching, and the best season to see the northern lights is right around the corner! This natural phenomenon attracts thousands of tourists to northern Norway every year. Find out more about when, where, and how to see the northern lights in this article.
Seeing the northern lights is a once-in-a-lifetime experience for many, and if you're looking to tick it off your bucket list, we've prepared a full guide to help you make it happen. Also read our ultimate guide to Norway for more practical information, such as visas, weather, and more.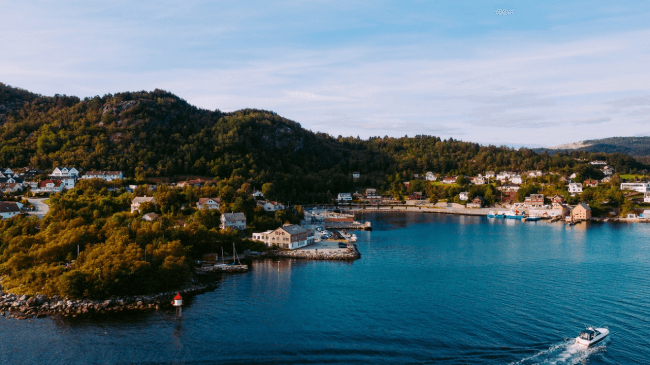 What are the northern lights?
The northern lights, also called aurora borealis, are a naturally occurring phenomenon that occurs due to intense solar storms sending solar winds towards Earth. When these solar winds reach the Earth's atmosphere, they become entangled with Earth's magnetic field which creates an astounding light show best seen in the night sky.
The event takes place both around the Antarctic and the Arctic Circle. However, the southern lights occur too far south in Antarctica, making them inaccessible for most tourists. The northern lights, on the other hand, can be seen from many more populated areas. You don't have to go all the way to the North Pole to enjoy them!
The special thing about the northern lights
The main reasons why the northern lights are so special is the fact that they occur only in the specific aurora zone, and Norway boasts some of the best locations.
Northern lights are also surrounded by a lot of folklore, which adds to their magic. There's one particular story told by the Inuit, the indigenous peoples inhabiting the Arctic, that portrays the aurora borealis as the spirit of their ancestors who were playing an ancient game with a walrus skull. Another belief among the indigenous Greenlandic was that the northern lights were the spirits of children dancing in the sky.
Learn more about these and other stories by going on a Northern Lights tour with a local guide when visiting Norway.
Northern Lights in Norway: Best places to admire this phenomenon
If you're trying to find the best place to see the northern lights in Norway and you have no idea where to start, we've compiled our favorite destinations for enjoying the aurora borealis. The northern lights dance occurs all year-round, but is best seen between September and March against clear skies on a polar night.
Kvaløya
Kvaløya is one of the Lofoten Islands, a popular destination for hiking and fishing, particularly during the winter when ice fishing is popular. And to top it off, it's also a great place to see the northern lights!
The island is popular with both tourists and local Norwegians. You can hike along the coast or climb one of the many mountains on Lofoten during the day. At night, the main activity is to go on a northern lights hunt, and you can even take a northern lights cruise!
Tromsø
For those who want to see the northern lights with a minimum of fuss, Tromsø is a great option. Tromsø is the capital of Troms County and is one of the best places to see the northern lights in Norway, away from the many city lights. In fact, it's so good that they even run a northern lights forecasting service!
At least 10% of nights in Tromsø will feature some kind of northern lights activity, but there's no guarantee that you'll see them on your visit. Simply get there for a few nights, tune in to the aurora forecast of the northern light observatory, so you know when to book a tour.
Lyngenfjord
Lyngenfjord is a 50-mile (80km) long fjord in the northern region of Norway and the perfect place to witness the northern lights. The surrounding mountains are a great spot for winter activities like skiing, dog sledding, and snowshoeing.
There are also large extensions of pine forests in this area alongside river valleys, which makes it great for trekking. You won't see polar bears here, but you might be lucky enough to spot a reindeer on your trip!
Nordkapp
Also known as the North Cape, this is a popular spot to watch the northern lights, away from light pollution. It is the northernmost point in Europe that can be reached by car, but circumstances can be treacherous. Many agencies therefore organize northern lights trips in snowmobiles to this location.
More information about traveling to Norway
The northern lights are a beautiful phenomenon you have to experience at least once in your lifetime, and Norway is the perfect place to see them. Don't wait any longer, winter is around the corner, and it's time to plan your trip to Norway! Also read our ultimate Norway travel guide for more info.
Most nationalities are eligible to enter Norway for 90 days without a visa or a Schengen visa, for tourist or business purposes, since Norway belongs to the Schengen Zone. Visa-exempt nationals can apply for the ETIAS visa waiver starting in May 2023.