The E.U. Commission recently announced a new travel authorization called ETIAS. This system was originally proposed in 2013, but it wasn't until 2020 when the E.U. decided to launch it and make it official from 2022 onwards. It was necessary to speed up the process because there has been a lot of terrorist attacks in Europe, and the safety of the EU citizens and travelers is the main priority to the authorities.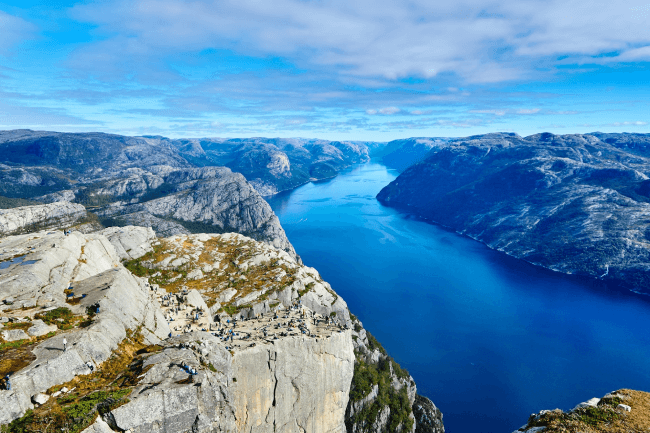 Therefore, starting in 2022, all the non-EU citizens will have to apply for a Norway ETIAS in order to visit this Nordic country and other countries in the Schengen Zone like Italy, France, Spain, and more, However, keep in mind that the ETIAS visa waiver program works only for the Schengen member states, not for all the EU countries (hence it can't be used to enter countries like Ireland).
The ETIAS application process is entirely online, and better yet, it's available on iVisa.com's webpage if you want to have the document as soon as possible with minimal effort required. iVisa.com is a tertiary company that's been authorized by the E.U. to help you get the ETIAS fast and easy, without having to visit the embassy.
If you want to learn how to apply for the Norway ETIAS for Citizens of Brazil then keep reading the FAQs below.
Frequently Asked Questions
What is an ETIAS and why is it so necessary?
ETIAS is the same as European Travel Information and Authorization System, but the acronym is frequently used to simplify the information about this program. The ETIAS is an electronic system that allows you to enter the countries that belong to the Schengen Area, like Norway. This system was created to safeguard the best way possible for the EU borders.
With this document, you can visit all of the 26 Schengen member states, not only Norway. But, to make that possible, you have to stay alert while applying for the Norway ETIAS for citizens of Brazil because you'll have to choose your first destination as the main destination in the form in order to use the same ETIAS for the rest of the trip.
In case you visit just one country, then you only need to choose that country in the form.
How many countries can apply for the ETIAS?
By now, 60 countries are eligible to apply for the Norway ETIAS application form. These countries don't need a visa to enter Norway or the rest of the countries in the Schengen Area, but they still need the ETIAS.
Do I need a Norway ETIAS if I'm from Brazil?
Yes, you do need the Norway ETIAS because Brazil is one of the 60 countries that can apply for the ETIAS.
You can use this ETIAS to enter other countries in the Schengen Area.
In case you're living in Brazil but you're not a citizen of this country, then you should verify that you don't need a paper visa to enter the Schengen Zone. You can confirm this information by using our visa checker tool.
What documents do I need to apply online?
It's not difficult to apply for this document, but you still need to provide a list of requirements first. These are:
Valid passport with a visible scanned copy of the information page.
Email address to obtain the Norway ETIAS for citizens of Brazil once is ready.
Means of payment, including a credit or a debit card, or even a Paypal account so you can pay for the service.
What are the prices and the processing times?
The Norway ETIAS for citizens of Brazil is quite new so there's still more information to come, especially with the price. What we can tell you is that the E.U. Commission will charge €7 as an initial fee, but this cost doesn't include the other fees (including iVisa.com's fee). However, the total price won't be expensive, and for your convenience, you'll be able to pay just the necessary processing fee depending on how fast you want to receive your document.
iVisa.com offers you 3 processing options, each of them at different prices. These options are:
Standard Procedure Option: that has standard processing, so it's not as fast as the others, but it's the least expensive.
Rush Procedure Option: that has faster processing and also a more expensive price.
Super Rush Procedure Option: that has the most expensive price because it has the fastest processing.
How can I receive my Norway ETIAS?
With iVisa.com, you can apply at any time and whenever you feel ready because our servers are always available and our system is fast and straightforward.
With iVisa.com, you only have to do the following to apply for your Norway ETIAS for citizens of Brazil:
First, complete the online questionnaire by giving your personal details and select the processing time you prefer so you can receive your document in that amount of time.
Second, verify all the details you gave in the first step and pay for the service once you make sure that the information is alright.
Third, attach the documents required and click on 'submit' to complete the process.
You can click on this link to start.
What should I do if I travel with my kids?
If you want to visit Norway with your kids, then you'll have to apply for their Norway ETIAS for citizens of Brazil too, with the difference that you probably won't have to pay for it. However, we suggest contacting our service customer center to get more details.
Is it safe to use iVisa.com's service to get my ETIAS?
You can feel totally safe when using iVisa.com to apply for your Norway ETIAS for citizens of Brazil! Our platform was specially created to protect all the information you give there. It means that the information you offer can't be leaked and it doesn't allow any unauthorized access. You can always read our clients' reviews if you have doubts about it.
Where can I read more information?
If you have more questions about the ETIAS application process, then we invite you to keep in touch with our customer service center, or simply keep reading other FAQs and travel tips on iVisa.com's webpage.
Apply for your Norway ETIAS for citizens of Brazil today to get ready for your upcoming trip to this Scandinavian nation!