If you're a citizen of Australia, then you'll be required to apply for Norway ETIAS whenever you want to visit Norway or other countries in the Schengen Zone since this document is under the ETIAS visa waiver program. This document will be mandatory for all the non-EU citizens wishing to enter certain countries in Europe for no more than 90 days.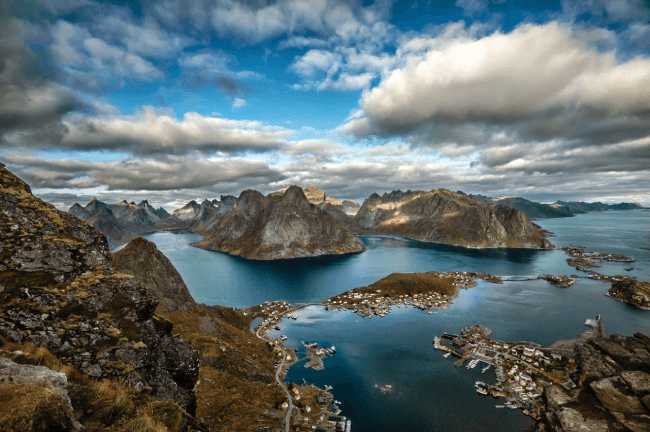 The ETIAS visa waiver system will be available from 2022 and on. With this program, it'll be easier to track travelers arriving from other countries, which is necessary for the E.U. authorities to avoid dangerous situations. This was a targeted response to the increase in the number of terrorist attacks in the last few years.
The good thing about the ETIAS program is that it'll be totally online. However, we know that online processes can be as tiresome just like some person-to-person processes, which is why iVisa.com is ready to help you. With our service, everything will be easier for you because we have an effortless application form that allows you to get your Norway ETIAS by following a few steps.
To learn how to apply for the Norway ETIAS for Citizens of Australia, we invite you to keep reading the information in this article.
Frequently Asked Questions (FAQs)
By reading these FAQs you'll be able to see all the necessary steps to apply for your Norway ETIAS.
What is a Norway ETIAS?
TheEuropean Travel Information and Authorization System is the name of the new visa-waiver program launched in Europe, but it's often referred to as ETIAS. This system offers an electronic document that simplifies the tracking of visitors entering not only Norway but other countries that belong to the Schengen Zone.
This visa-waiver system was created by the European Commission to strengthen the borders of the E.U, especially the Schengen Area which allows free-entry to at least 60 countries.
The Norway ETIAS will be mandatory by 2022 for all the non-EU citizens including countries like Australia, which is a visa-free nation.
Do I need a Norway ETIAS if I'm from Australia?
Any Australian traveler wishing to visit Norway will have to apply for the Norway ETIAS. This document will be ready to use in 2022, so you'll have to apply for it from that year onwards. However, if your trip happens before that year, then you won't need anything else but your valid passport.
Australian citizens should complete their ETIAS application form at least 96 hours before their departure date. However, you can be sure that with iVisa.com you can apply at any time because we're ready to help you with this document, even in case of emergencies.
If you're living in Australia but you're not a full Australian citizen, then you should check our [visa checker tool] before planning your trip to see if you don't need a Schengen Visitor Visa.
What documents do I need to apply for the Norway ETIAS?
If you use iVisa.com you save a lot of time when you apply online for your Norway ETIAS for citizens of Australia, especially with the list of requirements, because you only need the following:
A visible copy of your passport information page and your valid passport.
Your current email address so you can receive your document quickly.
Payment alternatives like credit/debit card or a Paypal account to pay for all the fees, including iVisa.com's fee.
What are the processing times and prices?
For now, the tentative price for the Norway ETIAS will be €7, but that doesn't include iVisa.com's fee. Unfortunately, we cannot give you the total price yet because this document is recent. What you can do is to read the following information about our processing times so you can have an idea once the document is launched to choose the best option according to your needs:
Standard Processing Time: This is the least expensive option you can choose with iVisa.com.
Rush Processing Time: This time, the price increases, but the processing is faster.
Super Processing Time: With this processing time you have to pay the most expensive price but you receive your document asap.
How can I apply for my Norway ETIAS?
As for the application for the Norway ETIAS for citizens of Australia, keep in mind that with iVisa.com, the process is easier. You only have to complete this 3-step process:
First, fill out the application form by offering your basic details and choose the best processing option for you.
Second, double-check the spelling and all the information you gave before completing the payment using your debit/credit card.
Third and last, upload your documents carefully and click on 'submit' once you feel ready for everything you offered so you can complete the process and wait for your document.
How much time do I need to apply?
Thanks to iVisa.com's incredible system and work team, the application form you have to complete to obtain the Norway ETIAS for citizens of Australia can be ready in only 15 minutes, and the best part of it is that you can apply from anywhere and at any time!
I'm traveling with my children, what should I do in that case?
It's totally normal to plan a trip with the family, including children. In that case, you'll have to apply for each of their ETIAS as well because this document will be mandatory for everyone. However, keep in mind that applicants under the age of 18 or over the age of 70 will be free of charge. You can learn more about it by contacting our customer assistance center.
Do I have to apply for this document if I'm just passing through Norway?
Yes, the Norway ETIAS for citizens of Australia is mandatory even if you're just passing through this Nordic country. The same applies to other Schengen member states as well. It means that if you're having a layover flight in a Schengen country, like Italy or France, you still have to apply for the ETIAS prior to departure to receive permission to enter the country and then leave it.
Is it safe to apply with iVisa.com?
You can feel safe when using iVisa.com's service to get your Norway ETIAS for citizens of Australia because we have a reliable platform that won't put your information in danger. We also have a professional team that's been delivering eVisas and similar documents for many years, meaning that you only receive the best when using our application form.
I have more unresolved questions, where can I obtain more information?
You can reach out to our customer service center if you have more questions about the Norway ETIAS for citizens of Australia or you can keep exploring iVisa.com's webpage to read other FAQs and useful details about the ETIAS.
It's time for you to relax and apply for your ETIAS form here so you can enjoy your trip without any pressure.