Norway ETIAS Travel Authorization: Apply now
Apply today for the Norway ETIAS with us!
Last updated: September 2023
From 2024 onwards, if you're a non-EU traveler from a visa-exempt country eyeing a trip to Norway's stunning fjords or the enchanting Northern Lights, there's a change that you should be aware of.
Visiting these breathtaking sights will now require a bit more preparation. While previously you could enter visa-free, travelers from such countries will now need an ETIAS travel authorization to visit Norway and other Schengen member states.
We'll break down all things ETIAS: The application process, who can apply, and potential fees.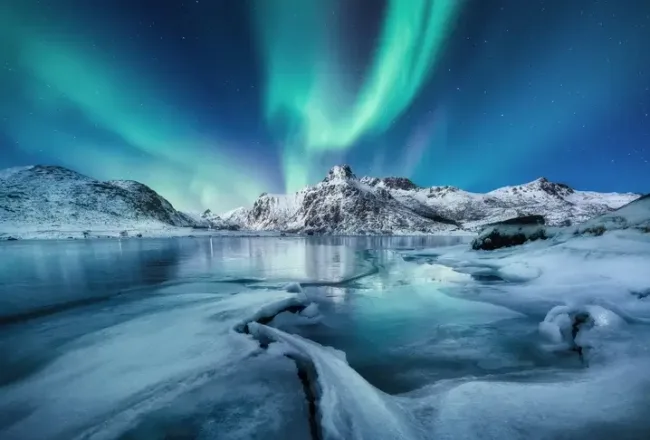 What is the Norway ETIAS?
Back in 2016, a new travel concept was introduced to the world: the European Travel Information and Authorisation System, commonly known as ETIAS. Fast forward to 2024, and it's set to come alive.
ETIAS has a specific group in its sights: those who have been enjoying visa-free entry into Europe. While once a passport sufficed, the ETIAS visa waiver system aims to enhance security across Europe and its Schengen partners by providing more comprehensive information about travelers.
Because it's part of the Schengen Zone, visitors to Norway will need to ensure they have their ETIAS ready and approved before their Nordic adventure begins.
What can I do in Norway with an ETIAS travel authorization?
The ETIAS grants you passage to Norway and the Schengen Zone for:
Leisure trips

Business events, including meetings or seminars

Academic pursuits, such as short courses or conferences lasting no more than 3 months

Health-related visits or treatments.
What can't I do with the Norway ETIAS?
The Norway ETIAS restricts you from:
Enrolling in academic courses or programs extending beyond 3 months

Seeking employment

Settling down in Norway on a permanent basis.
Who can apply for the Norway ETIAS?
The Norway ETIAS is tailored for citizens of countries with visa-free access to Europe and the Schengen Area.
Travelers to the European nations listed below must secure an ETIAS travel authorization:
| Austria | Germany | Netherlands |
| --- | --- | --- |
| Belgium | Greece | Norway |
| Bulgaria | Hungary | Poland |
| Croatia | Iceland | Portugal |
| Cyprus | Italy | Romania |
| Czech Republic | Latvia | Slovakia |
| Denmark | Liechtenstein | Slovenia |
| Estonia | Lithuania | Spain |
| Finland | Luxembourg | Sweden |
| France | Malta | Switzerland |
For ETIAS eligibility, you need to meet these criteria:
You aren't a citizen of the EU.

Your country has a short-term visa waiver agreement with the European countries that require an ETIAS.

No EU country has provided you with a residence card, permit, or equivalent documentation.
Who is eligible for the Norway ETIAS?
Visitors from countries outside Europe with visa-free access to Europe, Norway, and the entire Schengen Zone will require an ETIAS.
Please consider using our Visa Checker Tool to determine your eligibility and the requirements you must meet based on your nationality.
ETIAS-exempt countries: Who doesn't need to apply for a Norway ETIAS?
If you're an EU citizen or resident, you're exempt from needing a Norway ETIAS. Simply use your passport or national ID card to travel freely across Norway and the Schengen area.
If you already have a valid Schengen visa, you don't need to apply for the Norway ETIAS.
Can minors apply for a Norway ETIAS?
Minors from visa-exempt countries are required to have the ETIAS before traveling to Norway.
Parents or legal guardians are responsible for filling out the ETIAS application for their children. Remember, if there are multiple minors, each one needs a separate application.
Differences between Norway ETIAS and Norway Schengen Visa
Navigating the requirements for travel to Norway can be a bit puzzling. For starters, the ETIAS isn't the same as a visa; think of it more like the United States ESTA — it's an electronic pass.
Here's a simple breakdown to help differentiate between a Norway ETIAS and a Norway Schengen Visa:
What it's for: The ETIAS is for visitors who usually don't need a visa for European travel. If you need a visa to enter European nations, that's where the Schengen visa comes into play.

Format: The ETIAS is an electronic authorization digitally linked to your travel document. In contrast, the Schengen visa is tangible, typically pasted right into your passport.

How to apply: The ETIAS is straightforward — complete an online form, have a valid travel document, and a few more details. As for the Schengen visa, it's a bit more involved. It includes providing documents like a police clearance certificate and an in-person interview to capture your biometrics.

Entry count: With an approved ETIAS, you can come and go multiple times during its validity period. However, the Schengen visa might be limited to single, double, or multiple entries based on the decision of an immigration officer.
How long can I stay in Norway with the ETIAS?
The ETIAS typically has a validity period of 3 years. However, if your travel document expires before your ETIAS, you'll need to apply for a new travel document and authorization.
The ETIAS allows you to travel multiple times to Norway and the surrounding Schengen countries. Just make sure your total stays don't go beyond 90 days within a given 6-month period.
Can I extend my Norway ETIAS?
Once your Norway ETIAS reaches its expiry date, a direct renewal isn't an option. A new application will be necessary.
Should your travel document expire during the validity period of your ETIAS, a new application is required.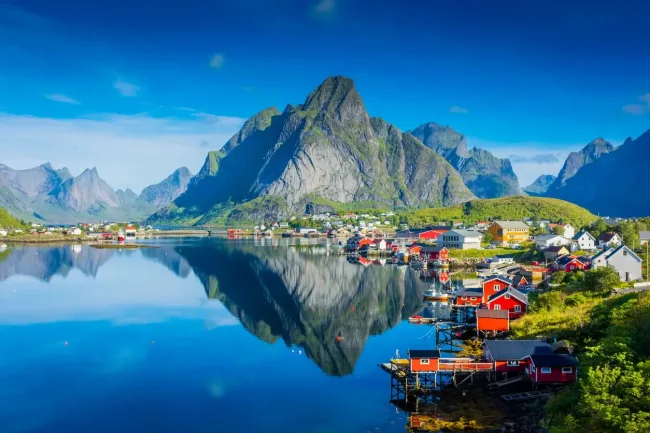 How to apply online for the ETIAS Norway
Once the ETIAS system is up and running, getting it via our platform will be simple and user-friendly. To guide you through, here's a clear breakdown of the application process:
Step 1 - Provide your basic information and travel details on our website or via the easy-to-use iVisa App. Choose your preferred processing time and pay the fees.

Step 2 - Fill out the ETIAS application form and upload the required documents.

Step 3 - Submit the form and wait for an email confirming the submission of your application, which will include your unique ETIAS application number.
When you receive the ETIAS, print a physical copy and keep a digital version on your phone. This will make for an easier time at airport checkpoints and border controls in any Schengen country.
Required documents for the Norway ETIAS
When applying for an ETIAS, you'll want to have the following documents on hand:
A valid travel document: Usually, this refers to your passport, which shouldn't expire within three months of when you plan to leave.

Completed application form: Here, you'll provide details such as your birth date, nationality, parents' names, educational background, current job, and your first destination in Europe, including the address. You'll also provide information—if any—about any previous criminal convictions or travel to areas of ongoing conflict.
If you have a relative living in a European country that requires ETIAS clearance, be ready to share their personal information and describe your relationship with them.
Benefits of getting your Norway ETIAS with us
With our assistance, navigating the path to securing your Norway ETIAS becomes straightforward. Here are the reasons why our services are a solid choice: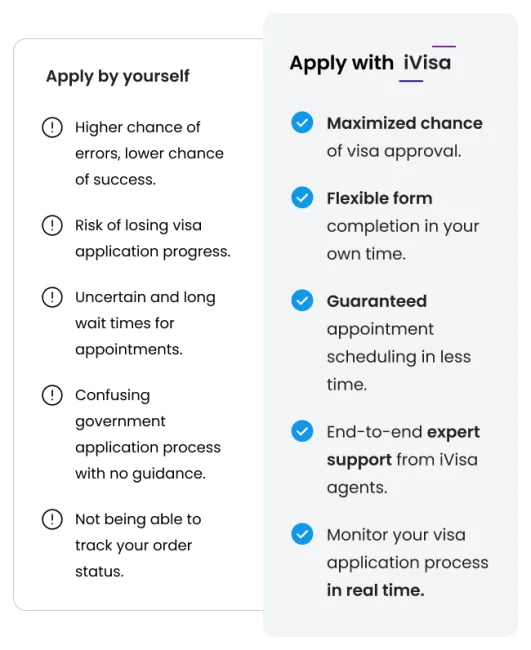 Norway ETIAS fees and cost
The Norway ETIAS has a standard government fee of 7 euros, roughly equivalent to $8.
Those under 18 or over 70 years of age won't have to pay this fee.
Choose an efficient and hassle-free application process for your ETIAS by using our services. Do keep in mind that there's an extra service fee for our assistance.
Norway ETIAS processing times
The ETIAS travel authorization is usually granted promptly, with many applicants receiving approval within minutes. However, there can be cases where the decision takes a month. To ensure your travel plans remain seamless, it's recommended to submit your application well before your intended departure.
When the ETIAS system is live, our website will provide a streamlined process for your application. Depending on your urgency, we provide three processing speeds:
Standard processing time: Suitable for those who've scheduled their trip well in advance.

Rush processing time: A faster alternative for those with closer travel dates, albeit at a slightly increased cost.

Super rush processing time: Designed for individuals needing an almost immediate response.
Please note that the timeframes mentioned here only reflect our processing durations; the actual approval time from the Norwegian government might differ.
Do transit passengers need the Norway ETIAS?
If you're a visa-exempt traveler just passing through Norway, you won't need an ETIAS as long as you stay within the airport's international transit area.
But, if you plan to step out of that zone and explore Norway or any of the 30 ETIAS-mandated European countries, securing the travel authorization is a must.
Norway entry requirements or restrictions
Norway welcomes visitors without strict entry barriers. There isn't a requirement for COVID-19 vaccination documents or similar certificates. However, it's crucial to carry the following essential items:
An up-to-date passport or equivalent travel document.

An active ETIAS travel authorization or Schengen visa.
Who can I speak to if I have more questions?
If you have questions about the ETIAS for Norway, don't hesitate to contact our customer service team via online chat or through [email protected].
Where can I read more?
Other Available Visas: Norway?