Norway is one of the most developed and frequently visited places in the world. It has been the perfect holiday destination for travelers and adventure seekers because of its picturesque remote villages, the extraordinary Northern Lights, museums and so much more!
For all travelers who are planning to visit Norway, you will now need a Norway digital COVID certificate to enter the country. This has now become a compulsory travel document for all travelers, just like your good old passport and Visa. This is one of the many ways in which tourism has become possible again despite the ongoing pandemic.
Obtaining your own Norway digital COVID certificate is not difficult. iVisa.com is an ideal choice for all travelers, all you need to do is click here to start the travel documentation process for your stay in Norway.
Visit iVisa.com and start applying for your Norway digital COVID certificate today
Note: Since February 12th, 2022, the Norway Entry Registration Form is no longer necessary to enter the country.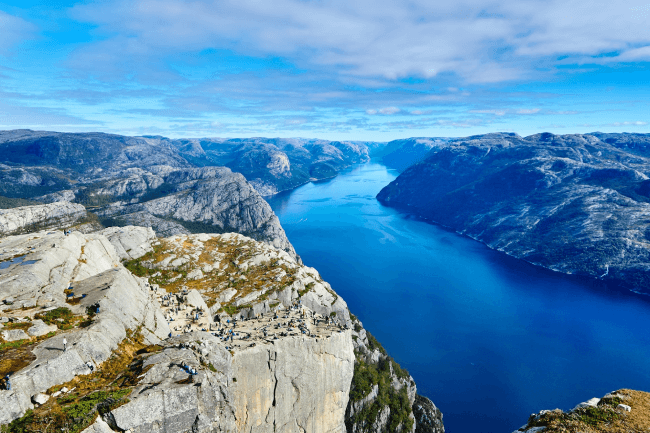 Frequently Asked Questions
Here is a list of frequently asked questions to aid you in preparing for your trip to Norway. The list has been curated by our experts keeping in mind first-time travelers and frequent travelers to keep everyone up to date with the changing travel guidelines. If you have any other doubts regarding your trip to Norway, you can visit iVisa.com.
Click here to know more about the Norway digital COVID certificate .
Do I need a COVID vaccine or vaccination certificate to enter Norway?
No, you don't. As of today, COVID vaccination passports or certificates are not mandatory to enter Norway.
The following certificates can be used upon entry to Norway:

Norwegian COVID-19 certificate

The EU digital COVID certificate

UK NHS COVID-pass

Approved vaccines are Pfizer, Moderna, AstraZeneca, Janssen, Covishield, Sinovac, Nuvaxovid.
Since information may change quickly, we advise you to follow up on the latest Norway travel updates and/or contact your local embassy.
Do I need to take a COVID-19 test before traveling to Norway?
COVID test prior to arrival: PCR within 24 hours for travelers over the age of 18 without proof of vaccination/recovery only.

COVID test on arrival: All travelers arriving in Norway must take a test after arrival, regardless of their vaccination status.

COVID test exemptions: Children under 16
Do I have to quarantine once I arrive in Norway?
Quarantine requirements: There are no quarantine requirements.
What is the Norway digital COVID certificate?
The Norway digital COVID certificate is a travel document. This document will provide all the necessary information regarding your COVID medical history and COVid 19 vaccination. You will not be able to enter Norway without this essential document.
You can apply here to get your own Norway digital COVID certificate today.
Do children also need to complete the Norway Entry Registration?
No, the Norway Entry Registration is only a required for travelers over the age of 16 who are not fully vaccinated.
How can I get my Norway digital COVID certificate?
iVisa.com is a one-stop place for all your travel queries and documentation. 0ur team of experts will help you put together all the documents required to obtain your Norway digital COVID certificate successfully, all from the comfort of your home. You will need to go through the following steps to complete the process:
Enter valid information in the online application form available on iVisa.com.
Choose the processing time and processing cost as per your time and budget constraints.
Upload all valid documents as mentioned on the website.
You will now have to pay the processing charges to begin the online application process. You will need a PayPal account or a valid debit card to complete this process.
Start the application process today
How much will the application process cost?
At iVisa.com, you can choose from several options as per your requirements:
Standard processing: This is an economic option. This option will ensure your documentation is done well before time and you can save some money for your travel expenses.
Rush processing: This option will cost you slightly more than standard processing charges however, with the help of this method you can get the documents quite quickly.
Super Rush processing: This is an ideal option for you if you need your travel documentation urgently. With this choice, your Visa and health certificates will be prepared in a very short time.
Is iVisa.com trustworthy?
iVisa.com has been helping people travel across the world. Our team helps you obtain all the upcoming details and necessary travel documentation to ensure you have a comfortable trip abroad. Our customers are very satisfied with our procedure and can guarantee that this is a safe and reliable online medium for all your travel planning. To read our customer's reviews, you can visit our website.
I still have questions regarding my documentation, whom do I ask?
First-time visitors of Iceland and international travelers may have many more questions regarding their travel documentation. Once you have read all the FAQs and extra information by visiting our website, you can also write to us via email and our customer support team will get back to you with all the information.
iVisa.com Recommends
Oslo is a fantastic region to explore for its many beautiful islands and museums. When in Oslo, the capital of Norway, you must visit the towns Ostfold and Vestfold, you can then explore 'The Twist' located in the Hadland area. You can then explore the exciting Aurora Borealis in Tromso, the capital of the Arctic region. When here you can see many unbelievably beautiful sights such as the midnight Sun, whale watching, and snowy landscapes.
You can proceed to Lyngenfjord and enjoy the best of Sami culture in the area. The Varanger region of Norway is a particular favorite among bird watchers and bird lovers. The coastal route, spread along the Trondelag and Bodo is known as one of the most scenic driving routes in the whole world. For all lovers of nature, Valdres, Hallingdal, and the surrounding mountain areas of East Norway are spectacular sights as well.
iVisa.com wishes you an exciting and memorable trip to Norway.