Do you want to visit Norway soon? This country hides many natural beauties including impressive fjords and northern lights. For this reason, many people want to explore Norwegian territory so often.
The good news is that it's possible to get to know this country with just a passport, at least if you're a citizen of Georgia. Still, a detail that you shouldn't miss is that from 2022, you'll need the Norway ETIAS for Citizens of Georgia to enter Norway.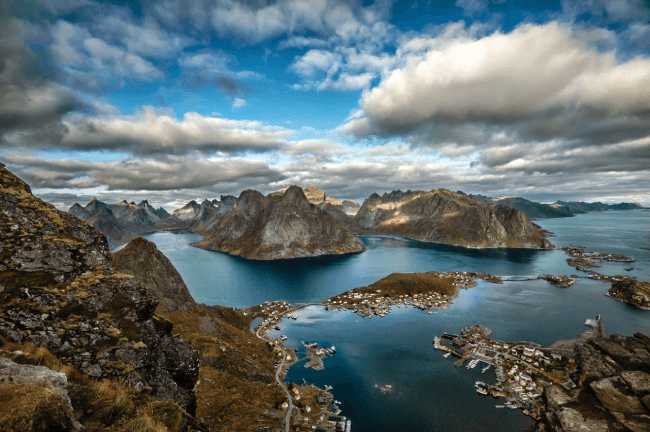 You don't have to worry about the Norway ETIAS if you think it's going to be a difficult and expensive document to obtain. On the contrary, it's quite simple to receive it, to the point that you can apply for it through iVisa.com and receive it in your email in a short time. As for the price, we know by now that it won't exceed 7 euros, so you could get an idea with that.
If you want to know more about the Norway ETIAS for Citizens of Georgia, then continue reading our question section below.
Frequently Asked Questions (FAQs)
What is a Norway ETIAS?
Perhaps your first question is to know what the ETIAS is, and that's why we're ready to guide you about this document through these questions.
ETIAS is the name assigned for European Travel Information and Authorization System. It's an electronic system that will allow certain passengers to receive an online document linked to their passport to enter various countries in Europe.
The countries in Europe that have this system enabled are those belonging to the Schengen Zone.
The Norway ETIAS for Citizens of Georgia gets that name because it's made specifically to enter Norway, but you can use it to later visit other Schengen zone countries like Italy, France, Portugal, etc.
Do I need a Norway ETIAS if I'm from Australia?
If you're from Georgia, you'll have to apply for the Norway ETIAS before planning the rest of your trip, but that will be possible only by 2022. In other words, you'll have to apply for the ETIAS from that year onwards.
It means that if your trip happens before 2022, then you won't need anything else but your current and valid passport.
One recommendation we offer is to be ready to apply for the ETIAS at least 96 hours before the departure date. But, don't forget that with iVisa.com you can apply at any time because we're ready to process this document fast, even in case of a rush.
If you're living in Georgia but you're not a citizen of this country, then you should take a look at our visa checker tool before preparing for your trip to verify if you need a Schengen Visitor Visa.
What items are necessary to apply online?
Since the Norway ETIAS is an online document, you'll be able to apply for it via iVisa.com's online form. This form will make you save a lot of time, especially with the list of items it asks:
You have to offer a scanned copy of your passport (don't forget to get your passport ready the day of your trip, with a valid due date).
A valid email address where you'll be able to receive the document quickly.
Payment alternatives to pay for the service. It can be a credit/debit card or a Paypal account.
Get more information about the Norway ETIAS for Citizens of Georgia here.
What are the processing times and prices?
We can give you the tentative price for Norway ETIAS by now, which is €7. However, there's not an official price yet, and remember that this average cost doesn't include iVisa.com's fee.
We charge a small fee for our services because we offer you the ETIAS faster and easier than usual, especially if you really want to forget about bureaucratic processes to travel.
We might not have the official price for this document ready, but we can give you basic details about our procedure times so you can get an idea once the document is ready:
Standard Processing Time: This option is the cheapest of all, which is great if you're not in a rush but you still want to get your document quickly and easily.
Rush Processing Time: This processing option is faster so it has a higher price.
Super Rush Processing Time: By choosing the Super Rush option you get your ETIAS the fastest way possible, but the price is the most expensive.
How can I apply for the Norway ETIAS for Citizens of Georgia?
Once you know the items required and the processing time you prefer, you can now apply for Norway ETIAS for Citizens of Georgia. This process has only 3 effortless steps, which are:
First, fill in the form with general details like full name and passport ID. Then, pick the processing time you prefer so you can know the total price.
Second, verify that the spelling is correct and that all the information you previously provided is correct before continuing with the payment.
Third, after the payment is done, upload the items (passport scan) carefully and click the 'submit' button. This way, you'll have finished the process and you'll just have to wait for your ETIAS according to the processing time you selected.
How much time do I need to apply?
iVisa.com has an incredible system that will make your ETIAS process easier than ever. That's why the application form you have to complete to get the Norway ETIAS for citizens of Georgia can be ready in 15 minutes, if not less.
Is it safe to apply with iVisa.com's service?
You don't have to be worried about security when using iVisa.com's service. We count on a strong and reliable platform that will process your Norway ETIAS for Citizens of Georgia in no time without risking your personal details.
Nevertheless, if you have questions about this process, you can reach out to our customer service at any time for fast attention.
Where can I receive more information about the Norway ETIAS for Citizens of Georgia?
You can contact our customer service center in case you have other questions about the Norway ETIAS for Citizens of Georgia. Plus, you can also search for other useful tips on iVisa.com's web page.
We invite you to apply for your ETIAS form here to relax before your upcoming trip to Norway!