Citizens of more than 60 countries can visit Norway for tourism or business without having to apply for a visa as long as the amount of days in this country doesn't exceed 90. However, by 2022, these travelers will have to apply for a Norway ETIAS before entering this nordic territory.
The ETIAS visa waiver system was devised by the E.U. Commission, and it'll be launched in 2022. This document will allow certain citizens to enter Norway and any Schengen country, by simply offering basic personal details through an application form. The ETIAS document isn't difficult to get because you can apply for it with an online system, meaning that you won't have to go to the embassy. For your convenience, you can simply apply using iVisa.com's service. With this service, you'll be ready to receive your document in a few minutes.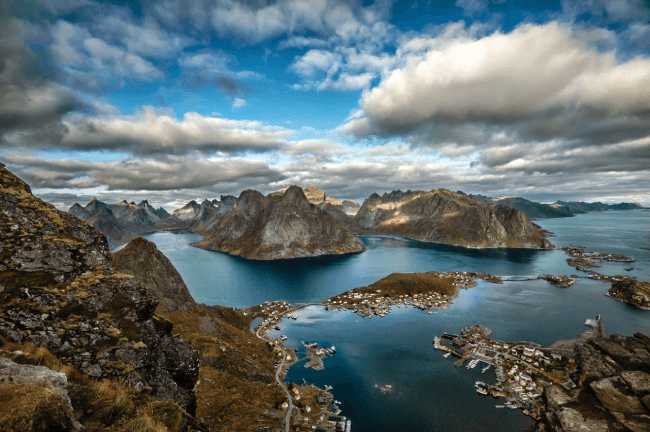 If you don't want to lose the chance of knowing beautiful Northern lights and breathtaking fjords, then you cannot forget to apply for the ETIAS before entering Norway and other countries in the Schengen Area.
We also recommend you to keep reading the information below to learn more details about this visa waiver program, including what are the Norway ETIAS Requirements.
Frequently Asked Questions / FAQs
What is The Norway ETIAS?
The Norway ETIAS will be introduced in 2022 to strengthen security and immigration control in Europe, especially in the countries that belong to the Schengen Zone. The good thing is that the ETIAS application form will be quick and effortless to complete.
The ETIAS is the meaning of European Travel Information and Authorization System, a recent visa waiver system that will be mandatory for all the Non-EU citizens eligible for it. These citizens don't need a visa to enter the Schengen Zone, but they'll do need the ETIAS.
You'll have to apply for this document prior to departure in order to avoid issues at the airport. Keep in mind that it'll be useful not only to visit Norway but to visit other nearby countries that belong to the Schengen Zone, including places like Denmark, France, and Italy.
This online document allows the Immigration authorities to have better tracking of all the foreign travelers entering the Schengen Area. That's why it's been recently announced because it's an excellent tool to improve the security in the continent, especially after all the recent terrorist attacks.
By applying with iVisa.com's application form, you can receive your ETIAS in a few minutes.
How can I check if I'm eligible for the Norway ETIAS?
This electronic document is obligatory for almost every foreign citizen, including those who don't need a visa to enter Schengen countries. But, it's true that you might need more requirements to enter Norway, so we suggest you use our Visa Checker Tool before continuing with your trip.
Once you see the tool on our homepage, choose the same country as your passport in the drag-down menu and then choose 'Norway' or the country you want to visit as the destination. This way, you'll be able to confirm if you need the ETIAS to visit the Schengen Area, or if you need other documents.
In case you need a paper visa, you'll have to visit the local embassy because iVisa.com doesn't offer Paper Visas. We can help you with other travel documents and Norway ETIAS requirements.
What documents do I need to apply?
Before applying for your ETIAS, you have to get a shortlist of documents first. We can tell you that with iVisa.com, you'll only need the following:
Your current passport with no less than 3 months of validity when arriving in Norway.
Your current valid email address to receive the ETIAS.
A valid means of payment. It can be a credit/debit card or a PayPal.
You're on the way to fulfilling the Norway ETIAS requirements.
What are the processing times and prices?
You should apply for the Norway ETIAS with iVisa.com because we offer a service that's available 24/7. Our service is also a lot faster than conventional websites, but that's why it has a small fee to pay.
Unfortunately, we cannot tell you the total prices for the Norway ETIAS yet. We can only tell you that the official fee will be €7, but that's without iVisa.com's fee. As for the processing options, these are:
Standard Processing Option: This is the most affordable option in case you're not in a rush, but you still want to receive your document fast and easy.
Rush Processing Option: This option is faster, but also a bit more expensive.
Super Rush Processing Option: This is the fastest processing option so it has the most expensive price.
How can I apply online?
We can guarantee that iVisa.com's application form is available at any time and from anywhere as long as you have an electronic device with a WiFi connection. You can apply for the Norway ETIAS from the comfort of your home, without having to visit the embassy! Just follow these steps:
First, fill out the questionnaire and choose the procedure time you fancy depending on how speedily you want to receive the ETIAS.
Second, verify that all of the information you offered is ok, and after that, go on with the payment using a debit/credit card or PayPal.
Third, upload the papers required to the form and click the submit button to complete.
That would be all on your side because the rest is ours! Just stay alert to your email inbox to receive your ETIAS. We know all the Norway ETIAS requirements.
How much time do I need to apply?
By using iVisa.com's application form you can be ready in 15 minutes or less! However, we invite you to contact iVisa.com's customer service if you have questions about the Norway ETIAS requirements.
Is it safe to apply for this document using iVisa.com's services?
Yes, totally! You can get your Norway ETIAS with iVisa.com safely thanks to iVisa.com's strong and trustworthy platform. By using our service, you don't have to worry about leaving your information in danger.
Do you still have doubts about our service or Norway ETIAS requirements? Then go to our reviews here.
I still have unresolved questions, where can I obtain more info about the Norway ETIAS?
The Norway ETIAS is a new document for many tourists, so there might be more details about it in the future. Therefore, if you still have questions about this document or the process to have it, visit our website to get more details. Alternatively, you can also contact iVisa.com's customer service center if you want to receive personal assistance.