When travelers plan their next destination for a vacation they usually pick a country with unique aesthetics like Norway. Norway has a lot of different places to tour and explore. You can find the narrowest fjords in the world in the country and the natural landscapes are amazingly diverse and picturesque. Additionally, Norway is one of the happiest countries in the world according to the Denmark-based Happiness Research Institute. This only proves that Norway is not just a wonderful place with great scenery, but also worth exploring because of the people.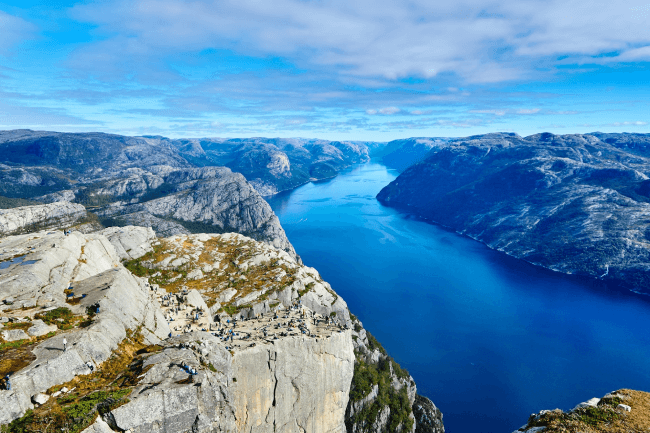 You want to go and witness the scenic beauty of Norway, for sure, but will a Schengen visa work for Norway? We have compiled brief information about the Norwegian Schengen visa. So keep on reading this article to find out more.
Frequently Asked Questions
What should I know about the Norway Schengen Visa?
If you are a non-Schengen national, you are required to obtain a document called a Unified Schengen Visa to enter Norway for a variety of reasons. This travel document permits the holder to enter or transit through the airports in Norway or any other country that is part of the Schengen Area.
How many categories does the Unified Schengen visa have?
There are two categories of the USV. They are known as Category A and Category B and are classified based on function. Category A can be used by travelers to transit through airports in Schengen member nations on their way to non-Schengen countries, only allowing its holder to stay only within the International Zone. Category C visas, on the other hand, lets the traveler access the territory of the Schengen country, like Norway, for a set period of time. This visa category is the most common travel document that the Schengen Zone issues at the moment.
How long is the Norway Unified Schengen Visa valid for?
The visa holder can enter and stay in Norway with Category C USV up to 90 days within the 180-day period. The validity of the visa depends on the chosen number of entries. Single-entry and double-entry visas are usually valid for 6 months to a year and only until the number of entries and exits are used up. Multiple-entry visas have validity periods of 1 year, 3 years, and 5 years. Even if they can (theoretically at least) allow the holders to enter Schengen countries as many times as they want, they are all limited by the 90/180 rule.
What is the pricing of USV for Norway?
After answering the question "Will a Schengen visa work for Norway?", we now resolve the question "How much does it cost?". The cost of the visa varies based on the age of the applicant and the purpose of travel. The full price for an adult is US$90.00 or €80.00. Children between 6-12 years of age will pay a visa cost of US$45.00 or €40.00. However, for applicants younger than 6 years old, the visa fee is free. Please note that this is not inclusive of other fees.
Where can I best apply for the Norwegian USV?
iVisa.com is the platform you should use for your Schengen visa application. With a team of visa experts on hand 24/7 and easy-to-use tools, getting the visa has never been this easy and fast. Our team ensures that every application has accurate information to ensure success. In addition, the platform protects customer information from unauthorized access using security applications.
Is there any way I can reach you if I need more information?
Our customer service team is available all day, all week to assist you with any of your concerns and inquiries. Do not hesitate to contact us through chat. You can send your email to [email protected], depending on your preference.
Get your Norway Schengen visa at iVisa.com.