The government of Oman recently announced a couple of updates on their policies about how foreigners will be able to enter the country and apply for Oman visa extension. The changes for visa extension applications are quite important, especially for foreigners with valid Oman visas and who would like to extend their stay in the country. The policy states that the country will grant automatic visa extensions which aim to lessen the number of people who go to government offices for processing. This, in turn, benefits the traveler by lowering the risk of them being in uncompromising situations like sudden border closures or disasters of the force majeure kind.
There is no definite word, but for now, the program is set to be terminated on July 31, 2020. But while the program is in effect, it still assures foreigners that they will not have to pay additional fees or submit credentials in order to extend their visa durations and their residence within Oman.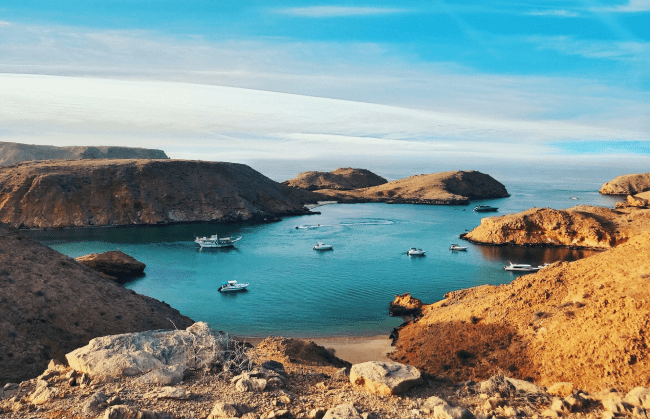 For most countries, their citizens will be required to present a visa if they want to enter Oman's borders unless they are from one of five visa-exempt countries. But everybody will be required to show a valid Oman Health Declaration Form so they can be let into the country.
Citizens of visa-exempt countries are at an advantage since they will not need to pay for or spend time to apply for a visa. But even if a visa is required, there are countries whose citizens are allowed to request an eVisa, which is essentially a pre-registration form for the traveler. When they get to an Oman airport, the eVisa will be replaced with a visa on arrival which will then be inspected so the traveler can enter Oman's borders.
Evisas are infinitely better than any regular visa since applicants don't need to drive to an Oman mission and wait in line for hours before the request is processed. All you have to do is apply for the Oman eVisa through iVisa.com and wait for the document to be emailed. This way, you will save a lot of time and other resources. Note that this process will be very easy and quick.
The aforementioned travel updates also state that there is another documentary requirement for people who wish to enter Oman. The Oman Health Declaration Form, which is a statement about the holder's current health conditions, will be needed along with the visa. The document also contains information on the countries that the holder has been in the last 14 days. For easy and stress-free processing, you can use iVisa.com to apply for the Oman Health Declaration now.
This is where iVisa.com is most useful for the applicant. It is very convenient to request documents online but you still need to process the application for the document correctly. Otherwise, it will not be accepted by the government of Oman, and you will have wasted time and money to process the request at the airport.
Frequently Asked Questions
Will the government of Oman require everybody to present a visa and a Health Declaration?
There are five countries that are currently on a visa-exempt arrangement with the government of Oman. Unless you are from any of these five nations, you will need to have a visa so you can enter the host country.
The document that everybody needs for entry is the Oman Health Declaration Form. As stated earlier, the form has information about the current medical condition of the holder. As such, it helps to find those who are ready to enter Oman because they don't show the signs associated with viral diseases. This, in turn, helps limit the spread of such disease to the local people. The resources can then be diverted to help process those cases that are otherwise time-consuming. iVisa.com will help you apply for an Oman Health Declaration Form as easily as possible.
Which countries are exempt from applying for an Oman visa?
There are five countries whose citizens aren't required to apply for a visa to enter Oman. These are Bahrain, Kuwait, Qatar, Saudi Arabia, and the United Arab Emirates. All other countries are required to bring a visa.
Which countries are allowed to apply for an Oman evisa?
As stated earlier, applying for eVisas are more convenient than applying for a regular visa. So if you are from any of the following countries, it is strongly advised to go for the eVisa. These countries are Andorra, Argentina, Australia, Bolivia, Brazil, Brunei, Canada, Chile, China, Colombia, Ecuador, Hong Kong, Iceland, Indonesia, Iran, Japan, Lebanon, Liechtenstein, Macau, Malaysia, Moldova, Monaco, New Zealand, North Macedonia, Norway, Paraguay, Russia, San Marino, Serbia, Seychelles, Singapore, South Africa, South Korea, Suriname, Switzerland, Taiwan, Thailand, Turkey, Ukraine, United Kingdom, United States, Uruguay, Vatican City, and Venezuela. Countries like Brunei, South Korea, and New Zealand have free visa processing benefits as well.
What are the requirements for the Oman eVisa application?
There are a few requirements for the correct processing of the Oman eVisa application. The applicant is required to send:
A clear digital photograph of yourself. Also, you need to submit a clear photo of your valid passport's personal details page.
Some applicants may need to include proof of accommodations within Oman, although it's not always required.
Is it better for travelers to request a visa and Health Declaration at the same time?
Most of the time, Oman will require an eVisa and an Oman Health Declaration Form for entry into its territory, unless the traveler is a citizen of any visa-exempt country. Therefore, it is better to have both documents with you on arrival so you don't waste time and money.
Is there something to be concerned about with the iVisa.com platform?
The website is protected by top security applications. This means that all information put in by customers is safe and cannot be accessed by unauthorized persons.
I need more information. What can I do to get more facts?
You can go to the iVisa.com website because it has all the information regarding digital travel documents and how to request them. If you are unable to find the information or have other concerns and questions, you can always pop us an email at help@ivisa.com.