Visitors wishing to visit Pakistan should seek to learn more about the recent developments related to border security that will be presented to future visitors to this popular tourist destination, as they will soon have to follow certain policies to ensure that their family doesn't miss out on this wonderful place.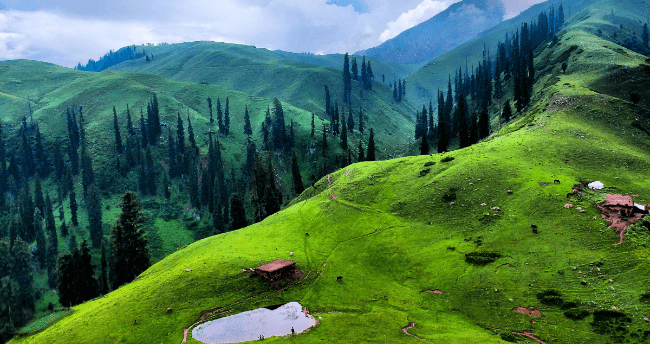 If you are wondering Do I need a vaccine to travel to Pakistan? then check out this informative blog and then apply for your eVisa by following the simple process clearly explained on the website at iVisa.com. The following informational sections are a fantastic resource, put together for our readers, to answer some questions you may have about Pakistan entry requirements and how our tools can help you.
How can I apply for my travel documents with iVisa.com?
Fill out the application form on our website.
Review the information and choose a processing time to pay for the fees.
Attach the items needed to finish the process and click the 'submit button.
After that, you will have to wait for your documents via email inbox. Start the process now.
Frequently Asked Questions
Do I need a vaccine to travel to Pakistan?
Many countries are considering introducing coronavirus vaccines that will help border control officials to keep the disease under control, but at the moment there are no specific vaccine requirements. You are strongly recommended to review your general vaccines for Polio, Measles, Hepatitis A and B as well as Typhoid before visiting Pakistan. So Do I need a vaccine to travel to Pakistan? Just the usual! Now you know that your health is covered, you can relax, safe in the knowledge that it is very easy to apply for a Pakistan eVisa with our guidance.
Do I need a COVID vaccine or vaccination certificate to enter Pakistan?
Yes, COVID vaccination certificates are now mandatory to enter Pakistan.
Since information may change quickly, we advise you to follow up on the latest Pakistan travel updates and/or contact your local embassy.
Do I need to take a PCR COVID-19 Test before traveling to Pakistan?
COVID test prior to arrival: PCR within 48 hours

COVID test after arrival: All travelers must take a rapid antigen test on arrival
Do I have to quarantine after I arrive in Pakistan?
Quarantine requirements: There are no quarantine requirements.
What is the benefit of applying for a Pakistan eVisa with iVisa.com?
The Pakistan eVisa process is very simple and fast, and we also offer specialized processing speeds, which sets us apart from our competitors. Who knows when you will get the results when you choose another provider? Applying with iVisa.com means that you are in control of your application.
How does the iVisa.com application work?
In less than 20 minutes you'll be finished with the iVisa.com application.
There are 3 easy steps to complete:
Complete the form with your personal information.
Please verify that the information you entered is correct so that it is not rejected due to false information. Then make the respective payment by credit or debit card, or you can also use Paypal.
You must now attach the necessary documents to complete the application. That's it!
Do I have to pay to apply?
The price you'll pay depends on the speed with which you must travel. Apply with iVisa.com and take advantage of the three different processing alternatives, as follows:
Standard Processing : This is the best option for travelers with a decent amount of time before departure.

USD 87.49

-

15 days

.
Rush Processing : This option is ideal for jet setters who are in a rush, but their journey is not yet urgent

USD 149.99

-

13 days

.
Super Rush processing : this is essential for travelers who need to travel as soon as possible

USD 191.99

-

10 days

.
Should I apply every time I want to visit Pakistan?
If you are planning to visit Pakistan multiple times, you should be aware that the eVisa is a single entry document, so you'll need to apply again for each trip. On the website at iVisa.com you will find tailored advice for all travelers, including more questions like Do I need a vaccine to travel to Pakistan?. Our team of experts can guide you through the process with clarity and confidence.
Do I need a lot of documents or items to apply?
It will depend on your travel plans, as you might need more items if you travel with kids. However, we can tell you that the most important documents are:
Passport, with a scan of the information page.
A credit or debit card to pay the processing fee. A Paypal account can also be useful.
An email address to receive the eVisa.
See more information about the items required here.
Is iVisa.com safe to use?
We know how important it is to protect your information because years of experience have taught us that customer satisfaction is key. That is why we care about having secure data entry systems. Our client's feedback speaks volumes. Read the comments and find out for yourself how safe it is to use our top-rated site.
Where can I find more information?
If you have more questions that have not been resolved in this publication, visit the iVisa.com website for all the information you need. You can also find the chat feature that gives you unrestricted access to the helpful team, who is ready to answer your questions like Do I need a vaccine to travel to Pakistan?, 24/7 per week.
iVisa.com recommends
Have you spent most of this year dreaming of a fun-filled getaway destination like Pakistan, with your time spent marveling at natural lakes or having fun in water parks? Then you've clicked through to the right blog. In Pakistan, there are so many places to visit in this vast nation and heaps of must-see rivers for rafting or incredible soft sand beaches for lazing about during the summer.
Pakistan is a country located in South Asia that has more than 200 million people, which makes it the fifth most populous country in the world. In addition to this, it is a country with many interesting tourist spots, especially when it comes to the treasures of Islam.
An example of this is the Badshahi Masjid, or 'Emperor's Mosque, built-in 1673 by the Mughal Emperor Aurangzeb in Lahore. It is one of the most important tourist attractions in the whole country since it is a sample of Mughal architecture and at the same time, one of the most beautiful mosques in the world. It is the second-largest mosque in Pakistan, after the Faisal Mosque in Islamabad, which you should also visit.
The Faisal Mosque or 'Shah Faisal Masjid' is one of the largest mosques in Asia. It is located in the capital city, Islamabad, which curiously means 'City of Islam' in the Urdu language (the official language of Pakistan).
Other places you can visit in this country are the Lahore Fort, the Sheesh Mahal or Palace of Mirrors, and the Shalimar Gardens.
Remember that to explore all this territory, you need to apply for the eVisa first. On our website, we can help you with this at any time!