When getting ready to apply for a Bahrain passport, you must look into the requirements to make sure that you have all the necessary documentation. One of the requirements is that you must submit, along with your documents, 3 identical passport photos. Some people have them done at a professional photo studio, but did you know that there is a faster and more comfortable alternative? With iVisa Photos, you can take the photos at home, and we can send them to you.
Moreover, if you want to use the Bahrain passport to travel to a foreign country, we recommend the services provided by our website. Access the website to see if you qualify for an electronic visa. If that is the case, iVisa can help you get one in no time.
Photo specs
Size: 6 inches in height and 4 inches in width. The face must measure 38 mm from the chin to the crown of the head
Color: black and white photos are not accepted
Head size and position: your head must not be at an angle, and you cannot take a portrait-style photo
Recency: as recent as possible but not older than 6 months. It has to reflect your current look
Background: white
Smile: no. Only neutral facial expressions are acceptable
Eyes: must be clearly visible
Your ears should be in the shot
Blurred photos will be rejected
Glasses: only if absolutely necessary and do not alter your look
Headgear: not accepted unless you cover your head for religious purposes
Dimensions and size (pixels): at least 600 dpi
Attire, clothing, dress code: must be in contrast with the background
Beard: only if you usually have one
Quantity needed in application: 3
Bahrain Passport Photo Size Requirements Guide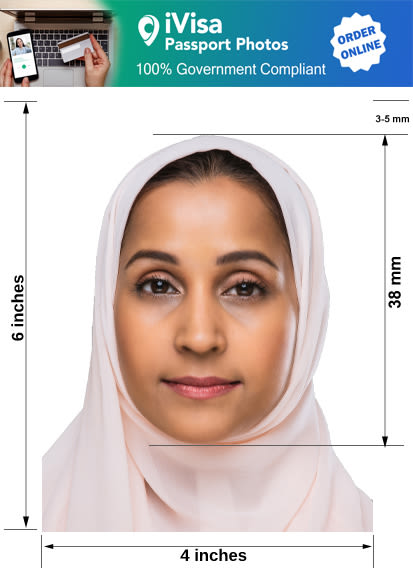 Bahrain Passport Photos and Visa Photo Requirements – Rules, Guidelines, and Specifications
The Bahrain passport photo requirements above are pretty clear, but we would like to go into detail regarding a few of them because we want you to fully understand what you are supposed to do. In case you did not know, a bad passport photo is one of the most frequent causes of rejection. In order to avoid that, please read the information below.
When you want to take your passport photo, find a spot where the background is entirely white. It must not have any colors, paintings, or any other patterns on it. Shadows should not appear in the picture either.
Before you capture the passport photo, make sure to keep your head level. Do not tilt or rotate it. You cannot take the picture from the side since portrait-style photos are not compliant with the requirements. Keep your shoulders straight and your face pointed directly into the camera.
Lighting can be tricky because it has the potential of altering some of your facial features. To avoid that, make sure that the light is directly in front of you. You have to make sure that it is not too bright or too dim. Also, it should not create shadows or reflections on your face.
Smiling is not accepted under any circumstances. You can neither frown, squint, nor raise your brows. A relaxed face creates a neutral facial expression, which is perfect for a passport photo.
Your eyes should be looking straight into the camera. If you have to wear glasses, make sure that they are well-positioned to not cover your eyes and that they do not create a glare from the light or flash. You cannot wear glasses that have tinted lenses or glasses whose frame covers too much of your face. Needless to say, sunglasses are not allowed either.
Headwear is accepted in your passport photo but only if your religion compels you to keep your head covered at all times. Even then, you have to make sure that your face is visible from the bottom of your chin to the top of your forehead. The headwear must not cast shadows on your face.
If you usually have a beard, you do not need to shave it off for the passport photo. However, if you plan on shaving it, do it before taking your passport photo.
Rules and Requirements for Babies, Infants, and Newborn Passport and Visa Photos
You are likely aware that children of all ages need to have their own individual passport and visa. You can use iVisa Photos to take their photo as well. There are no major differences between children's and adults' passport photos, although there are a few things you have to consider. Here are some tips that you will find useful:
If you have a newborn and you have to hold his/her head, remember that your hands cannot be visible in the passport photo.
Taking a picture of a child in a car seat means that you have to cover the backrest of the chair with a white sheet.
When placing a baby on the ground to take the picture from above, a white sheet underneath is necessary.
Remove the baby's headwear and pacifier.
Children under 5 years old do not have to look straight into the camera.
Children under 1 do not need to have their eyes open.
Pricing
iVisa Photos offers some of the most competitive prices on the market when it comes to passport photos. It can be a costly thing, but with iVisa Photos, that is not the case. To obtain a Bahrain passport, you need pictures, and we can offer you a set of 4 at the unbelievably low price of 3.38 BHD. The price may be slightly different due to currency conversion rates.
How to get Bahrain Passport Photos or Bahrain Visa Photos Online?
iVisa Photos provides a service that is incredibly easy to use. All you need is a camera with a decent resolution. You can either use a phone or a tablet. One of the best things about iVisa Photos is that it allows you to take as many pictures as you want until you have one that you love. Your multiple attempts are free of charge. Once you have the photo you want, you can download it to print it at home, or we can have it delivered to your home. It is entirely up to you. Just make sure to follow the guidelines we discussed above.
For further information about iVisa Photos and the services we provide, feel free to contact us.
References