When traveling to Japan, you'll need to make sure your passport is ready to go; and this includes having a compliant Japan passport photo taken. If you don't want to spend a fortune just to make sure your photograph is sufficient, give our easy Japan passport photo service a try.
Just use the tips in our Quick Guide below to submit a suitable photo to our team of professionals and we'll have it ready for pickup in 24 hours. If you need a visa (or aren't sure), be sure to check out. You'll save time and money applying with their great service.
What are the passport photo dimensions and requirements for Japan?
Photo Specs
Size: 45mm x 35mm
Color: Must be in color.
Head size and position: From chin to forehead should be 32mm to 36mm. Centered and looking straight at the camera.
Recency: Taken in the last 6 months.
Background: Solid white only. No colors.
Smile: No smiling.
Eyes: Visible and open.
Glasses: Eyes must be in clear focus. No thick rims.
Headgear: None unless for religious reasons.
Dimensions and size (pixels): 600 dpi minimum.
Attire, clothing, dress code: None specified.
Beard: Optional
Quantity needed in application: 2.
Japan Passport Photo Size Requirements Guide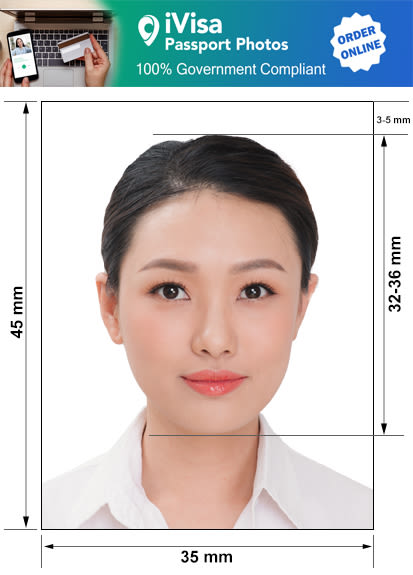 Do not hesitate and apply for the Japan passport/visa photo with iVisa.com.
Japan Passport Photo and Visa Photo Requirements, Rules, Guidelines, and specifications
As you can see, there are quite a few specifications required when considering a passport or visa photo. It's not as simple as a quick selfie or snapshot from your last vacation. To give you an even better idea of what to expect, below is a magnified outline of requirements designated as the upmost importance with the Japanese government:
The size of the photo needs to be the exact measurement of 35mm by 45mm. When taking the picture, be sure your head from chin to forehead is 32mm to 36mm. Also give a 2-6mm gap from the top of your head to edge of the photo.
Use a neutral expression and avoid smiling. Keep mouth closed and eyes forward. This gives a true representation of your facial features.
No sunglasses or tinted lenses are allowed. If you do wear prescription glasses, be sure the frames are not blocking your eyes.
All photos must be taken in the previous six months. Anything older could cause a rejection and a delay in your passport or visa application.
Though a dress code isn't specified, it's advisable to not wear a white shirt as it will blend with the background. You want to be contrasted in the image and have a distinction from the background.
Keep lighting even. Simple concept but this small detail leads to many rejections. A photo underexposed, overexposed or casting shadows on the face is not acceptable. The photo must demonstrate your true skin tone.
All headwear, unless for religious reasons, cannot be worn. If it's worn for the acceptable reason mentioned, it must not block the face.
Hair can worn down but needs to be off the face and forehead.
Be sure to be looking straight at the camera with shoulders squared off.
Rules and requirements for babies, infants, and newborns Passport and Visa photos
One extremely important detail about passports and visas is each child you plan to take on vacation outside Japan must have their own documents. This includes an individualized photo for each child. Taking photos of children, especially infants, can be tricky, however, we have a few tips and tricks for you:
Each child must be photographed separately. No one else is allowed in the image.
If an infant cannot sit up on their own or needs to be held, you can use a plain, white sheet or cloth to cover a car seat or hand. Either way, the background, a pair of hands or any other object cannot be seen.
The child's eyes must be open. A few images may be needed before achieving this goal.
All regulations started above about the photo's dimensions, lighting and other details apply.
Price and Cost
The iVisa Passport Photo Service is one of the most cost-effective ID and passport photo services on the market. Aside from offering a very convenient online platform to take your selfie for your ID photos, our full service includes an expert review of your photos to ensure they fit the standards of the Japanese government. Traditional options for obtaining passport photos costs around 1000 yen and does not include a process of expert review. This adds up especially if you are in need of photos for your entire family. Well, before you spend thousands of yen, give an online service like iVisa Photos a chance. For 647 yen, you get a pair of photos. That's a little more than half of what you'd pay anywhere else.
How to get Japan Passport Photos or Japan Visa Photos Online
It's a much more complicated world today than ever before and demanding schedules make for difficulties in trying to do anything but work. At iVisa Photos, we are committed to easing a bit of stress and get you on vacation faster. Our staff work hard at guaranteeing you 100% government compliance before sending photos off with any application. The simple step-by-step guide allows you to complete the process of taking your passport or visa photos without issues. If you don't like the photo, you can retake as many times as you like without charge. If you have a smartphone or tablet, you can use our passport photo booth and submit your own photo from the comfort of home or office. We offer friendly representatives to assist you if any problems should arise or to answer all your questions. Give us a try and set yourself free to explore the planet.
References