Whether you are a foreigner traveling to Malaysia or a local Malaysian, having your Malaysia passport photos taken can be a real hassle. Passport photos are a necessity if you're traveling abroad or if you are completing local government forms. Wouldn't it be nice to have them taken care of in a faster, easier manner?
iVisa Photos is proud to offer an innovative online solution to get your Malaysia Passport Photos from the convenience of your home. You can get your photo printed and delivered to your home in a few days, or, alternatively, you can get an instant digital copy of your photo downloaded to your computer.
Follow these steps to get a Government compliant id photo in no time.
Step 1
Click here to start your application. You can choose the type of photo service that is best for you. We offer 2 options:
Digital download: we will provide a downloadable compliant passport photo.
Print and Ship: we will ship a passport photo to your address.
Remember to change the country of residence, so if you live in Malaysia, change it to Malaysia.
[button:Get your photo](/photos)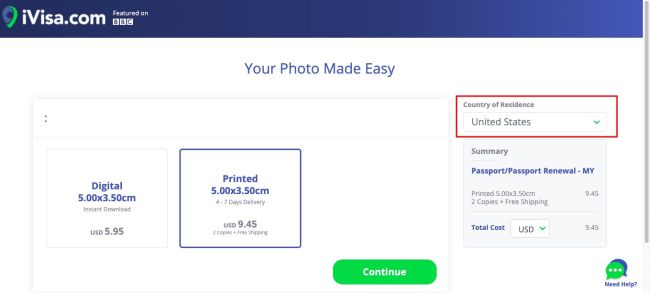 Step 2
We offer an expert service review. If you were to opt-in, one of our experts will manually review your photo to ensure it's government compliant. Even though our system uses automated checks to verify your photo, our experts will catch things that algorithms might miss.
Step 3
If you selected the printing and shipping, you will be prompted to choose how many photos you need. If you selected the digital download, this step is not necessary.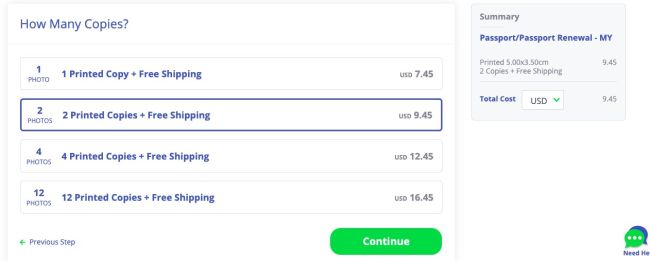 Step 4
You will be asked to provide your address details and upon payment, we will get started with your photo! It's that easy.
Malaysia ID Photo Specs
Size: 35mm width by 50 mm height.
Color: Taken in natural color. No black and white or any filters.
Head size and position: The head should measure 25mm to 30 mm. Squared with the camera.
Recency: No older than six months.
Background: White only. No colors, prints, or patterns.
Smile: No smiling. Mouth closed.
Eyes: Must be completely visible.
Glasses: Only if prescription and shows eyes.
Headgear: Religious purposes only.
Dimensions and size (pixels): None specified.
Attire, clothing, dress code: Dark clothing which contrasts the background.
Beard: Optional.
Quantity needed in application: 2 per applicant.
Malaysia Passport Photo Size Requirements Guide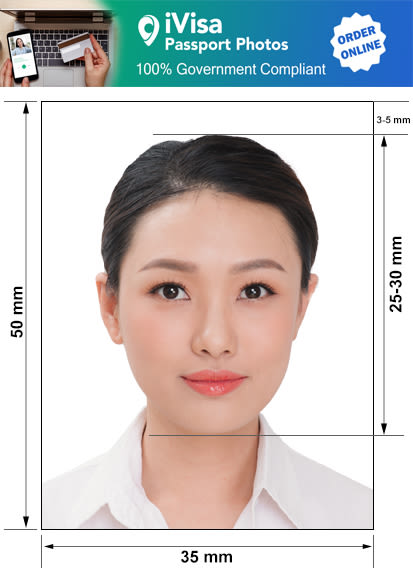 Malaysian Passport Photo and Visa Photo Requirements, Rules, Guidelines, and specifications
While Passport and Visa Photo Requirements for Malaysia are very similar to ID photos requirements, there are a few additional tips that we consider important:
The size of the picture is very specific. It needs to be the exact size stated above or it may not be accepted.
Your head should fill 50-60% of the entire picture allowing for a 10 mm margins between the top of your head and the photo edge. The same goes for the bottom edge and your chin.
In order to properly identify you, the image must reflect your true, natural skin tone.
If you normally have a beard then you do not need to shave for the photo. If not, then there is nothing to worry about.
Dark clothing is required to give your shoulders and head a stark contrast from the plain white background. Also, avoid military or law enforcement uniforms if possible for security reasons.
A Hijab may be worn only if it doesn't cover the face. Other headwear such as hats, hairpieces, and flashy jewelry are not permitted.
Eyes must be directed toward the camera and visible. Glasses are fine as long as they do not block the eyes. Think rims, glare or tinted lenses (including sunglasses) are unacceptable.
It's best to keep your mouth closed and not smiling, maintaining a neutral expression at all times.
Make sure the image is in focus and not blurred.
Avoid shadows and hair in front of your face as they can cause the rejection of your photos.
Double-check your lighting. An overexposed or underexposed picture will not be accepted. Also, if a flash is used, make sure the background doesn't reflect the light.
No alterations of the image are tolerated. If you have a mole, scar, or freckles, the image must show them in the final print. Red-eye cannot be fixed on the computer so you must get a retake.
Print photos on high-quality photo paper.
Rules and requirements for babies, infants, and newborns Passport and Visa photos
If you are planning to take the children on a family trip, keep in mind that each child leaving Malaysia needs an individual passport or visa. This includes separate photos for each child. Group or family pictures submitted will not be accepted. The above rules and regulations also apply to children but here are a few extra tips which can help when taking photos for the kids:
No objects such as bottles, toys, car seats, or even pacifiers can be visible. If you feel inclined to hold your child while the picture is taken, your hands must be hidden from view.
Use a plain white cloth to camouflage anything in the background.
The infant must have their eyes open, mouth closed, and be facing the camera.
His or her head should fill 50-60% of the entire photograph. The top of the infant's shoulders need to be visible in the photo.
Price and Cost
Different costs and locations can play a large role in your decision as to how to obtain your passport or visa photo. Your options are seemingly endless as the Internet provides many choices. Should you be inclined to stay with a trusted old tradition, you can make your way through the city and stop at your nearby drug store or post office. The cost of choosing this method can be around 60 MYR per set of photos. By going with a convenient and trusted site such as iVisa Photos, you will spend only 26.75 MYR per set which seems like a much better deal.
How to get Malaysia Passport Photos or Malaysia Visa Photos Online
What could be more convenient and stress-free than having a site like iVisa Photos take care of everything in a matter of minutes? How about being able to take all your photos from a tablet or smartphone in the comfort of your own home and at the best price on the market? This sounds pretty good to us. Our passport photo booth allows you to take as many pictures as needed until you are happy with the result. In addition, you can choose whatever suits you best, as we offer, digital copy as well as printed copies via next day pickup and home delivery. We take care of all the details and have an expert review your photo for 100% guaranteed government compliance and acceptance with your application. Our simple and easy to use website gives you maximum freedom to complete the tasks quicker and without worry.
Should you find yourself with questions or concerns, our friendly staff are a click away and available 24/7 (just click the button on the bottom right corner that says "Need Help?"). There is no need to look elsewhere. Give us a chance to get you on vacation faster than you can say bon voyage!