Traveling overseas to New Zealand can be exciting. It also requires a lot of planning ahead of time. One of the most important items you'll need for your trip is your New Zealand passport. Of course, to have your passport ready, you'll also need your New Zealand passport photo taken. Don't have a passport photo? No problem.
iVisa Photos makes it easy to leverage an existing photo to meet all passport regulations. Just upload a photo using our handy Quick Facts and pick it up the next day.
Photo Specs
Size: 500KB to 10MB. 35mm by 45mm.
Color: sRGB for digital photos. All pictures must be in color.
Head size and position: Head should be 80% of the picture. 32mm-36mm. Centered and looking at the camera.
Recency: Within the last 6 months.
Background: Use a light color. White is not acceptable. No designs or images.
Smile: No smiling. Mouth closed.
Eyes: Must be clearly visible and open.
Glasses: If worn regularly, yes. Cannot block view of eyes.
Headgear: Only for religious or medical reasons.
Dimensions and size (pixels): 900x1200 minimum and 4500x6000 maximum.
Attire, clothing, dress code: Don't wear the same colored top as the background.
Beard: optional.
Quantity needed in application: 2.
New Zealand Passport Photo Size Requirements Guide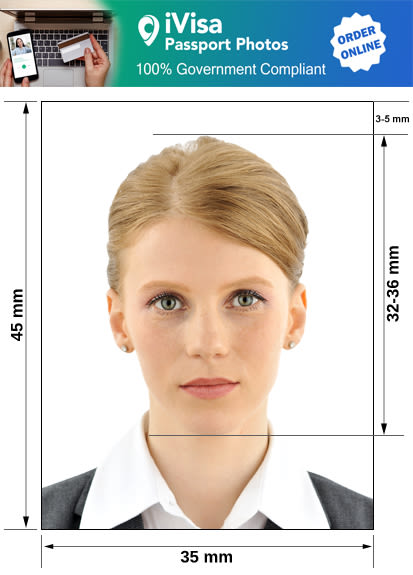 New Zealand Passport Photo and Visa Photo Requirements, Rules, Guidelines, and specifications
As you have seen, there are quite a few specifications that go into taking a passport or visa photo. To aid you with even more knowledge on the subject, we have gathered a comprehensive list of further details to follow before snapping away your pictures:
Lighting is crucial to whether a photo is accepted or rejected. An underexposed, overexposed or shadow-filled picture is almost a guaranteed no-no.
There needs to be a sharp contrast with the background and your head.
Glasses can be worn, however, lenses may not be tinted or glared. Frames need to be thin as to not block the view of your eyes.
Men, you can wear a beard if it's part of how you normally look. Don't grow one out just for the picture.
Be sure your head is facing the camera and not tilted in any way.
The tops of your shoulder must be visible in the photo.
Take in portrait mode rather than landscape. In other words, turn the camera vertical to take your photo, not horizontal.
When the photos are printed, be sure to use high quality, glossy photo paper. Matte is not accepted.
Digital photos cannot be altered, unless to slightly brighten or darken. If you have blemishes or scars off-camera, they must show after the picture is taken. Any alterations can cause rejection of your application.
The camera should be about 1.2 meters from you.
Check and be sure the photo is completely in focus and not blurred.
Easy process and a good photo quality. Don´t waste more time and get yours here.
Rules and requirements for babies, infants, and newborns Passport and Visa photos
When taking photos of your children or infants, there are a few details to keep in mind. Everything listed above must be applied. Also, each child planning to leave the country must have their own passport/visa which means an individual photo. Here are a few specifications for children's photos:
Infants can be tricky to photograph but they still need to be facing the camera, eyes open and not smiling.
No one can be in the image with a child or infant.
If an infant is photographed on the floor or in a car seat, use a light-colored No toys, pacifiers, bottles, etc, can be in the photo.
80% of the photo needs to be of the child's face with clear spaces on the sides and top.
Price and Cost
Choosing where to have your passport or visa photos done depends on how much time you want to spend searching or waiting and of course the amount of money you wish to spend. If you are like most people, you'd prefer to go the cheaper route. After all, the less you spend on the nitty-gritty details the more you can enjoy later on vacation. In New Zealand, the post office is usually the traditional method and choice for those wishing to get a photo done. The post offers a set of photos for $20 or $25 NZD to have both printed and email copies. Seems a bit steep considering these photos are only 35x45mm. Instead, try getting pictures online at iVisa Photos. A set of 2 images, printed or downloaded costs around $8 NZD. Sounds like a much better deal if you ask us.
Affordable passport photos for everyone with iVisa Photos.
How to get New Zealand Passport Photos or New Zealand Visa Photos Online
Give up your worries and stresses as you begin to plan a vacation. Instead of wondering how to begin, give us a click. At iVisa Photos, we offer an easy to use site with 24/7 assistance should you have questions. Take a jab at our passport photo booth app and become your own photographer at home. Our 100% government compliance guarantee works at sorting out the details while you go about your business. There is absolutely no need to leave the house and hunt down a professional photographer or wait in line for prints to be made. Think of the gas savings and traffic you won't have to deal with. Don't like your photo? No problem. We offer you unlimited retakes until you are completely happy with the image. There is no reason you shouldn't be saving time and money. Give us a chance to take care of the not so fun parts of planning and soon you will be off on an exotic vacation, lounging in the warm sand.
References