When you need a photo for a Schengen passport renewal or visa application, you need to make sure that your photo meets the set of rules for that document. Simply review and follow the Quick Facts below and iVisa Photos will do the rest to make sure that your photo is right the first time. iVisa Photos has processed thousands of passport photos for many applications and will get it right the first time, every time.
To save yourself some additional time and money, make sure you visit our website to confirm whether you need a visa. iVisa can save you time and money by processing your visa application online.
Photo Specs
Size: 45mm by 35mm
Color: In color. No filters or black and white.
Head size and position: Must be facing forward. Head should measure 32mm to 36mm.
Recency: No older than six months.
Background: Bright colored. Light grey preferred.
Smile: None. Use a neutral expression. Mouth closed.
Eyes: Open and centered with camera.
Glasses: Prescription glasses only so long as eyes are visible.
Headgear: Medical or religious reasons.
Dimensions and size (pixels): None specified.
Attire, clothing, dress code: Avoid uniforms and colors matching the background.
Beard: Optional.
Quantity needed in application: 2.
Schengen Passport Photo Size Requirements Guide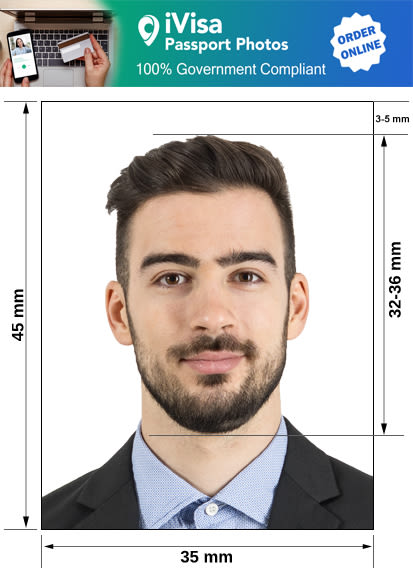 Schengen Passport Photo and Visa Photo Requirements, Rules, Guidelines, and specifications
As with most guidelines, there is more than meets the eye. A glance at the above specifications may seem easy enough but there are quite a few more items to check off before submitting your photos. Take a read below to find out more information:
Your head has a limit to how big or small it can be in the image. No less than 32mm and no more than 36mm. This is measured from the chin to top of your head. It should take up around 70-80% of the total picture.
Keep it focused. Blurred pictures are never accepted and are one of the common reasons for rejection.
If you normally have a beard, it's acceptable in a photo. If you don't than avoid growing one out for your close up.
Hats, fancy jewelry or any other head pieces not worn for medical or religious reasons are not permitted. Those of you wearing one for the acceptable reasons, it cannot block any part of your face.
No sunglasses, tinted lenses, glare or thick rimmed glasses are permitted. Your eyes must be clearly visible and not hindered by glasses.
Keep hair off the face.
Lighting should be even and reflect the true and natural color of your skin. Avoid overexposed, underexposed photos or shadows on the face.
Background should be a bright color such as grey. Avoid white if possible. No deigns, patterns or objects in photo.
Don't smile. It distorts your face. Keep a relaxed look with mouth closed and eyes forward.
Rules and requirements for babies, infants, and newborns Passport and Visa photos
If you are planning to take the entire family on a trip, each child will need their own separate passport and visa, including photo. Group shots are never allowed. Older kids are not as difficult to photograph, however, infants can pose a bit of a challenge. Though the above guidelines still apply, there are a few tricks and advice to getting the desired image quicker:
You can take the infant's picture either in a seat of laying on a floor. Whichever angle you wish to proceed with, use a grey or light colored cloth to cover up a car seat or flooring. This will provide a stark contrast of your baby and background.
No toys, bottles, blankets, pacifiers etc,. are permitted in the shot.
If you are holding a child, the hands cannot be seen.
The child must have both eyes open, looking at the camera and with their mouth as closed as possible. It may take a few shots to get this but don't give up.
Be mindful of shadows, head position and exposure of the photo. You may get the perfect position from your child and it be overexposed.
Price and Cost
Where you chose to have these photos done is entirely up to you, your schedule and how much you are willing to spend. Let's be honest, having photos taken at the post office are always going to be more expensive than alternative methods. It's true. Since the inception of passport photos, post offices have usually been the place to get them completed. But traveling across town, fighting traffic and waiting in long boring lines is now an optional rather than necessity. Why? The Internet. Times are changing and they're changing fast. Governments are coming on board the technological bandwagon and allowing for digital photos and visas. If you do plan on heading to the post office, be prepared to pay around €13- €16 for a set of photos. Choosing an online service, such as iVisa Photos, you can expect to pay €5.67 a set. Much more savings for vacation if you ask us.
How to get Schengen Passport Photos or Schengen Visa Photos Online?
We understand your concerns and hesitations about trying an online service to receive passport or visa photos. At iVisa Photos, we offer a 100% guarantee of government compliance prior to submission. Our easy to use site, guides you through each step. Should you get stuck or have any questions, our friendly staff is there to assist you in anything you need. Depending on how quickly you need photos returned, we offer in store pickup at a convenient location for you or immediate download. The best part about going with our services is the above guidelines are done by us. All you need to do is use our handy passport photo booth and submit the picture. We do the minor edits and check for compliance. Take the photo from home or office. Not much more to it than that. Get on with your day and allow us to get you one step closer to your travels.
References