When applying for a visa or renewing a Singapore passport, your photo needs to meet the requirements to the letter. iVisa Photos will save you time and money by making sure that your photo is right the first time. Simply review and follow the Quick Facts below and iVisa Photos will process a compliant photo every time.
Before traveling abroad, make sure you check out to determine whether you need a visa. Most visas can be processed online, which will save you lots of time and money.
What is the visa photo size for Singapore?
The Singapore photo should measure 35mm in width x 45mm in height (3.5cm x 4.5cm). Here is a list of more photo details:
Size: 45mm by 35mm
Color: Color only. Should reflect true skin tone.
Head size and position: Head should measure 25mm to 35mm. Centered and looking forward.
Recency: Taken within the last three months.
Background: Solid white. No colors or patterns.
Smile: Neutral expression only. No smiling.
Eyes: Visible and open.
Glasses: Only if worn normally.
Headgear: Religious purposes only.
Dimensions and size (pixels): Use a camera with at least 2 megapixels or higher. * Image cannot be bigger than 150kB.
Attire, clothing, dress code: None specified.
Beard: Optional.
Quantity needed in application: 2.
Singapore Passport Photo Size Requirements Guide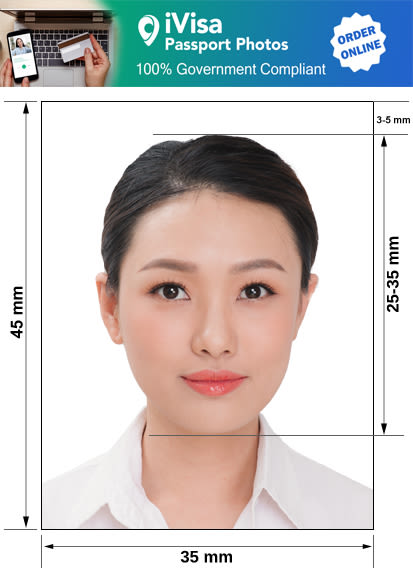 Singapore Passport Photo and Visa Photo Requirements, Rules, Guidelines, and specifications
Taking photos digitally is a convenient and quicker alternative these days than film, though either one is acceptable. Along with the guidelines drawn up above, there are quite a few other tips and requirements for making sure your photos are in compliance with the Singapore government. The following rules are to be observed and remembered:
All photos need to be done in color in order to reflect your true skin tone. Black and white or any type of filter is not permitted.
An updated and recent photo within the last three months only. Any photo older than three months will be rejected.
Glasses should be worn if you wear them on a daily basis. However, if glasses are thick-rimmed, create a glare, or have tinted lenses, they must be removed for the photo. The eyes need to be clearly visible for recognition purposes.
Headwear such as hats or hairpieces is not allowed. The only exception is for individuals wearing a headpiece due to religious or medical reasons. Even so, your face needs to be completely visible.
Hair can be down as long as it doesn't block your face.
Avoid wearing a white shirt as it will not contrast with the white background. Other than the color, no restrictions on attire.
Be sure when printing the photos it doesn't show any pixelation. It should be printed on good quality, semi-matte paper.
Keep your face relaxed and maintain a neutral expression with your mouth closed.
Lighting is very important and is the most common cause of rejection. Be sure there are no shadows on the face, the photo is neither overexposed nor underexposed and a reflection from a flash isn't present.
Be sure there is no red-eye in your photo. If there is, a new picture must be taken as digital alterations are never permitted.
Have the camera set up between .5 and 2 meters away from you.
Rules and requirements for babies, infants, and newborns Passport and Visa photos
Children and babies can be a challenge to photograph, but understand if you plan to take the kiddos on vacation, each one, regardless of age, needs their own passport or visa. A photo of each child must also accompany the application. Group or family photos are not permitted. The above specifications also apply to children. Below you will find a few extra notes on the subject:
No toys, bottles, or pacifiers are allowed. If you are holding the infant, your hands cannot be visible.
It's recommended to use a white cloth or sheet behind an infant lying down or sitting in a car seat.
The child's eyes must be open, mouth closed, and looking directly at the camera.
Be sure lighting and focus are correct. Blurred photos are never accepted.
Shine flash away from eyes to avoid any red-eye.
Price and Cost
Venturing out into the city is a thing of the past thanks to technology and the Internet. Passport or visa photos should never take longer than a few clicks and cost more than an arm or possibly a leg. While some people tend to stick with the old ways of doing things, you can consider cheaper and faster alternatives. If you are planning to fight traffic and wait in lines for a photo, be prepared to pay more, not only for the photos but also for fuel. Going to a post office or convenience store can cost around 20 SGD per set. A family of four can average 80 SGD. Now, taking a quicker route, such as iVisa Photos, you are looking to pay 8.48 SGD per set. If you need more photos, the price gets cheaper. Now your family of four will cost about 33.92 SGD. Sounds like more spending money on vacation to us.
How to get Singapore Passport Photos or Singapore Visa Photos Online?
By choosing to use iVisa Photos, you are in for a treat. Our site offers an easy-to-use interface allowing for complete control and independence for your passport or visa photos. Take as many pictures as you wish with our passport photo booth until you are completely satisfied. Rest assured your photo will be accepted as we offer 100% government compliance with all images. Simply take your photo from home or work and let us do the rest. Got questions or concerns? Our representatives are standing by to get you on your way faster. Allow us the pleasure of taking care of business so you can enjoy your well-earned vacation sooner.
References