When it comes time to renew your Taiwan passport or to apply for a visa, make sure that your photos meet the stringent requirements for that document. iVisa Photos has a wealth of experience processing correct passport photos and will get your Taiwan passport photo right the first time. Review the Quick Facts below and save yourself valuable time and money by using iVisa Photos today.
To further ease your travel demands, visit our page to determine whether you need a visa for your travel abroad. iVisa.com can process most visa applications online, saving you money and time.
What is the Taiwan passport photo size?
The Taiwan passport photo must be 35 mm x 45 mm. The head should measure 32 mm-36 mm. The photo with the correct specification can be ordered through the online photo application.
Summary of Photo Specs
Size: 45mm by 35mm
Color: In color only. No filters.
Head size and position: Centered and facing camera. Head should measure 32mm-36mm.
Recency: Must have been taken in the last six months.
Background: White only. No colors, patterns or objects.
Smile: None. Keep face relaxed. Mouth closed.
Eyes: Open and visible.
Glasses: Cannot block eyes.
Headgear: None except medical or religious reasons.
Dimensions and size (pixels): None specified.
Attire, clothing, dress code: No white tops.
Beard: Optional.
Quantity needed in application: 2.
Taiwan Passport Photo Size Requirements Guide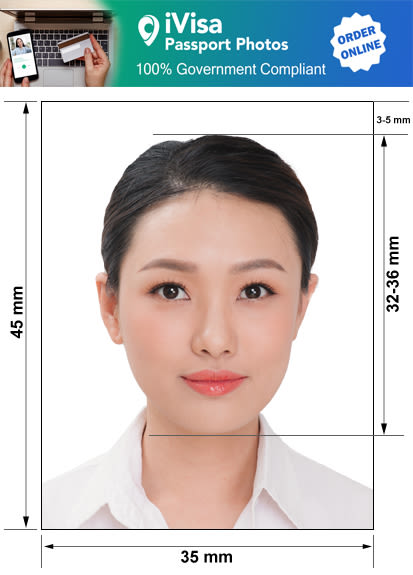 Taiwan Passport Photo and Visa Photo Requirements, Rules, Guidelines, and specifications
As you can see, there are far more details encompassing a passport or visa photo. Though tedious, these regulations create a uniformed identification process which allows the government to easily identify each citizen. Along with the above items, the following is a much more detailed list of requirements:
Sizing is mandatory. There is no leniency to the exact measurements. Your head should be between 32mm and 36mm. No more, no less. It will be around 70% of the entire photo as a whole.
Picture needs to reflect your current look. Therefore, photos submitted which are older than 6 months will be rejected.
The photo should be printed on high quality, glossy paper and of high resolution. Usually more than 500Kb.
Glasses are allowed during the photo, however, if they are thick framed, tinted lenses or attract glare, it should be removed. Your eyes need to be fully visible.
Headwear for religious or medical purposes are permitted so long as the face is in full view. Hats, large jewelry ro any other head wear is not allowed.
Shadows, flash reflection, overexposure or underexposure is not permitted. Be sure there are no dark spots on your face from badly angled lighting equipment or your hair.
No specifications on beards are given but it's a good rule of thumb that if you normally wear a beard, it's acceptable.
Keep your face relaxed and neutral. Smiling is not permitted as it distorts facial features.
Avoid wearing white colored shirts. Your shoulders and face must be in stark contrast to the background.
Red eye is not allowed. Neither are touch ups afterward. If red eye occurs, the photo needs to be retaken.
Be sure your eyes are looking directly at the camera and body is squared. The photo should show the top of your shoulders.
Rules and requirements for babies, infants, and newborns Passport and Visa photos
If you are bringing children on this trip or future trips outside of Taiwan, you must apply for a passport of visa for each child. This means a photo of each child as well. Group or family photos are never permitted. Though photographing young kiddos can be tricky, the above technicalities are still applicable. Here are a few guidelines and advice for the perfect photo:
Lighting should reflect the true colors and skin one of the child.
No object such as pacifiers, bottles, toys or parent hands are allowed.
If your infant is less than 12 months old, you can photograph them laying down or sitting in a chair. If you should do this, place a white cloth behind them to cover any object or background not white in color.
Eyes need to be open and mouths closed. The infant or child should be facing directly toward the camera.
The top of the child's shoulders should be in view. The rule of 70% still applies.
We understand it may be difficult to achieve these guidelines but no fear, patience pays off or so they say. For more information click here.
Price and Cost
We live in a marvelous time period, don't you think? Technology has arisen and created the most convenient point in time unlike any other so far. Governments all around the world are finally jumping on board with the hyperlink wave. This creates much simpler methods to gaining access to passport or visa photos. Should you choose to stay in the past and drive around town looking for a post office or local drug store, be prepared for higher costs and wait times. On average, a set of two pictures cost 470 TWD. If you have a family to get photos for, this adds up very quickly. Four sets is around 1880 TWD. Now, if you choose to go with a trusted web service such as iVisa Photos, a set of photos will cost 199 TWD. That's 796 TWD for a family of four. Save the money for vacation.
How to get Taiwan Passport Photos or Taiwan Visa Photos Online
Why wait in lines when iVisa Photos offers such convenience and cheaper prices? Take photos from home or office and leave the details to us. With our passport photo booth, you are your own photographer. Our 100% government compliance guarantee assures you the photos are done right. Should you not be satisfied with your image, unlimited retakes are available at no extra charge. The website is easy to use and allows users to independently take charge of the process. Should you encounter a problem, our friendly representatives are standing by to answer any questions you may have. You also have the option for immediate download or have the photos sent to a nearby store for pickup. There are no right or wrong questions and we take great pride in getting you on vacation sooner rather than later.