Applying for a passport is not the most challenging task. It does, however, imply a lot of responsibility on your part. There are some requirements to be met, and one of them is the passport photo. While you have multiple options when it comes to acquiring passport photos, we suggest that you use the services of iVisa Photos. It is easy, it takes just a few minutes, and the images can arrive at your doorstep.
Furthermore, in case you are planning a trip abroad anytime soon, check out iVisa.com. With their help, you can find out if you are eligible for an electronic visa, and if you happen to be, you can use their services to apply for your travel document online.
Photo specs
Here are the guidelines that your passport photo must follow:
Size: 45 mm in height and 35 mm in width
Color: black and white photographs are not accepted
Head size and position: your head must not be at an angle, and you cannot take a portrait-style photo
Recency: as recent as possible but not older than 6 months. It has to reflect your current appearance
Background: white
Smile: no. Only neutral facial expressions are acceptable
Eyes: must be clearly visible
Your ears should be in the shot
Blurred photos will be rejected
Glasses: only if absolutely necessary and they do not alter your appearance
Headgear: not accepted unless you cover your head for religious purposes
Dimensions and size (pixels): at least 600 dpi
Attire, clothing, dress code: must be in contrast with the background
Beard: only if you usually have one
Quantity needed for application: 2
Antigua and Barbuda Passport Photo Size Requirements Guide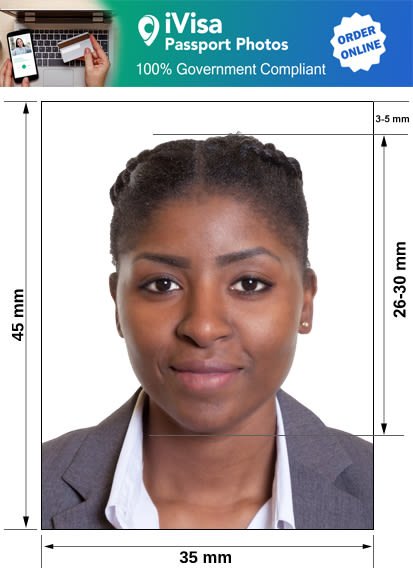 Antigua and Barbuda Passport Photos and Visa Photo Requirements – Rules, Guidelines, and Specifications
While we listed the specifications of a valid passport photo above, we feel that it is necessary you should know more about a few of them. After all, an inadequate passport photo is one of the most common causes of a rejected application, which is why you must use a picture that will get the job done.
Do not take the photo on a background that is anything but white. Patterns on the background, as well as shadows or colored background, will get your passport photo rejected. White is the only acceptable environment in which you can take your passport photo.
You should keep your head perpendicular to the camera. Do not take the picture from one side and keep your head straight. If you submit a portrait-style passport photo, your application will be rejected.
The source of light you use when taking the picture should be in front of you. That way, the light will not create shadows or reflections on your face, which can possibly alter your facial features
It is not only smiling that is not accepted in a passport photo. You cannot frown either. Relax your face when you are taking the picture so that you can have a neutral facial expression.
The eyes must be visible. In case you usually wear prescription glasses, you can keep them on. However, if the frame covers your face too much, your passport photo will be rejected. The lenses cannot be tinted, and sunglasses are not acceptable. At the same time, make sure that there is no glare in the passport photo.
You cannot wear anything on your head when you are taking your passport photo. Of course, if your religion does not permit you to keep your head uncovered, you can keep your headwear. Nevertheless, your face must be clearly visible in the photo from the bottom of your chin to the top of your forehead.
If you usually have a beard, you can leave it on for the passport photo. However, if you plan on shaving it, you should do so before taking the picture.
The back of the photographs must have the following statement: "I certify that this is a true photograph of [insert your name here]" and add your signature.
Rules and Requirements for Babies, Infants, and Newborn Passport and Visa Photos
Babies and children, in general, need their own passport and visa, which is why you must take their picture too. It may prove a difficult task, but surely you can manage. However, there are a few things you should know when taking a passport photo of a child.
If the child is too young to sit up, you will have to hold him/her. However, your hands cannot appear in the passport photo. Nothing other than the child should be visible.
Many parents opt for the car seat strategy. If you do the same, remember to cover the back of the seat with a white layer.
If you want to put your baby on his/her back to take the photo from above, do not forget to put a white sheet underneath.
Do your best to capture the child's face with his/her eyes open.
Price and Cost
Getting a set of high-quality passport photos can be quite expensive. However, iVisa Photos guarantees some of the lowest prices you will ever encounter. For an Antigua and Barbuda passport, you will need 2 photos, which iVisa Photos can process for you at the low cost of 16 XCD. You will not find a lower price than that anywhere.
How to get Antigua and Barbuda Passport Photos or Antigua and Barbuda Visa Photos Online?
The way iVisa Photos works is quite simple. You need a decent camera from a tablet or smartphone, which surely you already have. You take your picture following all the guidelines above and then submit it. You can either download it to print the passport photos yourself, or you can choose to have them delivered. It is as simple as that.
One thing you will love about iVisa Photos is that it lets you take as many pictures as you want at no additional charge. So, if the first picture is not to your liking, you can make another attempt. In fact, you can continue trying until you get a passport photo you love.
For further information about iVisa Photos and our services, do not hesitate to contact us. We will happily answer all of your questions.
References