When you want to apply for an Armenian passport, you have to make sure that you meet a series of requirements. One of those requirements is a passport photo. You could go to a photo studio and have them taken professionally. However, we suggest a cheaper and faster solution. With iVisa Photos, you only need a few minutes of your time and a camera. iVisa Photos is 100% government compliant, and we can help you get the photos you need.
Furthermore, if you want to travel abroad after you get your passport, you may need a visa, in which case our website can be of assistance. Access their website and check if you are eligible for an electronic visa, and if you are, iVisa can help you get one online with minimal effort.
Photo specs
Here is a list of the specifications your passport photos must follow:
Size: 45 mm in height and 35 mm in width
Color: black and white photographs are not accepted
Head size and position: your head must not be at an angle, aRecency: as recent as possible but not older than 6 months. It has to reflect your current appearance
Background: white
Smile: no. Only neutral facial expressions are acceptable
Eyes: must be clearly visible
Your ears should be in the shot
Blurred photos will be rejected
Glasses: only if absolutely necessary and they do not alter your appearance
Headgear: not accepted unless you cover your head for religious purposes
Dimensions and size (pixels): at least 600 dpi
Attire, clothing, dress code: must be in contrast with the background
Beard: only if you usually have one
Quantity needed for application: 4
Armenia Passport Photo Size Requirements Guide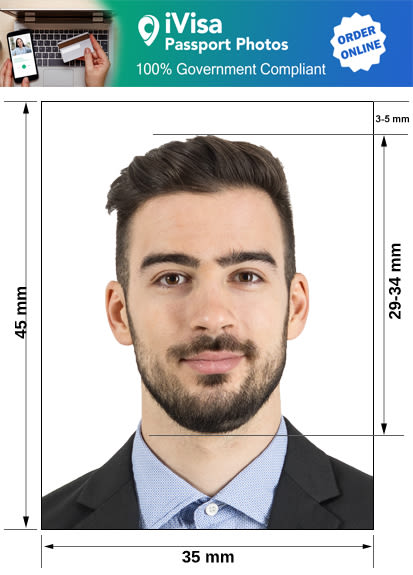 Armenia Passport Photos and Visa Photo Requirements – Rules, Guidelines, and Specifications
Although we listed the requirements a passport photo has to follow above, we think it is necessary to elaborate a little further for better comprehension. After all, many passport applications are rejected because the photo does not comply with the rules, which is why it is important for you to know as much about it as possible.
The background you use when you take your passport photo must not have colors, patterns, or shadows in it. It has to be just white. Otherwise, the passport photo is rejected.
Make sure to keep your head straight and face the camera. You cannot tilt your head or rotate it in any way. Portrait-style passport photos are not accepted under any circumstances. Both halves of your face should be equally captured.
Make sure that the source of light comes from the front of your face. Otherwise, you may risk having shadows or reflections on your face, in which case the passport photo will be rejected. It should not be too bright nor too dim. Neutral lights are the most appropriate.
Facial expressions of any kind are forbidden. You cannot smile, frown, squint, or raise your eyebrows. When snapping the photo, make sure that your face is fully relaxed. This ensures a neutral facial expression.
Your eyes should look straight into the camera. Do not squint. If necessary, you can wear your glasses. However, if the frames of your glasses are too big and cover some of your facial features, you should take them off. Sunglasses are not acceptable, and neither are glasses with tinted lenses. Also, make sure that there is no glare caused by the glasses in your passport photo.
Headwear will invalidate your passport photo unless you are bound by religious beliefs to keep your head covered. However, if that is the case, remember that your face must be clearly visible from the top of your forehead to the bottom of your chin. That is the only acceptable compromise.
If you usually have a beard, you can have it in your passport photo as well. However, any changes you may want to make regarding your beard should be made before you take your passport photo.
Rules and Requirements for Baby, Infant, and Newborn Passport and Visa Photos
As you may already know, children of all ages are required to have their own individual passport and visa. Consequently, you will need a passport photo for them as well. There are no significant differences between the pictures of children and those of adults, but there are a few particularities. For one, it is acceptable for the face to measure less than 25 mm. After all, children have smaller heads. Here are some useful tips when you want to take a passport photo for your children:
If you use the car seat for your children to take their pictures, make sure to cover the backrest with a white sheet. Background rules apply to kids as well.
For newborns, you can put them on their backs and take the photo from above. Just remember to put a white sheet underneath them before you snap the photo.
Make sure that the children's eyes are open during the photoshoot.
If the children are too young and you need to hold them, make sure that the passport photo does not capture your hands. Only the children can be in the picture.
Cost
Getting your passport photo taken can be a costly ordeal, even if it does not sound like such a big deal. However, iVisa Photos offers some of the lowest available prices. Since getting an Armenian passport requires 4 photos, we can help you get them for the unbelievably low price of approximately 4300 AMD. You will not find better prices than that.
How to get Armenia Passport Photos or Armenia Visa Photos Online?
This is as simple as it can be. With the help of a phone or a tablet that has a decent camera, use iVisa Photos to take your passport photo, following the guidelines we discussed above. iVisa Photos gives you the opportunity to make several attempts free of charge until you get the picture you love. After you choose one that you like, you can either download it to print it yourself or we can send it to you through a delivery service. That is pretty much it.
For more information, or if you have questions, do not hesitate to contact iVisa Photos.
References