Keeping your Australian passport accurate and up to date is essential for making sure you always have valid identification. You'll be able to do this easily with a service like iVisa Photos, which has lots of experience with Australian passport photos and knows the requirements well. You'll be able to find accurate information on what you need by checking out our Quick Facts, then take a great photo and use it to keep your passport functional.
Those of you planning a trip to or from Australia should also have a look at iVisa.com, which can help you determine whether or not you'll need a visa for where you're going. Since many passport photos can be processed over the internet, this will save you time and money at the outset.
Photo Specs
Size: 35mm to 40mm width. 45mm to 50mm length.
Color: Color only.
Head size and position: 32mm to 36mm. Not tilted or slumped. Centered.
Recency: Not older than six months.
Background: Solid, plain white or grey. Must give depth to face.
Smile: Only a neutral expression.
Eyes: Wide open and directed at camera.
Glasses: Non-thick framed and prescription.
Headgear: Not blocking the face and religious apparel only.
Dimensions and size (pixels): Not specified.
Attire, clothing, dress code: Use your judgement and dress casual or business.
Beard: Optional.
Quantity needed in application: 2
Australia Passport Photo Size Requirements Guide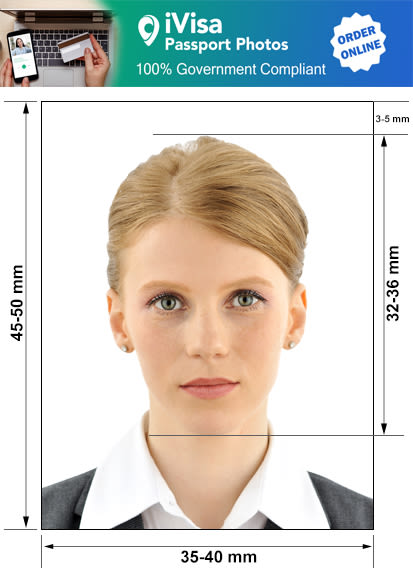 Australia Passport Photo and Visa Photo Requirements, Rules, Guidelines, and specifications
A snippet of how to take these photos is above. There are quite a few additional guidelines and rules to consider before snapping away. To assure government compliance, be sure you understand the following requirements:
Every application needs two photos. This is true no matter how many people are submitting one, including children.
Relaxed, natural expressions allow for better facial recognition than one with a smile. Resist the temptation to smile. Mouth needs to be closed completely and not open.
Facial piercings are allowed so long as they do not give off a reflection or black the visibility of your face.
If you wear prescription glasses every day, they can be worn in the photo as long as there is no glare or obstruction on your eyes. Sunglasses or 'transition' lenses with any tint are not allowed.
No one else should be in the photo with you.
A photo older than six months will not be accepted.
Your hair can be down as long as the face can be clearly seen. Head pieces such as hats, beanies or hair accessories are not permitted. Headgear for religious purposes are OK if the face is not blocked.
For pictures taken digitally:
No retouching of the picture in any way. This includes red eye removal or smoothing out blemishes or other skin issues.
Camera used must be 1.2 meters away at the very least.
High quality, glossy photo paper must be used for prints.
Use good lighting so the face has the same amount of light on every part.
Rules and requirements for babies, infants, and newborns Passport and Visa photos
Each child receiving a passport or visa will need to have a photo. Group shots are not acceptable. Every child must be photographed separately, this includes infants. Kids are trickier and take a bit more time to take proper photos of. Don't let that discourage you though. The Australian government understands and allows for looser regulations regarding children:
Children under the age of three can have their mouths open but eyes need to be open as well.
No one can be in the photo with them.
Toys, bottles and other objects are not allowed in the photo.
Face and tops of shoulders need to be squared with the camera. The child's head cannot be tilted.
Kids over the age of 3 are expected to be photographed as outlined above.
All photos must comply with the technical rules and regulations such as sizing, color, brightness and contrast.
Price and Cost
Depending on where you want to have photos done, printed and paid for can be the difference of money for vacation or not. Before the Internet and governments being behind in the quickly advancing technology fast train, it was a challenge and high cost to complete passport and visa photos. If you prefer to stick with a seasoned system, a post office is where to go. In Australia, the cost of 2 photos to submit with your application is $16.99 AUD for physical prints and $19.99 AUD for digitally emailed copies. A less expensive alternative is choosing an online service, such as iVisa Photos. Receiving a set of photos, whether printed or downloaded, is $8.39 AUD. That's a huge savings, especially when purchasing more than a set! Quick example is a family of four. At the post office it's $80 for digital copies or $33.56 with us.
How to get Australia Passport Photos or Australia Visa Photos Online
We understand trusting the Internet can raise a few eyebrows and turn people away. At iVisa Photos we offer quality service and guaranteed acceptance. We understand your time and money are precious which is why we believe in getting you the best bang for your buck. Our outlined process gives you a DIY opportunity with a guide in case you get stuck. There is always someone available to answer any question you may have and assist in the entire process. Convenience and peace of mind is another take away with our site. Take a photo of yourself from home or office and allow us to take care of the rest. If you are not completely happy with your photo, you are allowed unlimited retakes at no charge. Express your photos for faster service with our immediate download option or have the photos sent to a store for pickup. Give us a try and we guarantee 100% compliance and satisfaction. Save more money for your vacation. We can get you there quicker.
References