Getting your passport is an incredible responsibility, and when you are preparing for the application process, you need to make sure that there will be no cause for rejection. Among the documents you must submit to receive your Bangladesh passport, you will find that you need 4 identical passport photos. You could go to a photo studio to have them done, but if you want, iVisa Photos can help you do that from the comfort of your home.
After you receive your passport, you may want to travel abroad. If that is the case, we suggest that you access iVisa.com and see if they can help you get an electronic visa. If you happen to be eligible for one, iVisa.com can help you get it in as little time as possible with minimal effort
What are the passport photo dimensions and requirements for Bangladesh?
Photo specs
Size: 50 mm in height and 50 mm in width. The face should take up 34 mm of the picture
Color: black and white photos are not accepted
Head size and position: your head must not be at an angle, and you cannot take a portrait-style photo
Recency: as recent as possible but not older than 6 months. It has to reflect your current look
Background: white
Smile: no. Only neutral facial expressions are acceptable
Eyes: must be clearly visible
Your ears should be in the shot
Blurred photos will be rejected
Glasses: only if absolutely necessary and they do not alter your look
Headgear: not accepted unless you cover your head for religious purposes
Dimensions and size (pixels): at least 600 dpi
Attire, clothing, dress code: must be in contrast with the background. You cannot wear white shirts or headwear
Beard: only if you usually have one
Quantity needed in application: 4
Bangladesh Passport Photo Size Requirements Guide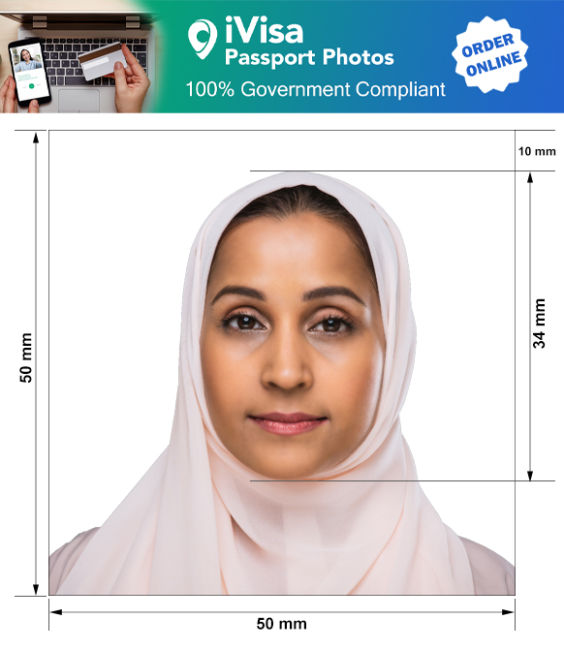 Bangladesh Passport Photos and Visa Photo Requirements – Rules, Guidelines, and Specifications
If you find that the specifications for a Bangladesh passport photo are not detailed enough, we are prepared to explain a few of them further so that you can have a better grasp of the situation. In case you are not aware, the wrong passport photo is often the cause of a passport application being denied, and that is what we are trying to avoid. As long as you pay attention to details and follow the guidelines we provide, your passport photo should be more than adequate.
The background in the passport photo is always white. The light color is supposed to accentuate your head and shoulders, which means more clarity. Choose your background carefully so that it does not have patterns, colors, or even shadows
You have to position yourself directly in front of the camera. Your head must be square to the camera. Do not tilt or rotate your head. Portrait-style pictures are not allowed either. Look straight at the camera when your photo is taken. The aim is for both halves of your head to be equally visible.
Make sure that the lighting in the environment you want to take the passport photo in is appropriate. It cannot be too dark or too bright. It should come from in front of you so that there will be no shadows on your face. Reflections are not accepted either.
Your facial expression should be neutral in your passport photo. Smiling is not allowed, and neither is frowning, squinting, or raising your brows. Relax your face when you take the picture.
Your eyes should look straight into the camera. They cannot be obstructed by anything. If you usually wear glasses, make sure that they do not create any glare and that they do not cover your eyes. Position them well. However, if you have glasses frames that cover a significant portion of your face or glasses with tinted lenses, you have to take them off. As you can imagine, sunglasses are prohibited.
Headwear is only allowed when your religious beliefs do not permit you to unveil your head. Even so, the veil cannot create shadows on your face, and your face has to be visible from the top of your forehead to the bottom of your chin.
If you generally have a beard that represents your everyday look, you can keep it on for the passport photo. However, in case you want to shave it off, please do so before you take your passport photo.
Rules and Requirements for Babies, Infants, and Newborn Passport and Visa Photos
Children of all ages need a passport and a visa of their own when traveling. You must take their picture too, in that case. There are no significant particularities you should take into account. It is, however, acceptable that a child's head occupies a smaller area in the picture than the head of an adult. The tips listed below should be of assistance when taking a child's passport photo.
If the baby is too young to sit up, you can hold his/her head. Just make sure that your hands are not in the picture.
Putting the baby on his/her back to take the photo from above means that you have to put a white sheet under him/her.
Are you planning to use the car seat method? Add a white cloth to cover the backrest of the chair.
The baby should not have anything on his/her head and must be without a pacifier.
Pricing
iVisa Photos has always and will always offer competitive prices. Purchasing a set of 4 passport photos means that you will pay only around 762.80 BDT. The price may be slightly different due to currency conversion rates, but nothing significant.
How to get Bangladesh Passport Photos or Bangladesh Visa Photos Online?
Are you ready to use iVisa Photos. Then here is what you have to do. Using a camera from a phone or tablet, take your picture following the guidelines we discussed above. You are free to try multiple times, at no charge, until you get a photo that you love. Once you do that, you have the option of downloading the picture or we can send it to you. Whatever you think is best for you. It is as simple as that.
In case you have more questions or concerns regarding iVisa Photos, feel free to contact us.
References