Your Belgian passport has very specific requirements that dictate what kind of photos are acceptable to use. iVisa Photos knows these requirements extremely well since we've had experience helping many people take pictures for their Belgium passports. When you need a photo for a Belgian passport, take a look at our Quick Facts section, then use our convenient service to take a suitable photograph.
Using your passport to travel to or from another country? Then you'll want to use our website. This service tells you if your destination requires a visa, in which case you'll have to take a photo for that as well.
Photo Specs
Size of visa photo: 45 mm x 35 mm
Color: Full color
Size and position: Full face, aligned in the middle of the photograph
Background: White background
Smile: Neutral
Eyes: Open and visible
Glasses: Daily wearing glasses are allowed, no sunglasses
Headgear: None, headgear for religious purposes are allowed however
Quantity: Two (2)
Belguim Passport Photo Size Requirements Guide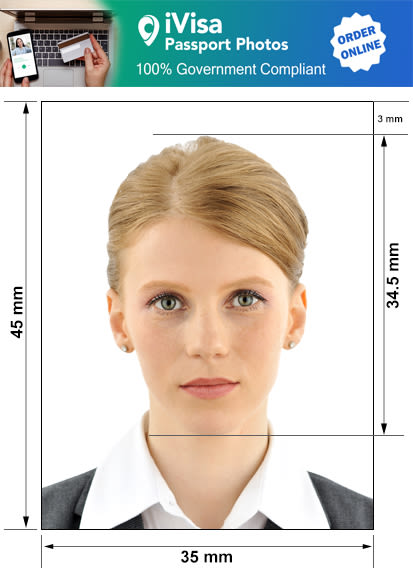 The Belgian Passport Photo and Visa Photo Requirements, Rules, Guidelines, and specifications
The Belgian Tourist Visa has a lot of rules and requirements when planning to apply for a Schengen visa. You need to submit the following documents: visa application form, visa photographs, flight reservations, proof of hotel reservations / accommodations, travel insurance, bank statements etc.
See notes regarding your photo:
The photo should have a white background
Face should be in the middle of the photo
Size specs: 35 x 45mm
Must not be an old photo
No headgear, except religious wear
If you plan to use glasses then avoid glares on the glass lenses if you use a flash with your camera
You need two (2) photographs
Rules and requirements for babies, infants, and newborns Passport and Visa photos
The Belgium Schengen visa requires 2 visa photos for all who want to apply. Follow the following tips to take a photo of a baby.
One, baby's eyes have to be open.
Two, the background should be white. You can use a background such as a white bed sheet, white blanket or even white sheets of paper where you can lay your baby on.
Three, if your baby is too small to either lay on a surface or to sit or stand againts a surface then you can take the baby´s photos while the baby is in its car seat.
Remember to always take a lot of photos so that you will have many photos to choose from in case the first one did not come out right.
Price and Cost
iVisa Photos prices are low and offer the delivery by mail, or in-store pickup at a local CVS, Walgreens or a Walmart. You have to be located in the USA for this option though!
How to get your Belgium Visa Photographs Online with iVisa Photos?
Use the iVisa Photos app with a smartphone or tablet.
It can be downloaded as follows:
Tips to take a high quality photo:
Use a white background such as a door, fridge or wall
Keep face central in the pic while keeping your face neutral
What you need to know before getting started:
It will take only a few minutes to start and finish taking your photo with the app
Select the Belgium at the beginning of the app with a smartphone or tablet
You can download the photograph, mail it to your house or select next day pickup at a Wal-Mart, CVS or Walgreens store in the United States.
Good news is that you can now take your passport photo with the app too. You only have to select passport under "Photo Type". Get your photo with the iVisa Photos and visit Belgium in 2016.
References