A Brazilian passport photo must meet certain requirements to be considered valid. With experience on thousands of Brazilian passports, iVisa Photos provides an extremely reliable way to acquire them, with information on the required dimensions and measurements. See this information quickly in the Quick Facts section below, and then take a compliant passport photo.
If you're planning a trip to Brazil, you'll also want to use iVisa.com to see whether you are required to get the Brazilian Tourist eVisa (Electronic Tourist Visa) online. If you do, you'll want to take care of that now, so that you don't have problems entering Brazil.
Keep in mind that Brazil is quite stringent for photo requirements so double check before you approve the photo yourself.
Photo Specs
Size: 2x2 inches.
Color: Color only. No filters or black and white.
Head size and position: The head should be between 1-1 3/8 inches of the entire photo. Head should be centered.
Recency: No older than 6 months.
Background: White only. No colors and no prints.
Smile: NONE. Neutral expression only.
Eyes: Open and starring straight at camera.
Glasses: NONE.
Headgear: Religious purposes only.
Dimensions and size (pixels): None specified.
Attire, clothing, dress code: Clothing cannot match background.
Beard: Optional.
Quantity needed in application: 2
Brazil Passport Photo Size Requirements Guide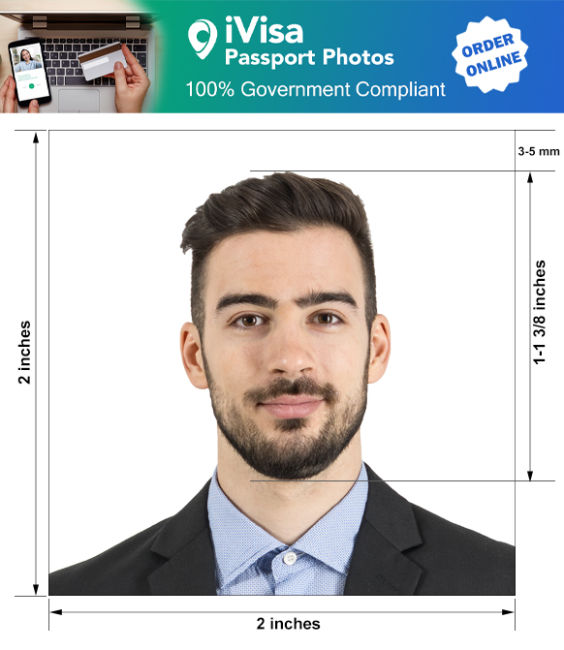 Brazil Passport Photo and Visa Photo Requirements, Rules, Guidelines, and specifications
The above guidelines are a quick glance at what you can expect when getting those passport and visa photos together. As you can see it's not just a simple click of your front facing camera or a cropped image from a social event. Government officials don't care for a profile picture which is why they put together a long list of requirements. Here is a more detailed explanation for what you should be looking for:
Filters are a great addition to make a photo look fancy. Those are unacceptable for a passport photo. Be sure the color on the image represents your true skin tone.
Lighting is a huge issue and most commonly the reason a photo is rejected. An photo too bright or not bright enough won't be accepted.
Watch for shadows. Whether it's from poor lighting, glasses or hair, any shadows on the face distorts and almost camouflages your true identity.
There are no specifications or restrictions on the type of clothing but avoid wearing a top matching the background. Also, uniforms such as law enforcement or military are not encouraged for security reasons.
Glasses are allowed to be worn so long as the lenses are not dark or reflecting light. The frames need to be thin enough to clearly see your eyes. If in doubt, don't wear them.
No smiling. A plain, relaxed face with a closed mouth will do fine.
All prints need to be printed on glossy, high quality photo paper. Matte paper is not permitted.
Be sure the image is clearly in focused, not torn, scratched or digitally altered in any way.
Don't tilt your head. Look straight at the camera with your head squared off.
Rules and requirements for babies, infants, and newborns Passport and Visa photos
If you are planning to travel with a family, it's important to note every member of your household who wishes to leave Brazil must have their own passport and visa. This also means a photo of each person including spouse and children. Young ones can be a bit tricky to photograph but need to have it done correctly. Along with the regulations above, here are a few other bits of info to assist you:
An infant should be photographed laying down on a plain white cloth or sheet.
No parent, hands, toys or any other object can be in the photo.
If you prefer to have the child sitting, use a car seat and drape the sheet over the seat as to not be seen in the image.
The child's face needs to be looking at the camera, not smiling and with both eyes open.
Price and Cost
Depending on where and how you get these photos done can be the difference of a few cents or a few dollars. Before technology made most things easily accessible and government agencies adopted these newer advances, receiving a photo took more time and effort. Today, there's no need to trudge around town looking for a professional photographer. If you do decide to make a trek through the city, a set of photos done at the post office can cost around 65 BRL. If you have a family be prepared to spend upward of 200-240 BRL. At online places like iVisa Photos, you can get a set of photos for 20 BRL. That's a huge savings especially when a family of four is around 80 BRL. Save the money for your vacation!
How to get Brazil Passport Photos or Brazil Visa Photos Online
We offer a simple and easy to use website which allows you to take your own photos from the comfort of home or at work with a few clicks. At iVisa Photos there is no waiting in lines or wasting gas to drive through heavy traffic in search of a post office or convenience store. Our 100% government compliance guarantees your photos are done right and will be accepted with your application. If for any reason you are not satisfied with your picture, you have the option to retake it as many times as you deem fit. Plus, our friendly staff awaits to assist you with any and all questions you may have during the process. Once approved and ready for delivery, you chose how you want the photos, either sent for pickup or immediate download. Give us a try before using old traditional methods and soon you'll be packing bags and boarding a plane for paradise.
References