Are you planning on obtaining a Brunei passport anytime soon? Then you already know that one of the requirements involves a set of 4 passport photos. You could have them done at a professional photo studio, but you can also meet this requirement from the comfort of your own home. With iVisa Photos, you can take a picture with your phone, and we will make sure that you have a set of passport photos compliant with government guidelines.
Since you are interested in traveling internationally, which is likely the reason you want a passport, you should also look into our website. Basically, if you are eligible for an electronic visa, iVisa can help you apply for it online.
Photo specs
Size: 4.5 cm in height and 3.5 cm in width
The photo you submit must be in color
Head size and position: the head must be straight and facing the camera
Recency: no older than 6 months
Background: white
Smile: no
Eyes: must be clearly visible
Your ears should appear in the shot
Make sure that the photo is not blurry
Glasses: only if they do not distort your facial features
Headgear: accepted only for religious purposes
Dimensions and size (pixels): at least 600 dpi
Attire, clothing, dress code: in contrast with the background
Beard: only if it represents your everyday appearance
Quantity needed in application: 4
Brunei Passport Photo Size Requirements Guide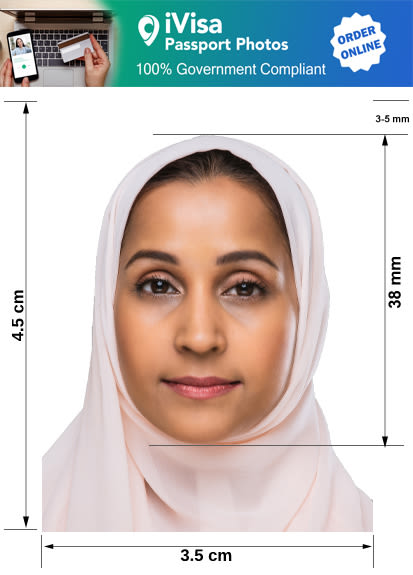 Brunei Passport Photos and Visa Photo Requirements – Rules, Guidelines, and Specifications
While the list of passport photo specifications above is complete, we believe that some of them need further clarification. After all, an inadequate passport photo is one of the most common causes of application rejection, and we do not want you to go through that.
The first thing you have to do when you decide to take the passport photo at home is to look for the perfect setting. You need a white background that has no colors, patterns, or shadows on it. If you do not have a white background in your house, you should hang a white sheet on a wall. That should do the trick.
The position of your head is incredibly important when it comes to a passport photo. Place the camera at your eye level for the best possible exposure. You need to maintain your head square to the camera so that both sides of your face are equally visible. You are not permitted to rotate or tilt your head in any way. A portrait-style picture will be automatically rejected.
The source of light you use for your passport photo must be in front of you so that you do not end up with shadows on your face. Shadows have the potential of altering your facial features. The light should not be too dark or too bright.
As you can imagine, you are not allowed to smile in your passport photo. A neutral facial expression is ideal. Frowning or raising your brows is also not allowed. To achieve the best facial expression, relax your face when taking the photo.
Your eyes should look straight into the camera. It is not allowed to have your eyes obstructed by anything (glasses, hair, etc.). If you happen to wear glasses on a daily basis, you can keep them for your passport photo, but only if they have small frames. Glasses with tinted frames, as well as sunglasses, may not appear in a passport photo.
Headwear is generally not allowed. However, if you keep your head covered for religious purposes, you are permitted to have headwear. Nevertheless, the veil should not cast shadows on your face, and your face has to be clearly visible from the top of your forehead to the bottom of your chin and from one ear to the other.
If your everyday look includes a beard, you are allowed to keep it for your passport photo or your visa photo. However, any changes you may want to make before your trip must be made before taking your picture.
Rules and Requirements for Babies, Infants, and Newborn Passport and Visa Photos
As you may very well know, children of all ages are required to have their own passports and visas these days. As far as their photo is concerned, there are no significant particularities. Although it is generally accepted that their head should occupy less space in a picture, for obvious reasons. The tips below should help you take the perfect passport photo of your child.
If the baby cannot sit on his/her own, you can use the car seat method. However, if you do, remember to place a white sheet on the backrest of the chair.
Some parents prefer to photograph their children from above. In case you want to do that as well, place a white sheet or blanket under the child to achieve a white background.
Take the passport photo of the child when he/she is awake.
If you decide to hold the baby for the passport photo, please note that nobody else can appear in the picture aside from the baby.
Pricing
When was the last time you went to a professional photo studio to get a set of passport photos or visa photos? Have you checked out their fees lately? If not, we can tell you that it can be pretty expensive. Not when you use iVisa Photos. For a Brunei passport, you need a set of 4 photos, and we can provide them to you for as little as 12.60 BND. Of course, the price may be slightly different on the day you make the purchase due to currency conversion rates.
How to get Brunei Passport Photos or Brunei Visa Photos Online
Using iVisa Photos is a piece of cake. All you need is a camera from a phone or tablet. Some people use the webcam from their laptops too. What you need to do is to take your picture with all the guidelines above in mind. If you do not like the first photo, you can try to capture it again free of charge. Once you get the picture you love, you can submit it for processing, and we will give you two options. One, you can download the photo to print it yourself, in which case make sure to have photo-quality paper at hand, and two, we can have them delivered to you. It is as simple as that.
Do you have questions or concerns? Please do not hesitate to contact iVisa Photos' customer support service.
References