Obtaining a Bulgarian passport is not a difficult task. It is issued by the Ministry of Interior, and the application process is not a challenge. However, you are required to submit the proper documentation, among which you will see that there are 3 passport photos. That is something iVisa Photos can help you with. With our help, you do not have to go to a photo studio and have them done. Instead, you can do it yourself at home.
Moreover, before you start planning your trip to a foreign country, consider using the services provided by our website. In case you qualify for an electronic visa, iVisa.com can assist you with the online visa application process.
Photo specs
Size: 45 mm in height and 35 mm in width
The photo you submit must be in color
Head size and position: the head must be straight and facing the camera
Recency: no older than 6 months
Background: a light color (light grey, white)
Smile: no
Eyes: must be clearly visible
Your ears should appear in the shot
Make sure that the photo is not blurry
Glasses: only if they do not distort your facial features
Headgear: accepted only for religious purposes
Dimensions and size (pixels): at least 600 dpi
Attire, clothing, dress code: in contrast with the background
Beard: only if it represents your everyday appearance
Quantity needed in application: 3
Bulgaria Passport Photo Size Requirements Guide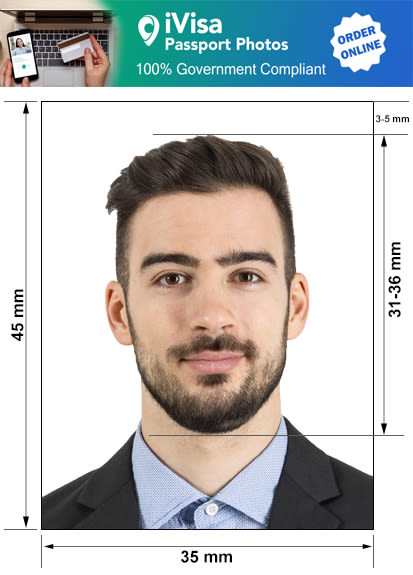 Bulgaria Passport Photos and Visa Photo Requirements – Rules, Guidelines, and Specifications
While the list of passport photos specifications above is complete, we think that further explanations are required. After all, an improper passport photo can get your application rejected, and we do not want that to happen to you. Below, you will find some details regarding some of the specifications we listed above.
Choosing the proper background for your passport photo or your visa photo is incredibly important. You will need a background that has a light color, such as white or light grey. If you do not have such a wall in your house, you could hang a white sheet on a wall.
You have to be careful of the position of your head during the photoshoot. The best placement of your camera is at eye level so that it can include all your facial features. Both sides of your face must be equally visible. Please do not submit portrait-style photos because they will be rejected. Also, do not tilt or rotate your head in any direction when you take your picture.
The lighting of the room in which you take the picture must not be too bright or too dark. It is recommended that you place yourself in front of a source of light because that way, you will not have shadows on your face.
When you get ready to take your passport photo, you have to relax your face so that you can have a neutral facial expression. You cannot appear to be smiling or frowning in the picture.
When you take the passport photo, you are required to look directly into the camera. That ensures the perfect visibility of your eyes. If you wear glasses, you can keep them on for the picture, but you have to make sure that the frames do not cover your eyes and that there will be no glare in your photo. Needless to say, glasses that have tinted lenses and sunglasses should be taken off for the passport photo.
A passport photo should not include any headwear. However, if your religious beliefs do not allow you to take the headwear off, you can keep it on. Even so, you must ensure that your face is visible from the top of your forehead to the bottom of your chin and from one ear to the other. Also, your headwear is not supposed to cast any shadows on your face.
Your beard can appear in your passport photo or your visa photo only as long as it represents your usual appearance.
Rules and Requirements for Babies, Infants, and Newborn Passport and Visa Photos
In case you decide that you want to take a trip with your children, know that they too need their own passport and visa. Needless to say, they need photos as well. You should know that the passport photos of an adult are quite similar to those of a child. Even so, here are a few tips that will help you in the process of taking photos of a child.
When placing the child in a car seat for the photo, remember to put a white sheet on the backrest so that you can achieve the required light-colored background.
Some parents take the photo of their child from above. Before you place the child on the ground, bed, etc., do not forget to put a white sheet underneath.
If you choose to hold the baby yourself, remember that only the child can appear in the passport photo. Not even your hands may be visible.
If the baby has his/her head covered and/or a pacifier, please remove them before you capture the photo.
Pricing
Getting your passport photos or visa photos online with iVisa Photos is way cheaper than going to a photo studio. It is more convenient too. A Bulgaria passport application requires 3 photos, and we can get you a set of 4 for only $8.99. The equivalent in Bulgarian currency is about 16.20 BGN, but it could be slightly different depending on the currency conversion rate on the day of your purchase.
How to get Bulgaria Passport Photos or Bulgaria Visa Photos Online
Getting the passport photos you need online with iVisa Photos is not at all a challenge. Using a decent camera, take your picture. Just make sure to follow all the guidelines we discussed above (background, position, light, etc.). If the first photo is not satisfactory, you can make as many attempts as you want until you get the picture you love. You will not be charged for the extra attempts. Once you get the photo you like, you can submit it and we will process it. Then, you will receive two options. You can either download the photos, in which case you need photo-quality paper, or you can ask for us to send the set to your home address. The choice is yours.
Do you have any questions regarding iVisa Photos? Please feel free to contact us at any time.
References