Applying for a Burkina Faso passport means that you have to put together a series of documents that you have to submit to the issuing authority. You will notice that among those documents, you will find 3 passport photos, and that is something iVisa Photos can help you with. Instead of going to a photo studio, you can take your picture at home, and we will send them to you.
Furthermore, if your next step is to apply for a visa, check if you are eligible for an electronic visa. our website can help you determine whether or not you qualify, and if you do, they can help you with the online application process.
Photo specs
Size: 45 mm in height and 35 mm in width
The photo you submit must be in color
Head size and position: the head must be straight and facing the camera
Recency: no older than 6 months
Background: white
Smile: no
Eyes: must be clearly visible
Your ears should appear in the shot
Make sure that the photo is not blurry
Glasses: only if they do not distort your facial features
Headgear: accepted only for religious purposes
Dimensions and size (pixels): at least 600 dpi
Attire, clothing, dress code: in contrast with the background
Beard: only if it represents your everyday appearance
Quantity needed in application: 3
Burkina Faso passport photo requirement and size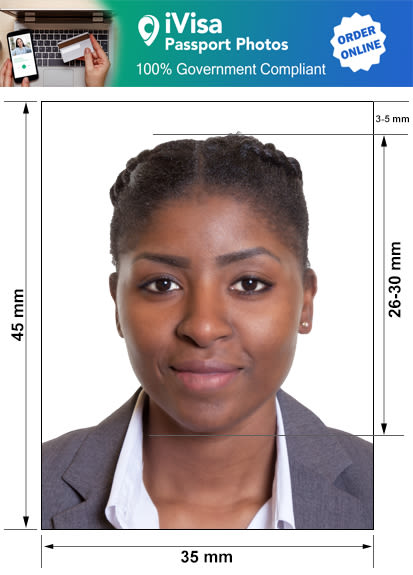 Burkina Faso Passport Photos and Visa Photo Requirements – Rules, Guidelines, and Specifications
We already listed the required specifications of a Burkina Faso passport photo, but we believe that there is a need for further explanation. In case you did not know, an improper passport photo is one of the most common causes for which a passport application is rejected. So, to prevent that from happening, read the instructions below.
One of the first things you have to do is find the perfect setting in which to take your picture. You can put yourself against a white wall. However, if you do not have such a wall, you can use a sheet to hang on the wall to provide you with the necessary white background. Remember that patterns and shadows are not allowed in your passport photo.
The position of your head and face are crucial as well. You must place the camera at eye level. Your head must be straight and perpendicular to the camera. Both sides of your face must be equally visible. Tilting or rotating your head is also not allowed.
When you are taking your passport photo, remember that you cannot appear to be smiling or frowning. You must have a neutral expression. Relaxing your face will help you achieve that requirement.
Your eyes must be directed straight at the camera. You cannot look sideways. There must also be nothing to obstruct the visibility of your eyes. If you wear glasses, make sure that they do not cover any portion of your eyes and that they do not create a glare in your passport photo. You cannot wear sunglasses or glasses with tinted lenses when you take your passport photo.
The light in the room in which you take your picture must not be too bright or too dark. It is preferable that the source is right in front of you so that there are no shadows on your face.
If your religion requires you to keep your head covered at all times, you can keep your headwear. Otherwise, you must take it off. However, even if you keep your headwear, the face should be visible from one ear to the other and from the bottom of your chin to the top of your forehead. That is the only acceptable compromise.
If your everyday look includes a beard, you are allowed to keep it for your passport photo. If not, you should shave it off before taking the picture.
Rules and Requirements for Babies, Infants, and Newborn Passport and Visa Photos
As far as children go, you probably already know that they need their own passport and visa, no matter how young they are. Needless to say, you need to take their picture too. Please note that there are no significant differences between a passport photo of an adult and that of a child. Here are some useful tips for when you photograph a child:
The child should be awake when you take the photo.
Remove the baby's headwear and pacifier for the photoshoot.
If you find it easier to photograph your child in a car seat, do not forget to put a white sheet on the seat's backrest.
In case you want to take the picture from above while the baby is on his/her back, place the baby on a white sheet or blanket.
Remember that only the baby may appear in the photo.
Pricing
It is common knowledge that getting your passport photos or visa photos from a photo studio can be quite expensive. However, if you choose to get your pictures with iVisa Photos, you will see that you will spend little money. Since you need 3 passport photos for your Burkina Faso passport, iVisa Photos will give you a set of 4 at the low price of $8.99. That is approximately 5,452 XOF. We say 'approximately' because the currency conversion rate can differ from one day to another.
How to get Burkina Faso Passport Photos or Burkina Faso Visa Photos Online
Using iVisa Photos to get your passport photos or visa photos could not be simpler. Use your phone or tablet to take the picture. If the first attempt is unsuccessful, remember that you can try multiple times with no additional charges. Once you have the photo you like, you have to submit it for processing. iVisa Photos will give you two options. You can download the photo to print the set yourself. Just make sure to use photo-quality paper. Or, you can just give us your address and we will send you the pictures.
Do you have any questions concerning iVisa Photos? Please feel free to contact us.
References