The Canadian passport is one of the most powerful in the world, but it has strict regulations when it comes to what kind of photo you can use. iVisa Photos has lots of experience with Canadian passports, though, which means that using our service is a great way to get a passport photo that works. Check out our Quick Facts section for specific requirements, and then take your next Canadian passport photo with ease.
If you're traveling in or out of Canada on a trip, you may also want need to see whether or not your destination requires a visa. If it does, you'll be able to get one before you leave and save yourself trouble down the road.
What are the passport photo dimensions and requirements for Canada?
A Canadian Passport photo dimensions are required to be 50 mm wide x 70 mm long (2 in wide x 2 3/4 in tall). The face dimensions must be between 31 mm and 36 mm in length (1 1/4 in to 1 7/16 in).
More Photo Specs
Passport Photo Size: 70 mm x 50 mm
Visa Photo Size 45 mm x 35 mm
Color: Black and white or color is acceptable.
Head size and position: Head should measure 31mm and centered.
Recency: Taken in the last 6 months.
Background: Plain white or light-colored.
Smile: Neutral expression only.
Eyes: Wide open.
Glasses: Prescription is acceptable as long there is no glare on lenses.
Headgear: For religious purposes only and only if it doesn't block facial features.
Dimensions and size (pixels): None specified.
Attire, clothing, dress code: None specified.
Beard: No restrictions.
Quantity needed in application: 2
Canada Passport Photo Size Requirements Guide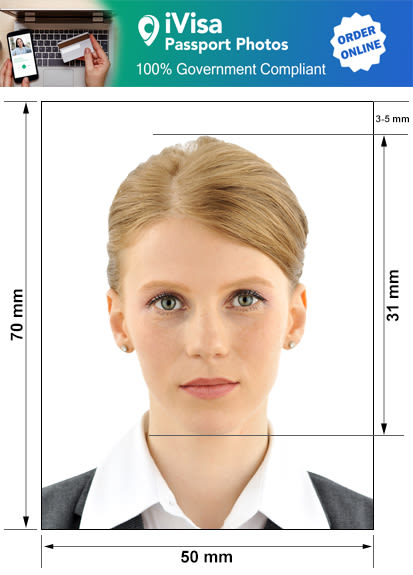 Information Required on the back
Your Canadian photo requires information on the back of the photo that verifies the person in the photo is actually the same person who will apply for the new passport.
The following info MUST be included on the back of one photo:
Applicant name
Address of the photo studio, date photo was taken. (The photographer can use a stamp or handwrite the info.)
He/She must also write: "I certify this to be a true likeness of (applicant)" and sign (guarantor's name and surname).
If you are renewing an adult´s passport then you do not need to add the info from the guarantor, only your name, address, and the date the photo was taken.
Additional Canadian Passport and Visa Photo Requirements, Rules, Guidelines, and specifications
The above facts give you an idea of what to look forward to when getting a photo done, however, there is much more to the process. Be sure to understand each requirement as a rejected passport photo means a delay in vacations.
Your head needs to be squared with the camera and casting no shadows.
Only solid backgrounds are allowed. No designs, scenery, or medical equipment can be showing.
Canada requires all photos to be taken with a neutral expression and no smiling. This allows for better face recognition with their system. It's a true identity without distortion.
Obviously eyes need to be open and not closed.
Prescription glasses are OK so long as the eyes are clearly visible. If the frames are too thick, this could hinder identification. No glare. Sunglasses or tinted prescription glasses are not allowed.
Hats, beanies, or any other item on your head besides hair should not be worn. The only exception is a headpiece for religious purposes. Be sure these items don't block your face.
Skin tone must be natural and not distorted with flash photography.
For photos submitted by a commercial photographer: Name, address, and signature of the photographer must be on the back of the photos submitted.
Natural lighting and with you clearly visible and in focus.
Photos cannot be altered in any way. This includes red-eye removal. Any signs of Photoshop or changes may cause automatic rejection and delay of application.
If wearing a medical device in the photo, a signed letter from your doctor must be submitted with the application.
Hair can be either up or down.
Printed on high quality, photo paper. Glossy preferred.
Be sure the tops of your shoulders are square with the photo and not twisted or slumped.
Rules and requirements for babies, infants, and newborns Passport and Visa photos
If you are in need of a passport and are planning to take children, each child needs to have their own passport or visa. This includes an individual photo for each child. All regulations stated earlier apply to infants and children. Though the Canadian government recognizes the difficulty of taking the correct photo of an infant and will be a bit more lenient toward the rules. To help assure your child's photo is as compliant as possible, here are a few tips:
The infant can be laying down or in a car seat as long as the background is solid and white. Use a sheet for best results. No part of the picture should show anything other than white or the child.
If a parent is holding the infant, his or her hands cannot be visible in the picture.
Do try and get the infants' face square and with mouth closed.
Price and Cost
Depending on who you go with, it can be somewhat expensive or a lot cheaper. Commercial photographers can cost between $16-$20 CAD for each photo. Costco offers photos for about $8 CAD per photo. For a family of four, this adds up quickly. At iVisa Photos you can get two passport photos for $8.31 CAD. Since two photos are required for each application, this is quite a difference and larger savings than driving around town and scheduling a photo op. For a single person, this could be the difference of $40 and $8. Getting pictures done for your family? Well, just do the math and think of how to spend the extra money on memories instead.
What are the requirements for a Canadian passport photo in the US?
When getting a Canadian Photo in the USA it is best to use a professional photo service that can comply with the passport's 50 mm X 70 mm (2 in X 2 3/4 in) specifications. Passport photos from other countries might not be compliant such as the non compliant 2 in x 2 in US passport photo.
How to get Canada Passport Photos or Canada Visa Photos Online
If you are like the average person these days, you have a busy and at times, hectic schedule. Trying to pin down a place close by work or home can seem like a waste of time and almost impossible. Allow us to relieve even a bit of stress during this passport or visa application process. At iVisa Photos, we do most of the work for you while you get on with other tasks. All you need to do is take a photo of yourself, complying with the necessary requirements specified above and submit. We take care of processing and checking it with Canada's regulations. Plus there are as many retakes as you would like if you're not satisfied with the photo. Once cleared by the agency, you can have the photos sent to a drugstore for printing or made available for immediate download. We make the process simple, quick, and easy with a step-by-step guide and 24/7 assistance if you have further questions. Let us take the reins and get you to where you want to be sooner.
References