Having a Chinese passport comes with certain responsibilities, like making sure you have the correct passport photo. Why not take it yourself through iVisa Photos, a service with plenty of experience to help you get a photo that meets the requirements? Look through our handy Quick Facts section, then get yourself a valid Chinese passport photo fast.
If you're planning international travel, it's also worth visiting iVisa.com, which can tell you whether the country you'll be visiting requires you to have a visa. Since many visas can be processed online these days, this is the ideal way to take care of it timeously.
What are the requirements for a Chinese passport sized photo?
A Chinese passport must have a photo that is 33mm wide and 48mm in length. The head must be in-between 28mm and 33mm in length. You can get your China passport requirements met through a professional service or get the China passport photo online now.
List of All Photo Specs
Size: 33mm width and 48mm length
Color: Must be submitted in color showing true skin tones.
Head size and position: The head must be between 15mm and 22mm wide. The length is 28mm to 33mm.
Recency: Photo must be from the past 6 months. Older photos will be rejected.
Background: Solid, plain white, or light blue only.
Smile: Neutral expression. No smiling.
Eyes: Wide open. Must be visible.
Make sure your ears are both visible
Photo should not be blurry
Glasses: Thin rimmed eyewear only.
Headgear: None unless for religious purposes.
Dimensions and size (pixels): None specified.
Attire, clothing, dress code: Be sure what you are wearing does not match the background. This could cause rejection and retake.
Beard: Optional.
Quantity needed in application: 2.
China Passport Photo Size Requirements Guide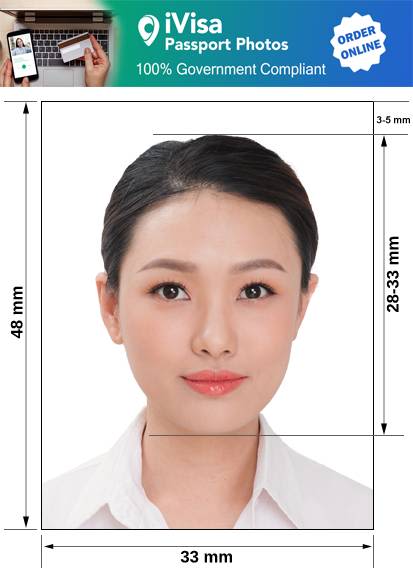 China Passport Photo and Visa Photo Requirements, Rules, Guidelines, and specifications
The above guidelines are a snapshot of what to expect when getting your passport or visa photos ready for submission. There are quite a few more in-depth details requiring your attention as well. Listed below are some of the tips and tricks to perfecting your photo and making sure it doesn't get rejected:
The background needs to be a solid color to assure a stark contrast between your head and what is behind it. No designs or scenery will be acceptable.
Men can have a beard in the photo so long as it reflects the everyday look of him. Basic rule of thumb: If you usually have a beard, it's ok to be photographed with it. If you don't, then avoid growing one for your close up.
No hats, bonnets or large headpieces can be worn. The only exception is granted to those who are required to wear a headpiece for religious reasons. Keep in mind, it cannot block the face in any way.
Your head must be centered and facing the camera. Portrait style or side shots are not permitted.
Eyes must be open, obviously, and should not be blocked. Glasses are acceptable so long as the lenses are not tinted, frames are not thick and there is no glare on the lenses. Sunglasses are not allowed.
There needs to be 3mm to 5mm of plain white space between the top of your head and the top of the photo itself.
Lighting must be evenly distributed across the face, casting no shadows. Be careful the photo isn't too dark or too bright.
Rules and requirements for babies, infants, and newborns Passport and Visa photos
All children traveling abroad will need their own passport and visa. For this reason, each child will also need to be photographed individually. Requirements for children differ slightly from adult photos, however, it's not by much. Technicalities, such as lighting and size remain the same. Here are a few tips to getting the right shot of infants and children:
Only the child can be in the photo. If the child is a newborn or under 12 months old, the parent's hands cannot be seen if the child is held during the photo.
If using a car seat or lying an infant on the floor, use a plain white or light blue sheet to hide the seat or floor.
The child's head can be slightly smaller in the photo than that of an adult.
Do your best to get a shot of the child with his or her eyes open.
Price and Cost
These days it seems as though everything is overpriced and anything you try and do costs way more than it should. This includes Passport and visa photos. Besides the cost of applying for these documents required to even leave China, you have to pay for photos. Now, depending on which route you take, it can be the difference of a few Yuan or a lot of Yuan. Traditional ways such as post office or directly with the Chinese government can cost anywhere from 100 to 132 Yuan. This may not seem like too much but this is per set. If you have a family and everyone is needing a photo, the price is even more. If you are more tech-savvy and are up for something new, iVisa.com Photos offers passport and visa photos for as little as 41 Yuan per set. That's a huge difference.
How to get China Passport Photos or China Visa Photos Online
Time is money these days and there never seems to be enough time in a day. Cliché statements but extremely true no matter where you live. If you are applying for a passport or visa and trying to figure out where to get a photo done, it should be a simple decision. At iVisa Photos, we offer a quick and convenient service to get you on the right track to travel abroad. Our passport photo booth allows you to take a photo from the comfort of your own home or the office. No need to fret and worry about creating a photo correct for the government either. Our knowledgeable staff work at perfecting your photo before submitting and assure 100% government compliance. If you are not satisfied with the image, we offer unlimited retakes as well. Step-by-step guidelines assist you in a simple and worry-free experience. If you should run into any issues, our friendly representatives are here to answer any questions you may have. Give us a chance to take the stress of your trip and get you to a cozy beach faster.
References