Your Danish passport has to meet certain standards, and one of them is having an appropriate passport photo. Using a service like iVisa Photos is the easiest way to obtain one, since we've helped thousands of people from countries all over the world get valid passport photos and we're very familiar with each country's requirements. Our Quick Facts section has all the details you need to get started with our easy to use service.
If you're leaving the country and traveling somewhere else, you should also look at our iVisa.com website to find out if your destination requires a visa. If it does, you'll want to make sure you get that well in advance, so that you can enjoy your trip without any worries.
Photo Specs
Size of visa photo: 45mm x 35mm
Color: Full color
Head size and position: Full face, aligned in the center
Background: White
Smile: Neutral, no smiling
Eyes: Open
Glasses: None,
Headgear: None, except for religious purposes
Quantity needed: Two (2) photos
Denmark Passport Photo Size Requirements Guide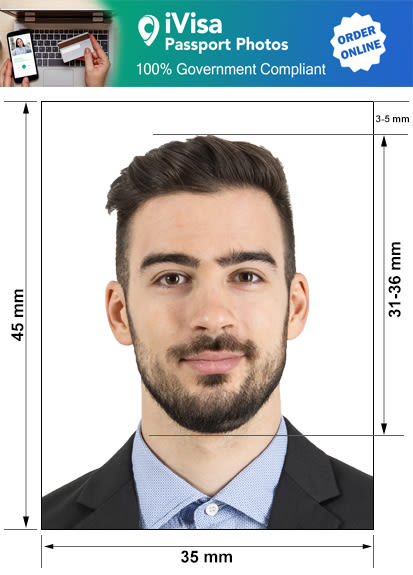 The Denmark Passport Photo and Visa Photo Requirements, Rules, Guidelines, and specifications
Applying for the Danish Tourist Visa will typically require the following documents from you: visa application form, visa photographs, flight reservations, hotel reservations , bank statement of the past 3 months, travel insurance etc.
Notes on your photo:
White background in the photo
Face should not be tilted to one side
Size spec: 35mm x 45mm
No headgear is allowed
Avoid glares when using glasses
You need two (2) photographs
Rules and requirements for babies, infants, and newborns Passport and Visa photos
The Danish Schengen application requires two visa photos. See tips on taking a good photo for a baby: One, keep baby´s eyes open by distracting it with toys. Two, background needs to be white. Three, if the baby is too small take photos when the baby is in its car seat.
Price and Cost
iVisa Photos prices are competitive. Delivery is possible via mail or pickup at a CVS, Walgreens or a Walmart.
How to get your Denmark Visa Photographs Online with iVisa Photos?
You can use the iVisa Photos app with a smartphone or tablet, download: iOS here and Android here.
What you need to know before getting started:
It will take a few minutes using the app to take your photo.
Select Denmark when using the app as requirements are different for all countries.
Download your photo image, have it mailed to your house, or select next day pickup at a Wal-Mart, CVS or Walgreens.
You can also take a passport photo with the app. Select passport under "Photo Type". Go visit Denmark today.