When you get ready to apply for an Egypt passport, you have to make sure that you have at hand all the required documents. One of the requirements involves 4 passport photos. And that is something iVisa Photos can help you with. You can avoid going to a photo studio by taking your picture at home and allowing us to process it for you so that it is 100% government compliant. It will save you a lot of time and money.
While we are on the subject of international traveling, you may be interested in checking out iVisa.com as well. They can help you find out if you qualify for an electronic visa, and if you do, iVisa can facilitate the online application process for you.
Photo specs
Required photo size: 4.5 cm in height and 3.5 cm in width
The photo you submit must be in color
Head size and position: keep your head straight to the camera
Recency: must be as recent as 6 months
Background: white
Smile: no
Eyes: must be clearly visible
Your ears should appear in the photo
The picture must not be blurry
Glasses: only acceptable if they do not obstruct your eyes
Headgear: as a rule, no. Exceptions are possible for religious purposes
Dimensions and size (pixels): at least 600 dpi
Attire, clothing, dress code: avoid white clothes
Beard: it is allowed only if it reflects your everyday look
Quantity needed in application: 4
Egypt Passport Photo Size Requirements Guide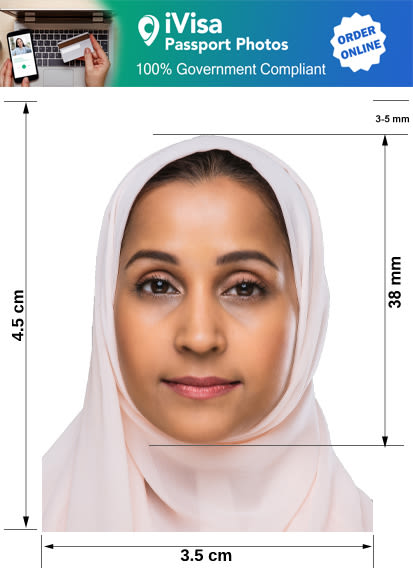 Egypt Passport Photos and Visa Photo Requirements – Rules, Guidelines, and Specifications
Do you feel like you need more information regarding the passport photo specifications above? No problem. Since an inadequate passport photo is one of the most common causes of rejection, we want to provide you with as much information as possible. The info below should clear a few things up.
The environment you choose to take the picture in is essential. The background of the photo must be white, which is why you will need a white wall. If you do not have one, you can take a white sheet and hang it on the wall. Plenty of people do this. Please note that the background cannot have colors, patterns, or shadows.
For the best possible exposure of your facial features, please place the camera at eye level. Both sides of your face must be equally visible, which is why you should not tilt or rotate your head when you snap the photo. Portrait-style pictures will be rejected.
You cannot smile when you take your passport photo or visa photo. Nor can you frown, squint, or raise your brows. Only a neutral facial expression is acceptable in the picture. To achieve that, relax your facial muscles when taking the photo.
Your eyes should look straight into the camera. It is essential that they are perfectly visible. Do not let your hair cover them. If the frames of your glasses are large, take them off. If you must wear your eyeglasses, make sure that they are positioned correctly so that they do not cover your eyes and that they do not create glare. Sunglasses, as well as tinted lenses, are not acceptable in a passport photo or visa photo.
The light plays an important role in a passport photo or visa photo. You have to find the perfect source, preferably directly in front of you. That way, there will be no shadows on your face.
When you take your passport photo or visa photo, you are not allowed to wear anything on your head. However, if you are bound by your religion to cover your head at all times, you can keep your headwear for the passport photo. Even so, make sure that it does not create shadows on your face. At the same time, keep in mind that your face must be visible from the top of your forehead to the bottom of your chin and from ear to ear.
If your everyday likeness includes a beard, you are allowed to keep it for your passport photo.
Rules and Requirements for Babies, Infants, and Newborn Passport and Visa Photos
Did you know that children of all ages are required to travel with their own travel documents? So, if you want to visit a foreign country with your kids, you need to get passports and visas for all of them. With iVisa Photos, you can take their photos at home as well. The tips below should be of help with that process.
There are no significant differences between the passport photos for adults and the ones for children. However, it makes sense for a child's head to occupy less space in a picture.
Make sure that your child is awake when you take the picture.
If your baby has a hat or a pacifier, remove them before snapping the picture.
Only the child can appear in the photo.
Photographing your kid in a car seat means that you have to cover the backrest with a white sheet. All background rules apply.
Some parents prefer to lay their babies on their backs to take the picture from above. If you want to do that as well, remember to place the child on a white sheet or white blanket.
Cost
Have you ever used a professional photo studio to get your passport photos or visa photos? If you have, then you already know that it can cost quite a bit. WithiVisa Photos, you will not spend much money. An Egypt passport involves 4 passport photos, and iVisa Photos can get you the set for only $8.99, which is roughly 140 EGP, depending on the exchange rate. We can guarantee that you will not find better prices than this.
How to get Egypt Passport Photos or Egypt Visa Photos Online
When you use the service rendered by iVisa Photos, you will not find it at all challenging. You need a camera from a phone or tablet. Use it to take your picture but remember to follow all the rules and guidelines we mentioned above. Don't worry if you do not like the first photo you snap.
iVisa Photos allows you to take multiple photos until you get the one you are pleased with. You will not be charged for the additional attempts. Once you have the picture you like, you have to submit it so that [MyPassportPhotos] can process it. After we do that, you will be given two choices. You can download the photo to print it yourself, or we can mail the set to your address. It is entirely up to you.
Do you have questions or concerns? Please feel free to contact iVisa Photos' customer support service.
References