Do you plan on traveling abroad and you need a passport? Then you should know that getting an El Salvador passport is not a challenging task. You just need to put together some documents and fill in an application. You will also need a set of 2 passport photos, and this is where iVisa Photos comes in. We can help you get your pictures without having to go to a professional photo studio. Our photos are 100% government compliant, so you do not have to worry about that.
Since we are talking about international travel, you may be interested in our website as well. iVisa can help you find out if you are eligible for an electronic visa, and if you are, they can help you get your travel document with very little effort.
Photo specs
Required photo size: 4.5 cm in height and 3.5 cm in width. The head should be about 31-36 mm.
The photo you submit must be in color
Head size and position: keep your head straight to the camera
Recency: not older than 6 months
Background: white
Smile: no
Eyes: must be clearly visible
Your ears should appear in the photo
The picture must not be blurry
Glasses: only acceptable if they do not obstruct your eyes
Headgear: as a rule, no. Exceptions are possible for religious purposes
Dimensions and size (pixels): at least 600 dpi
Attire, clothing, dress code: avoid white clothes
Beard: it is allowed only if it reflects your everyday look
Quantity needed in application: 2
El Salvador Passport Photo Size Requirements Guide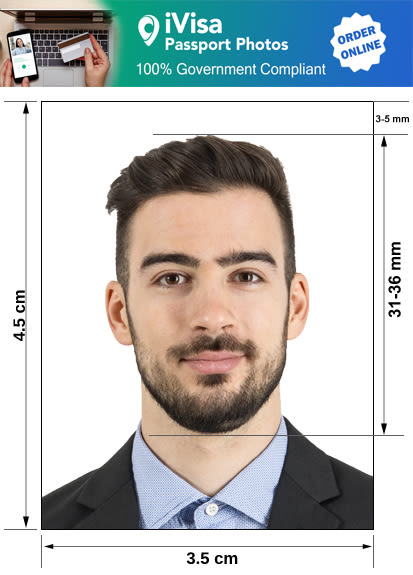 El Salvador Passport Photos and Visa Photo Requirements – Rules, Guidelines, and Specifications
You may not know this, but numerous passport applications are rejected due to an inadequate photo. We want you to avoid that, which is why we decided to expand on some of the passport photo specifications you see above.
Choosing the right setting in which to take your passport photo is crucial. The background has to be white. Going with a white wall is more than enough. Just make sure that there are no colors, patterns, or shadows on it. In case you do not have a white wall, hanging a white sheet on a wall would do the trick.
The camera should be positioned at eye level so that the photo includes all your facial features. Since both sides of your face must be equally visible in the passport photo, you should not rotate or tilt your head at any angle. As you can probably imagine, that excludes portrait-style photos. They will be rejected.
The only acceptable facial expression in a passport photo is neutral. You should not smile or frown. Your picture will be rejected otherwise. To achieve the ideal facial expression, you should relax your face when snapping the photo.
Your eyes must look straight into the camera. If you wear glasses, make sure that the frames do not cover your eyes. Your hair should also not hide them. If you do want to wear glasses, please keep in mind that they may create glare. Check the photo before you submit it. Passport photos and visa photos with sunglasses or eyeglasses with tinted lenses will be rejected.
The lighting in the environment in which you take your passport photo must not be too bright or too dark. It should also not create shadows on your face. They have the potential to alter your facial features.
Headwear is usually prohibited in a passport photo. However, it is entirely understandable if your religious beliefs compel you to keep your head covered at all times. Even so, you must make sure that your veil does not cast shadows on your face, and that your face is visible from the bottom of your chin to the top of your forehead.
If you usually have a beard, you can keep it for your passport photo. However, if you plan to shave it, you should do so before taking the picture. The passport photo must represent your everyday likeness.
Rules and Requirements for Babies, Infants, and Newborn Passport and Visa Photos
Did you know that your child needs an individual passport and visa? Fortunately, you can take their picture with iVisa Photos as well. Just make sure to read the tips below.
Since children have smaller heads, it is acceptable for a child's head to occupy less surface of the passport photo.
You should take your child's photo when he/she is awake.
If you have a bay wearing a hat or pacifier, make sure to remove them before you snap the picture.
In case you want to lay the baby down on his/her back and take the picture from above, remember to place a white sheet underneath.
Many parents photograph their children in a car seat. If you want to do the same, put a white sheet on the seat's backrest.
Only your child can be visible in the passport photo or visa photo.
Cost
Going to a photo studio and having a professional take your passport photo or visa photo is not the cheapest ordeal. That is why we think that you will very much enjoy the offer iVisa Photos puts at your disposal. For an El Salvador passport, you need 2 passport photos, and you can get them with iVisa Photos for only $5.99.
How to get El Salvador Passport Photos or El Salvador Visa Photos Online
To get your passport photo or visa photos with iVisa Photos, all you need is a decent camera from a phone or a tablet. Take your picture, but make sure to follow all the rules we stated above. You do not have to worry about taking a photo in which you do not like how you look. You can take another one, free of charge.
As soon as you have a photo you are pleased with, you can submit it to iVisa Photos. We will process it so that it is government compliant, and then we will offer two choices. One, you can download the photo and print it yourself, in which case, do not forget that you need photo-quality paper. And two, you can give us your address, and we will mail the photo to you.
If you have questions or concerns, please do not hesitate to contact iVisa Photos. Our customer support service will gladly give you the information you need.
References