When you apply for a FOID card, one of the requirements states that you have to procure one FOID photo. You could go to a professional photo studio and have one taken. But why would you when you can get one without having to leave the house at all? You can take your own photo at home, and iVisa Photos will do the rest.
All you have to do is follow the instructions we give you when you take your picture and send it to us. iVisa Photos will make sure that you end up with a photo that is in compliance with the rules issued by the state of Illinois.
Photo specs
Required photo size: 1 ½ inch in height by 1 ¼ inch in width
The submitted photos must be in color
Head position: straight
Recency: taken no more than 6 months ago
Background: white
Smile: no
Eyes: must be clearly visible
Blurred pictures will be rejected
Glasses: acceptable only if they do not obscure the eyes and there is no glare in the photo
Headwear: not allowed. Exceptions are made for religious/cultural purposes
Resolution (pixels): at least 600 dpi
Dress code: the colors of your clothes must be in contrast with the background. Do not wear white tops
Beard: permitted if it represents your everyday appearance
Number of photos necessary: 1
Passport Photo Size Requirements Guide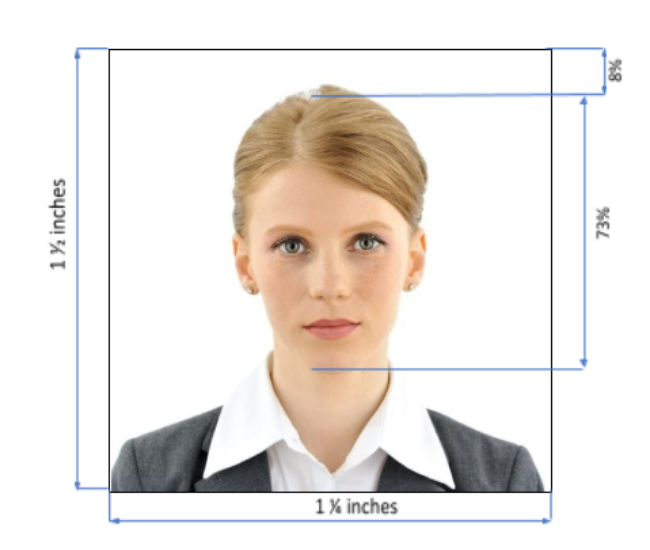 FOID Card Photo Requirements – Rules, Guidelines, and Specifications
While the FOID card photo requirements you can see above are informative, that is not all the information you need to know to take an adequate picture. After all, we are not talking about taking a selfie here. There are rules in place you have to follow, and we put them all together below. Please read them carefully before proceeding to take your photo.
The background of your FOID card photo must be white. To achieve that, you can take your picture in front of a white wall. You can also use a white sheet if you do not have white walls in your house. Just make sure that it is not transparent. Basically, the background of your photo must not have colors, patterns, or even shadows.
If the lighting is not appropriate, you can end up with shadows on your face. To avoid that, opt for a frontal source of illumination. Like the one from a camera flash, for instance. You must also ensure that the light is not too intense or too dark.
When you take your FOID card photo, make sure that you keep your head straight and your face forward. Both sides of your face must be visible. Therefore, portrait-style photos are not at all adequate.
You should not smile in your FOID card photo. Nor can you make any other facial expressions other than neutral. When you take your picture, relax the muscles of your face. Keep a straight face.
You must look straight into the camera when you take your picture. The eyes cannot be obscured by anything, such as your hair or your glasses. To avoid photo glare, it is best if you remove your prescription glasses altogether. Needless to say, you cannot appear in your FOID card photo wearing sunglasses or eyeglasses that are equipped with tinted lenses.
As a general rule, your head cannot appear covered in your FOID card photo. You cannot wear a hat or something of that sort. However, an exception is made for you if your religion compels you to keep your head covered in public. For instance, if you wear a hijab, you can keep it for the photo. But there are a few rules here as well. Once, your face has to be visible from top to bottom. And two, your headwear cannot cast shadows on your face.
Does your everyday appearance include a beard? If the answer is yes, you are not required to shave it before you take your FOID card photo. After all, the picture must depict your everyday look. But if you plan on making any changes to your facial hair, you should do it before you take your picture.
Price and Cost
If you have ever gone to a professional photo studio to have your picture taken, then you know exactly how much it costs. It is not that much. But why do that when you can spend less money, right?
When you use the services provided by iVisa Photos to get your FOID card photo, you will spend less. You need one picture, and iVisa Photos can give you a set of two for only $5.99. Cheap, right? Not to mention all that time and energy you save from not having to go anywhere.
How to get FOID Card Photos Online
Using the service rendered by iVisa Photos is not at all complicated. The first step you have to make is to make sure that you have a decent camera. Feel free to use the one from your smartphone or tablet. Most devices these days have a camera with a suitable resolution.
The next step would be for you to find the right environment in which you can take your FOID card photo. Do not forget the rules about the background and lighting. Once you find the right spot, you can proceed to take your picture. When you take your own picture, you have to take into account all the guidelines we mentioned above about your position, expression, etc.
It is important for you to like your FOID card photo. When you have one that you love, you have to submit it to iVisa Photos. You can do that via e-mail, or you can upload it directly to our website. After we receive your photo, we will process it. The purpose is to make your picture follow all the rules imposed by the state of Illinois for FOID card photos.
Once the processing is done, iVisa Photos gives you two options. You either download the photo to print it yourself, or you give us your address, and we send the pictures to you. Just remember that if you decide to print your own photos, you need photo-quality paper.
You should not experience any difficulties in the process, but if you need some help, do not hesitate to contact iVisa Photos' customer support service.
References