Having a German passport means you need to have appropriate passport photos. The best way to obtain photos that comply with the requirements of your German passport is through iVisa Photos since we've helped thousands of Germans find the passport photos they need and know exactly what to do. Find all the information you need in our Quick Facts section, then use iVisa Photos to take a photo you can use in your German passport.
If you're going in or out of Germany for any reason, you should also consider visiting iVisa.com to know if you'll need a visa to get into (or depart from) the country you're visiting. These can often be processed online, so iVisa.com will help you save time and money at the front end if you need one.
What are the passport photo dimensions and requirements for Germany?
Photo Specs
Size: 35mm width and 45mm length.
Color: In color only to reflect natural skin tones.
Head size and position: 32mm to 36 mm. Center the head.
Recency: Not older than 6 months.
Background: Solid print and color.
Smile: No smiling. Mouth closed.
Eyes: Starring straight ahead and open.
Glasses: Thin framed glasses are allowed. Eyes must be visible.
Headgear: No headgear except for religious purposes.
Dimensions and size (pixels): 600 minimum.
Attire, clothing, dress code: No uniforms should be visible.
Beard: Yes.
Quantity needed in application: 2.
Germany Passport Photo Size Requirements Guide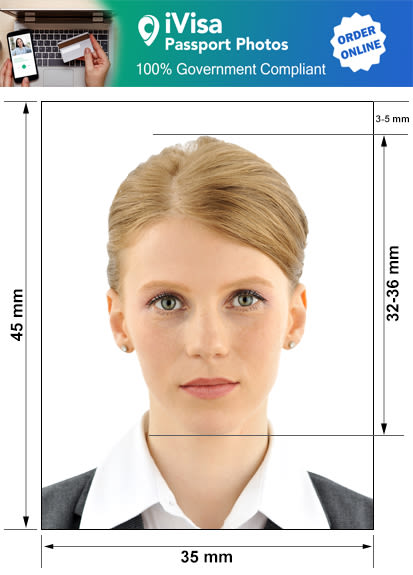 Germany Passport Photo and Visa Photo Requirements, Rules, Guidelines, and specifications
Taking passport or visa photos requires more effort than a snapshot for your profile picture. The government has strict guidelines that need to be met or it can delay your application. Continuing the details from above, the following information should help get you started during the photo process:
Sizing is important as it has to fit a specific slot on a passport or visa. Whether it's the outside dimensions or measuring up your head, be sure to keep the width and length in mind.
Old pictures are never accepted as the photo needs to reflect how you look now. Thanks to physical changes, if you are under the age of 24, your passport will only be valid for 6 years. Once you are 25 and older, it's OK to keep it for a decade.
Neutral expressions only. Smiling distorts the true identity of your face.
If you wear glasses every day, you may wear them in the picture as long as your eyes are visible, there's no glare from the lenses or the frames don't block the eyeballs.
You are allowed to wear almost any type of clothing except uniforms such as law enforcement or military.
Beards are always a question. The rule of thumb is if you wear a beard most of the time, then a photo with it is acceptable. If you don't, take it without.
Hats or any other pieces of head attire are not allowed. The only exception are headpieces for religious purposes. However, it may not block the face at all.
Lighting needs to be evenly distributed across the face and bright enough to show natural skin tones. A photo overexposed or underexposed could be rejected.
Background is recommended to be white or grey depending on hair color. If your hair is light, chose a slightly darker background to improve contrast.
No sunglasses or tinted lenses of any type are permitted.
Prints of passport or visa photos on high quality, glossy photo paper only.
Rules and requirements for babies, infants, and newborns Passport and Visa photos
Children and infants are required to possess a visa or passport when traveling outside Germany. This also means individual photos. Now the rules and regulations are relaxed for children as they are difficult to photograph, especially infants. For these reasons, here is what you need to know before photographing your kids for a passport or visa:
For children under the age of 9 but older than 5, the face should measure 22mm to 36mm.
Children under the age of 5 but older than 1 year can have a non-neutral expression. Their face doesn't need to be centered or looking straight ahead. Eyes are required to be open.
Infants under 1 year can have their eyes closed, a turned head, and an off-centered face.
No other objects can be in the photo including toys, hands, pacifiers, blankets, etc.
Though children have differing rules, photos must still have good lighting, be in focus, and have no digital alterations.
Price/Cost
Taking the photos and paying are two completely different items. If you feel more comfortable having these passport and visa photos processed in a more traditional route, it will end up costing you more. Plus, it takes time away from your everyday schedule to get them done. A post office can cost around €15 for a set of two pictures. Selecting iVisa Photos can save you from higher costs. Two photos for either a passport or a visa is €5.70. That's a €10 savings and when you order more, the price per photo goes down. Getting a passport photo online is a much better deal, especially for multiple photos.
How to get Germany Passport Photos or Germany Visa Photos Online
Our services are excellent for anyone needing a passport or visa photo quickly and cheaply. We guarantee 100% government compliance with your photo submission. If you are not happy with the photo, you can retake it as many times as needed with no additional cost. Photos are submitted digitally and are brought to compliance by our knowledgeable staff. You can have a photo taken or even DIY with a smartphone or tablet. The best part is you can take these photos at work or at home. No need to drive around town looking for a photo spot. iVisa Photos gives you convenience at a price well worth the savings. Our easy, no-hassle process guides you through the site, and should you get stuck, our friendly staff is awaiting your questions. Let us take the pressure off your future vacation and get you to your destination quicker.