If you've realised that you need a new Hong Kong passport, don't forget that the Hong Kong Passport / Visa Photo Requirements and Size are an important part of getting your application ready. The authorities won't just accept any old photo.Fortunately, it's easy to get the right image with iVisa Photos. The iVisa.com team has years of experience helping people from Hong Kong fulfil their travel dreams by issuing them with electronic visas and health declarations. Now you can count on our Photo business to guide you through another vital travel chore- passport photos. Don't waste time searching endless webpages for information about photo requirements when you can find all the answers you need here in one place.
Before you start booking flights anywhere with your new passport, you'll also want to use our website to check whether you need a visa for the country you're visiting. Don't worry if you do, though—many electronic visas can be processed online, and it's even easier to find out about travel requirements at iVisa.com.
Hong Kong Passport / Visa Photo Requirements and Size
Size: 50 mm x 40 mm
Color: Only full color photos will be accepted.
Head size in frame: Head should measure 32mm x 36mm in the frame.
Recency: The photo should be taken within the last 6 months.
Background: A solid white background is essential.
Smile: A natural smile is acceptable, without showing teeth. Otherwise, a neutral expression is suitable.
Eyes: Open and fully visible.
Glasses: Only if eyes are still visible.
Headgear: Religious purposes only.
Dimensions and size (pixels): 600Kb maximum. 1200x1600 pixels.
Beard: Optional.
Quantity required for passport application: 3
Quantity required for visa application:2
Hong Kong Passport Photo Size Requirements Guide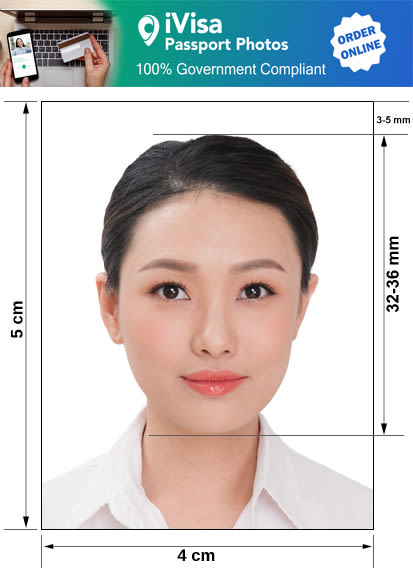 Hong Kong Passport / Visa Photo Requirements and Size and Specifications
Passport and visa passports are compulsory and there are strict rules that must be followed to ensure that your application isn't declined on the basis of a rejected photo. Pay attention to the Hong Kong passport / visa photo requirements and size when taking the picture, as one of the best ways to get an approved photo is by making the most of the high-resolution camera and paying attention to the positioning of your face within the photo frame. We know how hard it is to cut any photo down to a millimeter, so trust iVisa Photos to take care of your travel photo from start to finish.
What are the Hong Kong Passport / Visa Photo Requirements and Size?
If you're a citizen of Hong Kong and you need a passport or visa photo then the first step is to take the perfect picture. Get ready by selecting a room with proper lighting, removing any headwear (except that which is worn for religious reasons), and tying up long hair to keep it away from your face. When taking the photo, your head must face forward and you must remove sunglasses or glasses with thick frames that would obstruct the view of your face.
More Passport Photo Requirements
Our number one priority is helping customers to get the photo they need to complete the application form for their dream trip. By keeping the following advice in mind, we can guarantee customers will be a step ahead of the passport photo game. Let's find out the top tips for a fantastic photo finish:
You don't need to worry too much about what you're going to wear, unless your favourite outfit is white. White blends with the background and camouflages your body in the photo. Save the white for another day and wear any other colour.
Avoid wearing too much make-up, or at least make sure you aren't so caked in foundation that you look like someone else.
If you normally have a beard then don't feel under pressure to remove it for the photo.
It's hard to look natural in photos so don't worry if a little smile creeps in, but avoid a maniacal grin.
The eyes are always a focal point in any passport or visa photo. Therefore, they should be open and clearly visible.
Sunglasses, tinted lenses or glare are not permitted. If your glasses have thick rims and block your eyes, kindly remove them for the photo.
If you intend to scan and upload a photo, make sure it's 600dpi and in JPEG format.
If headgear is worn for religious reasons, it cannot block the face at all.
We'll let you in on a little secret- bad lighting is the number one reason for photo rejection when it comes to passport and visa applications. Check that there are no shadows on your face or in the background and always take the photo in a space with good lighting.
Be sure your head is facing forward and the top of your shoulders are in view.
Photos must be printed on glossy, high quality photo paper.
Rules and requirements for babies, infants, and newborns Passport and Visa photos
Planning an international vacation with your family can mean extra effort if you have a lot of children. Each child must have their own passport or visa, therefore each child must be photographed individually, and their image must adhere to all the above regulations. We cannot accept group photos or photos with more than one person in the same. Infants especially can be difficult to photograph, so take a look at these handy tips to take the perfect shot:
If you are holding an infant, make sure you're not visible in the photo- not even your hands. Keep a white cloth or sheet close to hand to create a neutral colored background. This can also apply if you're lying the child on the floor or in a car seat.
Toys, blankets or pacifiers cannot be visible as per Hong Kong passport / visa photo requirements and size.
The child's eyes need to be open and their mouth should be closed. It may take a few tries before this is accomplished, but keep at it.
Be sure the infant's head is centered and looking directly at the camera.
Check the lighting in the room. It should be evenly distributed through the image and should not be reflected on the background.
Price and Cost
Now that you know more about the Hong Kong passport / visa photo requirements and size, the next step to consider is how you will get the photo. Prior to the invention of the internet, if you needed a passport or visa photo, you had to wait in traffic jams on the way to the mall or walk to the nearest drug store. Post offices or pharmacies were the ideal places to get these pictures taken. But who has time for that these days? We all have busy lives and barely a spare minute to take a passport photo. iVisa Photos can help you save time and money and with passport-perfect digital photos delivered straight to your inbox for under $6 USD, it's easy to see why Hong Kong citizens would rather get their photos approved by an expert team online. US residents can select the delivery option to receive printed copies of their photo at any US address.
How to get Hong Kong Passport Photos or Hong Kong Visa Photos Online
At iVisa Photos, we have an easy to use service that allows you to take care of all your travel document business in a timely fashion. The specifications described above are taken care of by our knowledgeable staff. All you need is a camera, a white background and our passport photo platform to upload the image. Snap the picture and submit from the comfort of home or work. We guarantee to provide you with a 100% government compliant photo through your expert review. If you are unhappy with your photo, retake it as many as you like until you are satisfied, free of charge. If questions or concerns arise, give us a call 24/7. Applicants in Hong Kong can order photos for digital delivery by email. Applicants with a US address also have the option to get photos delivered. Whatever you choose,take the most of your free time and leave your passport and visa photo to the professionals at iVisa Photos!