For an Indian passport to be considered valid, it needs to have a passport photo with specific dimensions and other important specs. For that reason, you'll want to use iVisa Photos to help you capture a photograph that conforms to all these decrees. For information on exactly what your photo will need, just cast an eye over our handy Quick Facts—then use the information to obtain a compliant passport photo.
Those of you planning on taking your passport to another country on your next trip is also advised to visit iVisa.com website, which can tell you whether or not your destination requires a visa for entry or exit. Because many visas can be processed online, this is a useful resource to help you take care of everything before you leave.
What is the photo size for an Indian Passport?
An Indian passport photo must be 51mm x 51mm or 2x2 inches. The head should be sized in-between 35mm to 40mm. You can easily get your Indian Passport Photo online today.
All Photo Specs
Size: 51mm x 51mm or 2x2 inches.
Color: Natural color so skin tone is clearly visible.
Head size and position: Head needs to be centered and looking at the camera. The Head should be 35mm to 40mm.
Recency: Taken in the last 6 months.
Background: Plain white and solid design.
Smile: No smile. Only neutral expression.
Eyes: Open and looking directly at camera.
Glasses: Only prescription glasses are permitted.
Headgear: Religious purposes only and cannot block face.
Dimensions and size (pixels): 10KB to 300KB. For pixels: 350x350 minimum and 1000x1000 maximum.
Attire, clothing, dress code: Casual or professional preferred.
Beard: Optional.
Quantity needed in application: 2
India Passport Photo Size Requirements Guide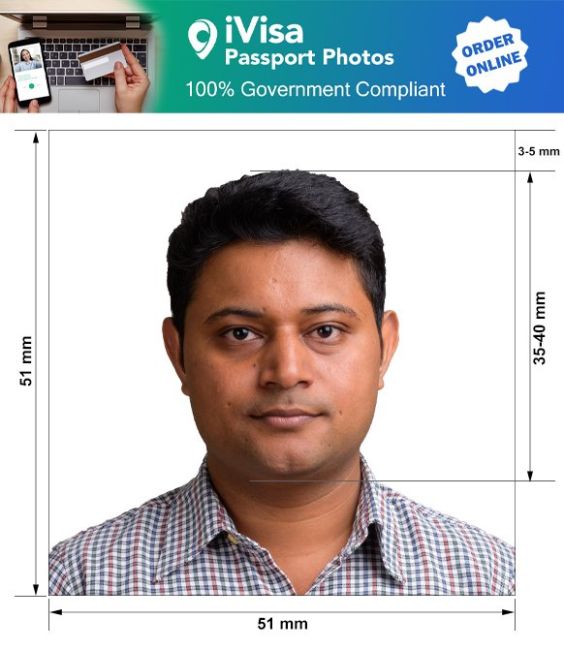 What are the Indian Passport Photo Requirements?
All Indian passport photos must be in color with no shadows, hats, or glasses. Any colored backgrounds, or scenery is also not allowed.
Here is an in-depth breakdown of what you can expect when getting a passport photo online:
Each application, whether passport or visa, must have 2 photos per person.
Black or White, filtered, or old photos are not permitted. Be sure the photos are printed on high-quality paper and not crinkled, torn, or creased. Do not adjust color saturation. Keep it clear from dust or scratches. -Any background of color or designs such as scenery or shapes is not accepted.
Leave the sunglasses or tinted prescription lenses out of the picture. Your eyes need to be visible.
If you have glasses with thick frames obstructing the view of your eyes, remove them for the photo. Also, be conscious of glare as any reflection will be rejected.
No hats or other headwear unless for religious purposes are not allowed. Specifications for medical devices were not stated. Double-check with your agency.
Shadows caused by hair, glasses, or flash photography will cause a rejection of the photo.
Avoid red-eye. If it does occur, it cannot be fixed by digital alterations. Retake until there is no red-eye.
Only you can be in the photo. No other objects or people.
Keep hair pulled back or off the face. Nothing should obscure your face from the camera.
Clarity, decent lighting, and focus is key. Any photo which is blurred, stretched, overexposed, or underexposed will be rejected.
Clothing is not specified but keep it appropriate to avoid any possible denial.
Rules and requirements for babies, infants, and newborns Passport and Visa photos
Children and especially infants can be a bit tricky to photograph. With this knowledge, India allows for exceptions and relaxed standards. Keep in mind that details regarding the quality of the photo still apply as listed above. Every child in your family who is receiving a passport or visa must have their own photo completed. Here is advice for taking photos of children, and infants, and remaining compliant:
Infants under the age of 12 months old do not need to have their eyes open. If you can get a shot with open eyes, that's acceptable too.
Infants do not need to be completely centered with the photo.
If holding or sitting an infant, no object or hands may be visible. Use a white sheet to block these objects if needed. No toys or pacifiers.
Children under the age of 10 and older than 1 year need to have their eyes open.
Try to square the child's head and shoulders with the photo.
Price and Cost
Getting a visa or passport photo online is the way to go these days. Rising costs and time management contribute to quicker and cheaper alternatives. Depending on how many rupees you plan on spending, could be the difference between money spent on vacation or official documents. At a government agency such as a post office can cost 500-700 rupees each on average. At iVisa Photos, we offer 2 photos for 423 rupees. This price is either for passport or visa photos. Order more and save money. One other benefit of taking a picture online is your satisfaction. If you don't like the photo, unlimited retakes are allowed free of charge. At a post office or other outside agency, you are stuck with the photo unless you pay additional money.
How to get Indian Passport Photos or Indian Visa Photos Online
We assume everyone enjoys saving time and money for other priorities such as family, friends, and making memories. Thanks to the Internet and governments all around the world jumping on the digital bandwagon, it's easier and more cost-effective to receive passport and visa photos today than it has been previously. We at iVisa Photos are committed to getting you to where you truly want to be in the quickest and most convenient way possible. Our services are guided with step-by-step instructions and 24/7 representatives standing by to answer any questions you may have. We offer 100% guaranteed government compliance on photos submitted on your behalf. No need to worry about the finite details as our trained staff takes care of the gritty details for you. Our prices are another incentive to choose us over traditional services. Give us a chance to make your vacation worthwhile and allow for paradise in the sun.
References