Do you plan on getting a Papua New Guinea passport? Then you should know that the issuing authority will ask you that you submit 2 passport photos along with all the other necessary documents. With iVisa Photos, you can avoid a trip to a photo studio. Instead, take your picture at home, and we will make sure that you end up with a government-compliant passport photo.
International travel may also include a visa application process, depending on where you want to go. If that is the case, we recommend that you take a look at our website. With their help, you can get your visa online if you are eligible for an electronic visa.
Photo specs
The general Papua New Guinea passport photo requirements are as follows:
Required photo size: 45 mm in height and 35 mm in width
Colored pictures are necessary. Not black and white.
Head position: your head straight must be straight
Must not be older than 6 months
Background: white
Smile: no
Eyes: clearly visible
Blurry photos are rejected
Glasses: acceptable under certain conditions
Headwear: not allowed. Exceptions are made for religious purposes
Resolution (pixels): at least 600 dpi
Dress code: clothes must be in contrast with the background. Do not wear white tops
Beard: allowed if it represents your everyday likeness
Number of photos necessary: 2
Papua New Guinea Passport Photo Size Requirements Guide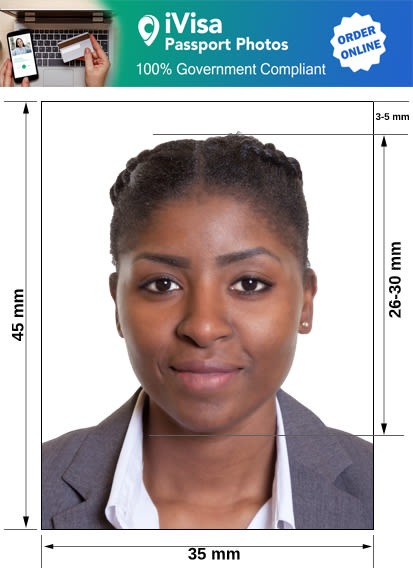 Please note that the applicant must write on the back of one of the photographs 'I certify this to be a genuine photograph of (name in full),' and sign.
Papua New Guinea Passport Photos and Visa Photo Requirements – Rules, Guidelines, and Specifications
Taking your own passport photo at home is not rocket science. As long as you follow the guidelines and rules below, you should be able to do a good job. Keep in mind, though, that failure to submit an adequate passport photo is one of the most common causes of rejection. All we want is for you to avoid that.
The background of a passport photo is almost always white, and the Papua New Guinea passport photo makes no exception. If you have a white wall in your house, you can use that. If you do not, take a white sheet and hang it on the wall. You should get the same result if the cloth is not see-through
Lighting is more important than you think. For one, you must position the light source in front of you so that there will be no shadows on your face. Secondly, make sure that it has the right intensity. It cannot be too dim or too bright.
When you want to take the picture, remember to keep your head straight and your face forward. You are not permitted to rotate your head in any direction. If you submit a portrait-style photo, it will be rejected.
The only allowed facial expression in a passport photo or a visa photo is neutral. Therefore, you cannot smile, frown, or raise your brows. You have to relax your face.
It is imperative that your eyes are not at all obstructed in your passport photo or visa photo. If your glasses have clear frames, you can keep them on, but only if there is no flash reflection in the picture. Sunglasses and eyeglasses that have tinted lenses are not allowed in your photo.
Headwear is permitted but only under exceptional circumstances. For instance, if you cover your head for religious/cultural purposes, you can keep your headwear for your passport photo or visa photo. But even then, you have to avoid shadows on your face caused by your headwear. At the same time, it is required that your face is visible from the bottom of your chin to the top of your forehead.
You are not required to shave your beard as long as your everyday appearance includes it.
Rules and Requirements for Babies, Infants, and Newborn Passport and Visa Photos
Children must be photographed as well since they need their own travel documents. iVisa Photos can help with that also. We even prepared a few rules and tips for you below.
Children's eyes must be visible as well, so make sure that you take their pictures when they are awake.
Photographing a child in a car seat is pretty common due to convenience. You can do that too if you wish. Just remember to place a white layer on the backrest of the chair so that the background is white.
When you want to take the passport photo of an infant, it may be more comfortable to put him/her in the lying down position and for you to take the picture from above. In order to do that, you have to put a white sheet underneath the baby to achieve a white background.
You have to remove your child's headwear and pacifier before you take the picture.
Only your child can appear in the shot. Even if the baby is small and needs to be held, not even your hands can be visible in the picture.
Price and Cost
Using iVisa Photos to get your passport photo or visa photos is among the cheapest solutions you have at hand. Definitely less expensive than going to a photo studio. For a Papua New Guinea passport, you need 2 photos, and we can provide them for you for only $5.99, which is approximately 20.60 PGK.
How to get Papua New Guinea Passport Photos or Papua New Guinea Visa Photos Online?
If you have never obtained passport photos online, rest assured that the process is not complicated. All you need is a camera with a decent resolution. A lot of people use a smartphone or a tablet.
When you are ready, use the camera to take your picture. It is important to remember that you have to follow all the rules and guidelines we talked about above. Once you have one photo that you like, you have to submit it to iVisa Photos. We will then process it so that it is 100% government compliant. After that, you will receive two options:
1.Download the image to print your own passport photos.
2.Give us your address, and we will make sure that the pictures will reach you as soon as possible.
For more information, please feel free to contact iVisa Photos customer support.
References