Time for a new or renewal of an existing passport. You have all your documents and ready to submit, right? Well, you are missing one important part to any application: a photo! After all, how are you going to prove it's you without an image connected to the passport? Have no fear, taking a passport photo isn't a big deal and can be done quicker if you use an online service such as MyPassportPhotos.com instead of wasting gas looking for a post office.
As most of us know, there is quite a long list of details surrounding how to take a passport photo. Surely a profile picture from any social media account is never acceptable by any government. This is why we are here to help get your photo accepted. Aside from bad lighting causing rejections, there is another key point which tends to lead to trouble: a passport photo smile.
Can you smile in a passport photo?
Yes, you are able to smile for a passport photo in certain countries, although almost all all countries in the world require you to keep a neutral expression when submitting a picture. The only country with an exception is the United States. If you're an American citizen, you can choose to smile or not. This may sound like a great idea since it's engrained in the American society to always smile when posing for a picture, it can cause problems while traveling.
Governments don't want you to smile in a photo for the simple reason of facial recognition. A passport photo smile distorts your facial features and makes it almost impossible for matching you to the document, especially when done by a computer. In a few countries currently, such as Australia, when you arrive at the airport and pass through customs, your picture is taken by a computer to match you with your passport. You are not allowed to smile when this photo is captured. So, if your passport has a smiling image and you have a neutral expression at the airport, you will be removed from the camera line and placed in an even longer line to see a human being. It's no big deal on the grand scheme of things as these lines tend to move somewhat fast, but if you have a connecting flight with very little time in between, this can cause you to miss a plane.
Example of passport photos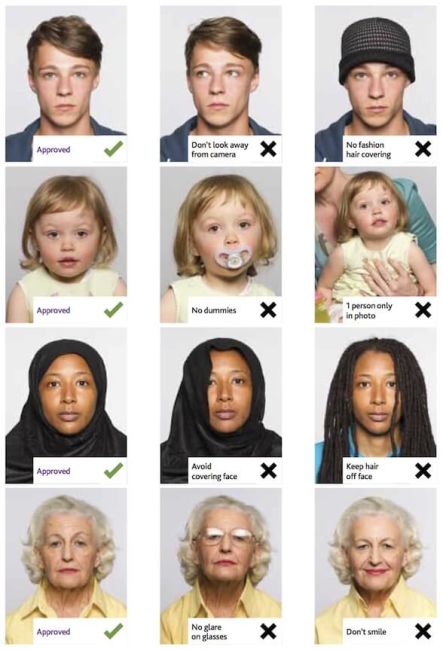 We recommend always keeping your passport photo smile at bay and using a neutral expression any time you are renewing or applying for a passport. It not only helps quicken your time going through customs, it also assures for easier facial recognition. MyPassportPhotos.com is the ideal choice to fulfill all your passport photo needs. Not only are we extremely reasonably priced, our overall experience is exceptional. The website is simple and easy to use, not to mention if you run into an issue, we have plenty of service representatives standing by. Plus, you can save your money by choosing to go with us. Who doesn't want more money for traveling? Just remember to put away the smile if you can, keep it neutral and soon you'll be off gallivanting throughout the world.